Jorge Lorenzo has decided to sit out the Thailand MotoGP race, and could miss the following round in Japan due to injuries sustained in his nasty practice crash.
Lorenzo announced earlier this week he would attempt to compete in the inaugural race at Buriram following a crash at Aragon in which he dislocated a toe and fractured the second metatarsal in his right foot.
He took part in both of Friday's practice sessions, but suffered heaving bruising and contusions to his left wrist and right ankle in a "scary" shunt in FP2 that required a hospital visit.
Given he was already nursing his Aragon foot injury, the Spaniard hinted on Friday evening that he was likely to miss the Thailand race.
He has now confirmed that will be the case, saying scans revealing a fissure in the radial in his wrist a the reason for making the difficult decision.
"As I told you yesterday [Friday] the chances of competing were minimal, but this was before I knew [from] the scan that I have a fissure in the end of the radial," said Lorenzo on Saturday morning. "So my wrist is hurting a lot.
"It's the first Thailand Grand Prix, but I would be as sad with any grand prix.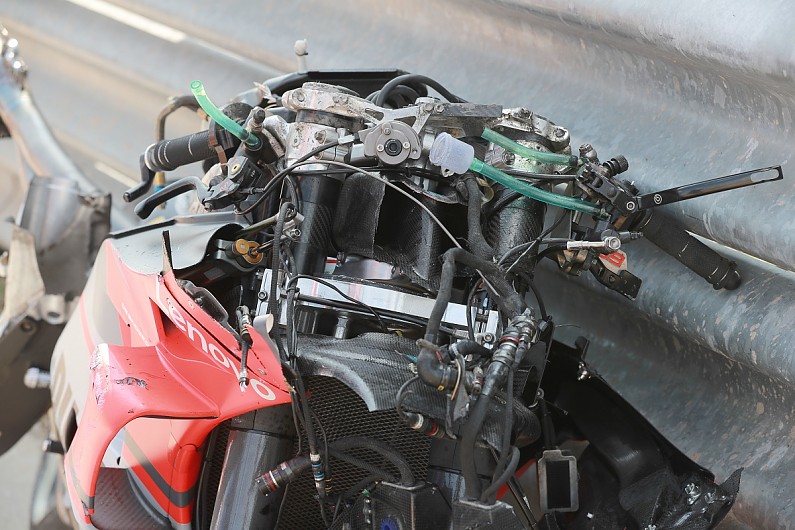 "I don't want to miss any grand prix. I do whatever it takes to arrive here and to try it.
"If I was fighting for the championship maybe I would be more desperate not to lose points, but not with my position in the championship."
Lorenzo added he is unsure if he will be fit for next the October 21 Japanese race at Motegi.
"I don't know in what condition I will arrive in Motegi, especially with the wrist," he said.
"For other parts I have no worry, but for the wrist I'm worried about the speed of the recovery.
"The wrist is a very delicate injury for riding bikes. I'm very worried, because Japan is one of my favourite tracks. I would like to be there as [well] as possible.
"I would like to believe I will arrive [in Japan], for sure not 100%, but maybe 90%. But I doubt it, because of the wrist.
"I think the other part of my body will be 95%, 90%. But the wrist is the only thing that worries me."
Lorenzo will stay in Thailand this week to recover, instead of returning to Europe.
Autosport has produced a standalone special magazine to celebrate our 70th birthday. All current print subscribers will receive a copy for free. To order your copy of the 196-page Autosport 70th Anniversary issue, please go to: autosport.com/autosport70th