Reigning triple World Superbike champion Jonathan Rea says the series needs a "star" from MotoGP to step over to boost its popularity.
WSBK has struggled in recent years to attract large crowds to events, despite changes to race formats and the technical regulations being made in a bid to make the series more exciting.
Sister Dorna-owned series MotoGP has enjoyed a halcyon period of popularity, with events reaching or getting close to sell-out status and television audience numbers also far greater than WSBK's.
Numerous names from grand prix racing have stepped over to WSBK in recent seasons, but no frontrunning premier class stars have made the switch since eventual double WSBK champion and 21-times MotoGP race winner Max Biaggi in 2007.
Rea - who has dominated WSBK with Kawasaki over the last three years with three titles and a record 63 victories - believes bringing a "star" rider from MotoGP to the series would "lift the public perception" of WSBK's talent.
"It's a cool championship," he said when asked how to improve WSBK's popularity following a dominant weekend at Misano.
"Sometimes all the best riders aren't always on the best bikes, and I feel like Superbikes is an amazing place to be.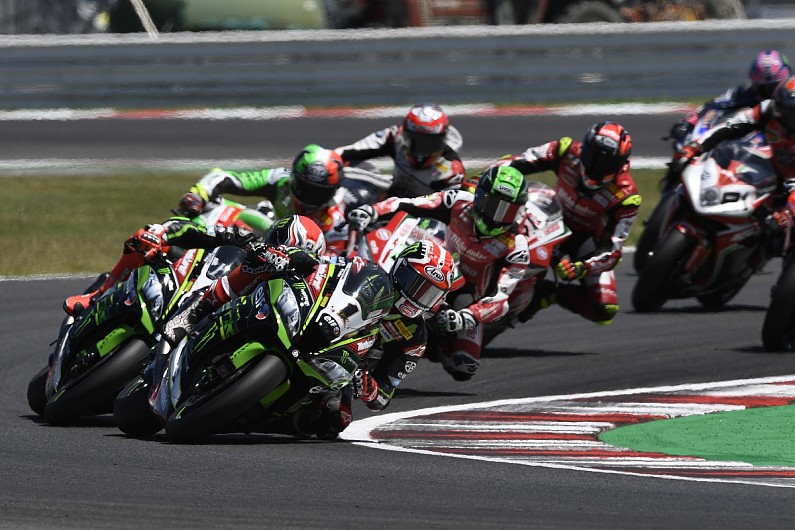 "But it would be really nice to get some real star quality from MotoGP to come here. Not guys that are finishing their career or guys that have nothing left.
"Them guys, they can go somewhere else because there are better riders here than at the back of the MotoGP grid.
"We need a star from GP to come here, and I think that will then lift the public perception, 'wow, these guys are fast: [Eugene] Laverty, [Chaz] Davies, [Tom] Sykes, me'. Fast guys."
Adding that having a proven MotoGP winner such as Dani Pedrosa - whose future past 2018 remains uncertain - or Andrea Iannone in the series would be a "dream", Rea conceded whatever WSBK does it will always "play second-best" to MotoGP in terms of popularity.
"It would be incredible, it would give Superbikes more prestige to be honest," said Rea, who also mooted Honda bringing ex-Superbike rider Cal Crutchlow across to WSBK.
"There's hundreds of things that you could do, but of course we're always going to play second-best to MotoGP when you talk about fan interaction and prestige.
"MotoGP is the Formula 1 of the bike world and that's how it is."