The Aspar MotoGP squad will be renamed Angel Nieto Team in tribute to the late 13-time motorcycling world champion.
Grand prix motorcycling legend Nieto died in August as a result of the brain damage he suffered in a quad bike accident in Ibiza, Spain in July.
On Tuesday, Jorge Martinez 'Aspar' announced that his team will be renamed in Nieto's honour and that Nieto's eldest son, Gelete, will become team principal.
"Angel Nieto is synonymous with motorcycle racing, a sport that gave him so much and to which he gave so much in return," said Martinez, a four-time motorcycling champion himself.
"Motorcycle racing is what it is in Spain thanks to the man who laid the first stone and we want to pay homage to that fact by renaming our team the Angel Nieto Team.
"Angel helped so many people, me amongst others, and he was an important part of my life, as are his sons Gelete and Pablo and his nephew Fonsi.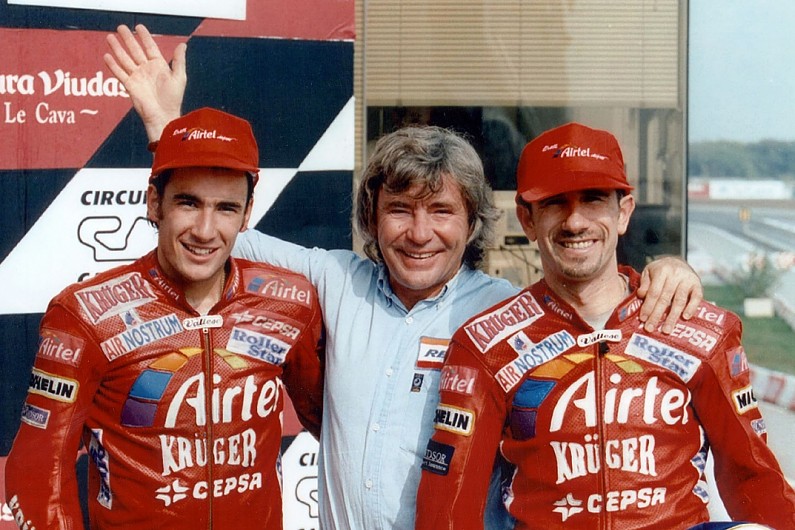 "Angel was particularly excited about this whole project. He trusted me to give Gelete his start in racing and he told me, 'I know that with you he will learn'.
"To be able to pay tribute to his memory and continue with this project in the hands of his eldest son, who was one of the first to ride for my team, gives me enormous pride."
Gelete Nieto raced with the Aspar team from 1993 to '97, making 28 grand prix appearances.
"I took my first steps in racing with Aspar, he guided me to the top step of the podium in the European and Spanish Championships," he said.
"He has always been an important person to our family and alongside him I am now about to start a new chapter of my professional life in a team that will carry the name of my father.
"2016 was his 50th season in the world championship and I am sure he would have loved to be around for a few more.
"Motorcycles were his way of life and through this team we will make sure he remains in touch with his great passion."
The renamed team will continue to run Ducati bikes next season, with Alvaro Bautista and Karel Abraham staying on as an unchanged rider line-up.
Autosport has produced a standalone special magazine to celebrate our 70th birthday. All current print subscribers will receive a copy for free. To order your copy of the 196-page Autosport 70th Anniversary issue, please go to: autosport.com/autosport70th