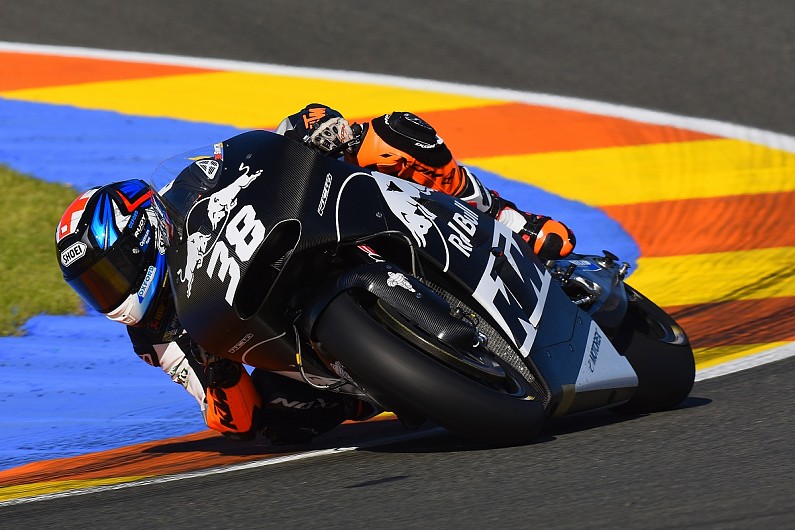 Incoming race riders Bradley Smith and Pol Espargaro confirmed KTM's suspicion that its maiden MotoGP bike needed to be better in changes of direction.
Smith and Espargaro join MotoGP's newest manufacturer in 2017 from Tech3 Yamaha, after KTM spent this year testing and developing its RC16 prototype.
Mika Kallio led that programme over the course of 35 days, and then raced as a wildcard in the Valencia 2016 season finale, before Smith and Espargaro rode the bike for the first time in the post-race test.
One week later in November, Smith tested again at Jerez alongside Kallio, and Espargaro's crew chief Paul Trevathan says the experience of the race riders matched KTM's own assessments.
"I think we've shown now that we have a certain pace," he said.
"In my opinion we have a very balanced package with the RC16 and a good thing is that all three riders we have are pinpointing the same thing that we're missing.
"It is something we suspected earlier but we wondered if the new guys would think the same.
"It didn't stop development but we did hold back a little bit until the new guys tried the bike and we could be sure we were going in the right direction.
"We have a clear target and the riders are saying that if we touch this particular area then the difference will be felt immediately.
"I think that is super-positive for the whole project."
At 165cm, Kallio is 15cm shorter than Smith and 8cm shorter than Espargaro and lighter than both, and KTM felt waiting for its recruits to assess "the natural turning of the bike" was worthwhile.
"More of a double-check that we were going down the right path," Trevathan said.
"We could use Mika to develop the bike for the other guys as well. We had some other things to do but we wanted to be sure that this was the main point.
"The beautiful aspect is that you have three different riding styles and all three say the same thing so if you 'get it' then the problem is solved.
"It is not like we have a special style or demand to cater for.
"It is generally the same element to help the character of the bike and to turn a bit more to help them."