Time stands still for no-one.
This should be the sign over the door on the way into a MotoGP paddock to remind racers that they have to earn their spurs in order to stay in. As soon as you are out it's very difficult to get back to the top.
Dani Pedrosa looked like he would soon be on his way out as he endured one of his longest barren patches from France in May to Malaysia last weekend.
But then he came to Sepang, two weeks after being knocked off (in his eyes) by his Honda team-mate Marc Marquez at Aragon, and dominated every practice session.
Dani is not one for slanging matches in press conferences. Instead he channelled his energy towards 20 laps around Sepang and won for the first time in five months.
That drought wasn't because Pedrosa had lost his mojo for the entire time since Le Mans, but because Marquez has turned up and thrashed everyone.
The Aragon 'Wiregate' moment for Dani summed up that bad luck I wrote about for AUTOSPORT in my pre-Aragon column. Yet the Sepang win was nothing to do with luck and owed everything to a sheer bloody-minded determination to make sure he took a second straight win at the track on the outskirts of Kuala Lumpur.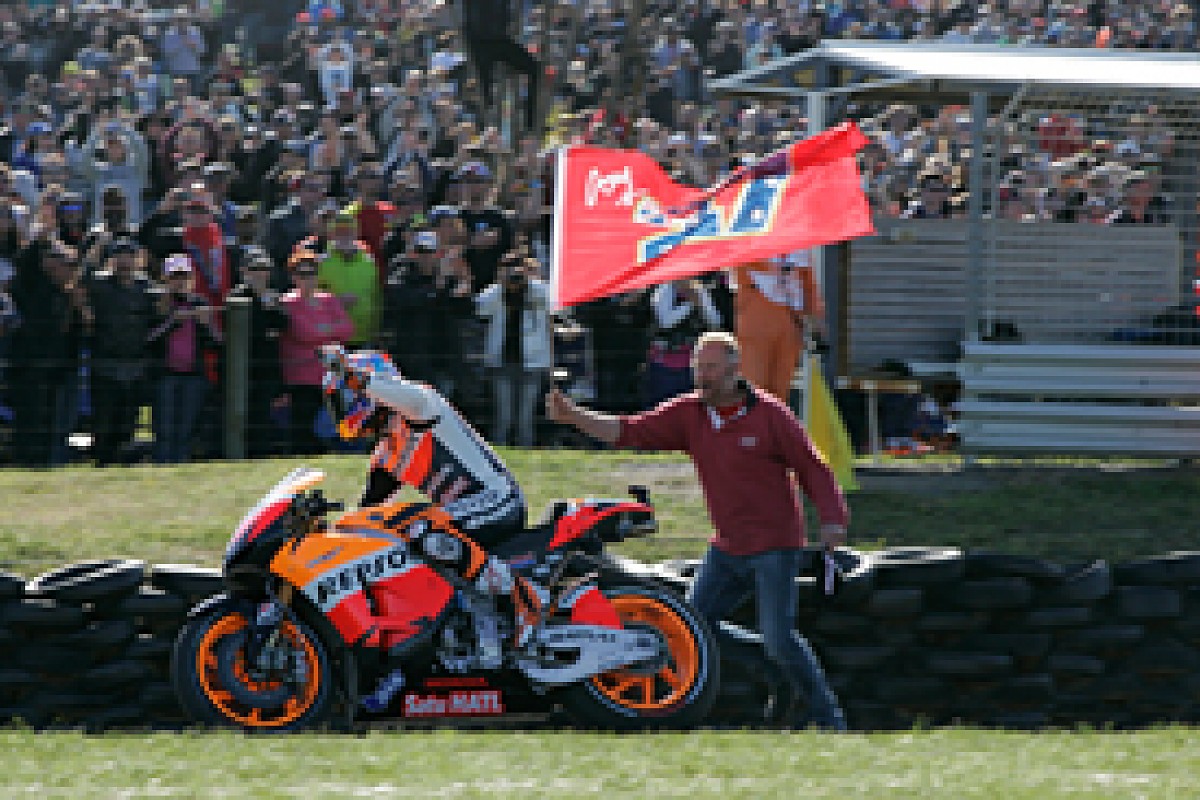 Stoner was unbeatable at home © SMARTFotos
This weekend is Phillip Island. Casey Stoner has won the race every year since 2007, so this year is the opportunity for others to get a look in. Lorenzo hasn't won there, nor has Pedrosa, nor (of course) Marquez in the big class.
Many say it would be good to get Stoner back on a bike to see what he could do, but Honda has its replacement for him in Marquez. Happy, smiley, PR friendly and he wins just as many races. HRC has moved on.
Dorna is inducting Stoner as a MotoGP Legend this weekend so he can stand alongside Kenny Roberts and John Surtees. There must still be factories out there itching to get hold of the Australian, despite him again complaining on Twitter a few days ago about the championship he chose to leave.
Once the back slapping and the wooden handshakes are out of the way, there's a race to be run on 'The Island'. Pedrosa must have a shot at winning this one too as Marquez will, understandably perhaps, play it steady and do what he needs to do in order to wrap up the title, just as you sensed he did last weekend in KL.
Alex Criville did the same, Kenny Roberts Junior did too: toddle around and get the goddamn title in the bag, then go and rag it the weekend after and win.
Keep an eye on the mood in the Honda garage when Marquez wraps it up. There's a fascinating contrast between MotoGP's quiet guy Pedrosa and his occasionally fiery mentor Alberto Puig, and Marquez with the happy, smiling assassin look alongside his manager Emilio Alzamora, who could at times be mistaken for a Finn, such is his almost mute manner.
Barring a huge surprise, the Marquez/Alzamora side of the Honda garage will win a MotoGP title before Pedrosa and Puig. If I'd put £1000 on that happening when Pedrosa's 800cc Honda was unveiled at Valencia in 2006, I would be writing this from my mountain-top chalet in Switzerland. The script has certainly taken a few surprise twists since Pedrosa emerged as apparently Honda's new hope.
A rueful Pedrosa follows a beaming Marquez - a rather common sight in 2013 © SMARTFotos
That's the sort of thing that must play on Pedrosa's mind as he heads over to Australia. He is still out for blood, while Marquez will potentially be playing it safe against his instincts. And, on his current dogged form, you have to consider Jorge Lorenzo for the win too. He's all wound up about Marquez being an allegedly dangerous rider, and Yamaha thinks its bike will be quicker at Phillip Island. It should be one of the best races of the year.
Two years ago, the 'best of the rest' in Australia was Marco Simoncelli. He did a mighty good job to finish second to Stoner that day and seemed to be on the cusp of crossing over from flamboyant cult hero to grand prix winner.
The calendar was the other way around then and a week later the circus went to Sepang. Then time did stand still for Marco Simoncelli.
What he would have made of the 1000cc Honda will always tantalise fans, but alas we will never know.
Marquez has been such a revelation to watch this year, but we can only wonder how Marco would've tackled the youngster who shares so much of the Italian's flair.
All those results were coming with such a big guy on such a small motorcycle... I don't often eulogise for long about those who have been killed but Simoncelli was MotoGP's Gilles Villeneuve.
His presence, and loss, will be felt for many generations to come.