Lost for words.
Marc Marquez wins four on the trot while HRC team mate and still-not-100-per-cent-fit Dani Pedrosa beats Jorge Lorenzo into third. 'Mr Corner Speed' on the king-of-corner-speed Yamaha couldn't win at corner-speed-critical Brno, proving that whatever Honda has found in the flyaway races to the USA it was worth more than Beverly Hills. That plus HRC has turned its own wick up to 9.5 (as it usually does at Brno) for the thrash to Valencia.
If ever we needed a reminder of how good HRC was in the latter part of 2013, it was the Brno performance - its fourth 1-2 finish of the year. The look on the Yamaha faces after the race not only reflected their defeat, but that even if they won a race in the remainder of 2013 how it almost wouldn't matter, such is the lead of Marquez over Lorenzo.
And with regard to Marquez within Honda, Pedrosa and manager Alberto Puig have been beaten at their own game by the happy smiling Marquez with the ever humble and quiet Emilio Alzamora standing in the wings. It just seems that no matter how hard anyone trains or studies or practices, there is no way to bridge the gap to the 20-year-old who racks up another record at every race.
It now feels like water of a duck's back to see him win race after race but these are ominous times for MotoGP if we are going to see domination such as this.
Have you any idea of how fast he will be with some track data and a year's worth of experience under his belt? Twelve wins? Fourteen wins a season? And the faster he goes, the more demoralised the competition will get this making it even easier for Marc to win. Welcome to the MotoGP Schumacher era. Zzzzzzzzzz...
So if you are Honda, you want to sign him up forever, while if you are Dorna, you want to get him on a Yamaha as soon as his current deal comes to a close at the end of 2014. Someone high up needs to move quickly.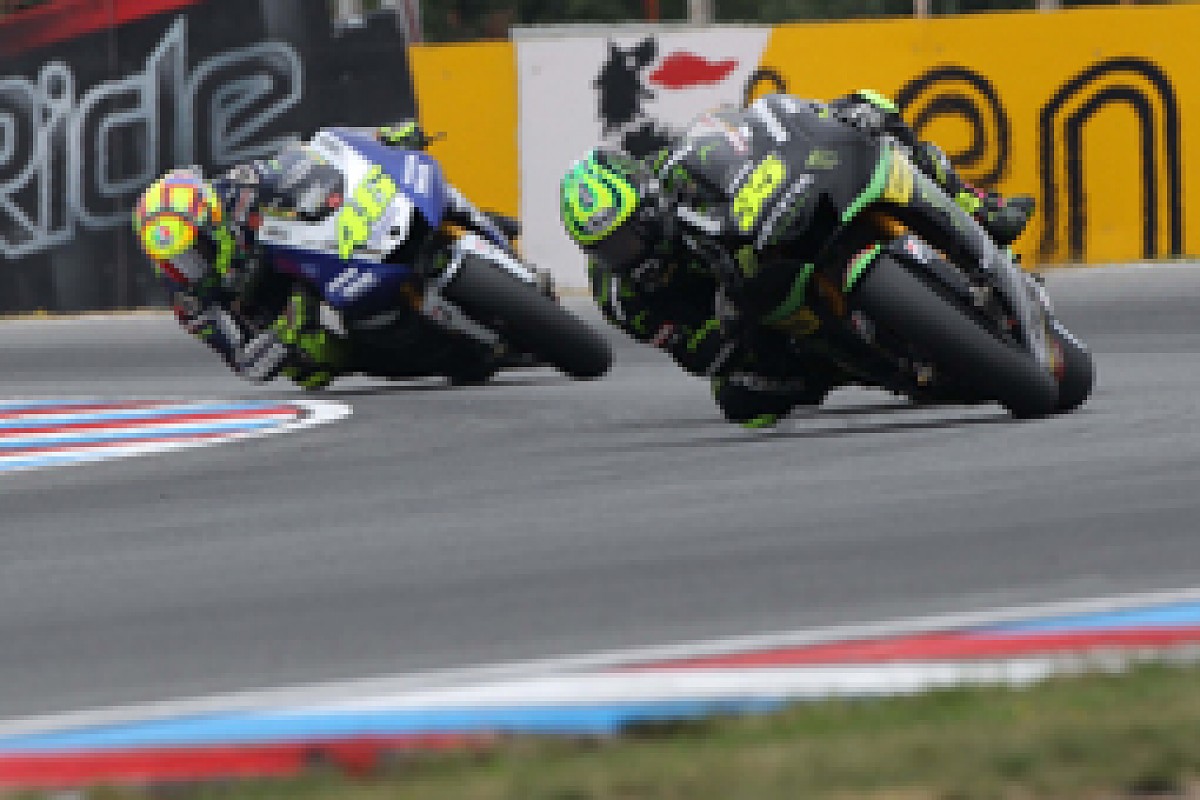 All eyes on Crutchlow this weekend © SMART
TIME FOR SILVERSTONE
Onto Silverstone this weekend and surely one of the most British of weekends in recent motorcycle GP history.
World Superbikes have had the lion's share of hometown success and flag waving support with Fogarty, Hodgson, Haslam, Rea, Davies, Sykes, Byrne, Toseland and Crutchlow winning races and five of those names winning the world title in World Superbike or World Supersport. Over on the GP side of the fence we have to go back to Barry Sheene in Sweden 1981 for the last premier class win. One hazards a guess that Marquez's parents hadn't even met at that time.
Now there is the tip of that hometown-hero-iceberg hopefully bobbing out of the water as we go to Northamptonshire this weekend with Crutchlow, Bradley Smith, Scott Redding and a great showing last weekend from John McPhee and Danny Kent. With Redding heading the Moto2 title chase he's the first Brit to lead a GP championship into his home round since Sheene in 1977.
Spaniards and Italians must have those headlines as standard print for the six races they have a year between them but for us Brits it's a bit of a novelty so that's one reason why I'm looking forward to it.
Silverstone has struggled to make ends meet in the three years it has had the grand prix, but that's been down to a combination of bad weather and bad luck pushing attendances down. All three events in June have been cold and windy at some point so one can't blame fans for thinking it was March. Indeed, some friends of mine came along in 2011 and were so cold standing at Abbey (in mid-June...), they went home before the MotoGP race.
It doesn't matter what the weather is going to do this year as all three classes look to carry us through. I am aghast to read that some people think that a weekend ticket is expensive at £80 for three days when a Test match ticket to The Oval last weekend was £75 a day and a Premiership football match is £60 odd a pop. These are the best riders in the world on the most exotic unobtainable machinery known to man. A prototype blend of carbon fibre and titanium that makes 260bhp in 160kgs.
No predictions, no bad luck curses from me I hope... I'm just looking forward to seeing them drift through Woodcote once more. See you there.