Fresh from his Indianapolis MotoGP domination, Dani Pedrosa is now well within shouting distance of this year's championship.
From being the ridiculed Spanish star who got his ride alongside a fistful of dollars from Repsol, he now really does look the real deal to take the title - something I never, ever thought he'd do.
I'll be happy to eat humble pie if Dani does it come the Valencia finale, but in the meantime it's going to be a very, very close fight between him and Jorge Lorenzo.
As Dani said while still soaked in Champagne at Indy: "Today we recover five points, but surely it's going to take [hard work] to stay there every weekend. This weekend for Jorge wasn't easy with the bike or the tyres and still able to be second.
"So we have a tough competitor and sure until the end it will be a very tight fight. I hope I can continue in the same way until the end and have good luck."
Too right, but even Dani realises there's going to have to be a little bit of luck involved in this one.
So how has he managed to turn things around? There are many reasons for this upturn in form, as there so frequently are during a complex GP season.
Pedrosa's 2011 hopes were dashed by his Le Mans injury © XPB
From the ridicule of Le Mans last year, when he tangled with Marco Simoncelli and broke himself for the umpteenth time, to now closing within 18 points of championship leader Lorenzo, he's now stringing together the kind of season he did when he was winning 250cc titles.
The stats for Lorenzo and Pedrosa from the 11 races so far this year are truly epic. Both have scored 10 podiums, with Lorenzo having finished either first or second o each occasion. His only blip? Getting knocked off at Assen. Pedrosa's tally is not quite so good, but he's finished every race. His blip? Fourth place at Le Mans.
Call them the hare and the very fast rabbit.
L'il Dani has matured in this his seventh MotoGP season with the same team. HRC are the masters of getting things either very right in MotoGP (NSR500, V5, 2012 trick gearbox) or a bit too wrong (NR500, the post-Rossi era, the early 800cc bike) thanks to getting too mixed up in their own unemotional engineering prowess.
This season may not necessarily turn out to be 'very right' for HRC, perhaps the right rub of the green for Dani and the team. They know him well and he's the leading Honda rider in the championship.
More importantly, he's the one who will still be riding this bike at the end of the 2014 season. That's 43 remaining races they still have as a partnership and that breeds confidence and faith.
HRC have already brought forward their 2013 engine and chassis, testing them at Mugello a month ago with both Pedrosa and Casey Stoner. Stoner didn't take the newer chassis but the newer engine did win first time out at Laguna and then again at Indy last weekend. The Hondas were fastest in every session (apart from the warm-up at Indy), took pole, fastest lap and won the race. And easily, too.
It feels like the beginning of a change in the balance of power within the orange-and-blue garage. We've gone from Stoner's dominance in 2011 to Pedrosa's consistency and two race wins.
This won't be some masterplan hatched in Japan to 'back Pedrosa-san and screw Stoner-san as he leaves us'.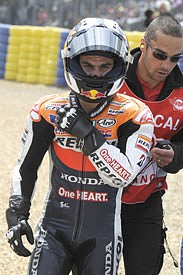 Stoner, struggling for motivation, had fallen behind Pedrosa even before his Indianapolis crash © XPB
No, it's just that Dani has got it together while Casey continues to tell us that he has no motivation anymore. The Australian said at Indy he's still sanguine at turning his back on the buzz of riding a MotoGP bike and a whole wedge of cash that could buy land-to-the-horizon in Australia.
"I think the summer break actually cemented it even more that I want to be away from racing," he said. "To be honest, this season has been very tough to find motivation to continue continue pushing all the time.
"There've been a few races that I've been a little bit downbeat and I'm struggling to find that hunger to really win. So I'm always having to try and chase it and find it somewhere. It's not always easy."
Stoner is nothing but honest, so the hunger of pushing for those hundredths of a second at each corner may not be there anymore.
Pedrosa is happy to do it because he hasn't yet won a MotoGP title and so dearly wants to.
The gelling of a team is a black art in which managers have to have just enough knowledge of all aspects needed. It's no use having an engineer or a PR in charge, but when it all works it just clicks.
It seems as though Dani, his crew chief Mike Leitner, his suspension guy Paul Trevathan and all his mechanics can see this crest of a wave approaching and are just about to stand up on the surf board and ride a big one to Valencia.
Seven races remain. How do the results of those tracks over the past two years compare?
It's a bit difficult, as injuries forced them out of three races each (Pedrosa's throttle stuck open at Motegi in 2010 and Lorenzo took the tip of a finger off in Australia last year), but you can be sure this two-wheeled scrap between the super-Spaniards will oscillate all the way to the finish.