This year marks the 100th anniversary of the Italian Motorcycle Federation - the Federazione Motociclistica Italiana (FMI) - and last weekend at Mugello was cause for a little celebration. One with a racing slant on matters.
It was a little get together of the FMI, through their Team Italia Grand Prix team that has now been running for 27 years. It's a team that has produced Italian, European and world champion motorcycle racers.

Remano Fenati won in his second Moto3 outing
Many countries have tried to copy the Team Italia model of a national federation that actually goes racing internationally itself. But only the Italians have got it right so far.
No better example can be seen this year than that of Remano Fenati, who clinched second place in his first ever Moto3 race and then dominated his second at Jerez.
He may well have had his ups and downs in the races following those podiums, but he kept his cool at Mugello last weekend and climbed back on the podium, finishing just 0.02 seconds away from victory.
Team Italia started out in 1985 after the FMI had the foresight to try and follow up the success of the Italian superstar riders of the early '80s. Marco Lucchinelli and Franco Uncini, you'll recall, had won the 1981 and 1982 500cc titles.
"Those were the years of Lucchinelli, Uncini, Bianchi, Lazzarini, Lega and Villa," said Paolo Sesti, president of the FMI. "If you wanted to cheer you only had to make your pick. But the Federation looked ahead; it could not have waited for a next generation of champions to come.
"It was necessary to be proactive, to look for new talent and help it grow."
The basis of the entire team came in 1979, with riders being helped out with cash payments of about €160 for them just to wear the FMI logo on their leathers and bike.
The fruits of those choices were born immediately, with Giuseppe Ascareggi and Pierluigi Aldrovandi winning the 80cc and 125cc European titles that first year.
Then came Team Azzuro in 1983, with riders such as Luca Cadalora, Ezio Gianola, Davide Tardozzi and Marcellino Lucchi being part of the team. The launch was held in Florence (style had to be part of it, for this was a full-on Italian assault on the world).
Fausto Gresini in action in 1985
Soon after, the FMI opened a new base, where innovative stuff was implemented that is the norm nowadays; a study of racing, physical preparation and diet. But moreover it was a big team they were all part of.
Sponsors were brought in to assist with the bills young riders faced, and getting Marlboro and Kodak on board was one hell of a coup. The money and the growing talent-base attracted the engineers, and thus came the results. A pole at the very first race for Cadalora bouyed the spirit of the team to a world championship title in the first year from Fausto Gresini.
Then Cadalora got into his stride and won the 125ccs the year after. Two on the bounce... then three on the bounce with Gresini again in 1987. Wow. It's easy to look back on this stuff and think 'that it will never happen again...' But when forward-thinking people get involved, things like this happen, and I'm sure they will again.
Alessandro Gramigni, Pierfranceso Chili, Ezio Gianola, Bruno Casanova, Max Biaggi, Roberto Locatelli, Lucio Checcinello, Stefano Perugini, Franco Battaini, Roberto Rolfo then were on the books, every one a race winner. Three of them became world champions.
So aside from the national anthem thronging out over the pitlanes of the world, what was in it for Italy? Inspiration, pride and an awareness was what it was all about, for if there were no successful riders then there were to be no winners, no champions, and no national interest in the sport. Then of course it would fall off the TV channels and back pages.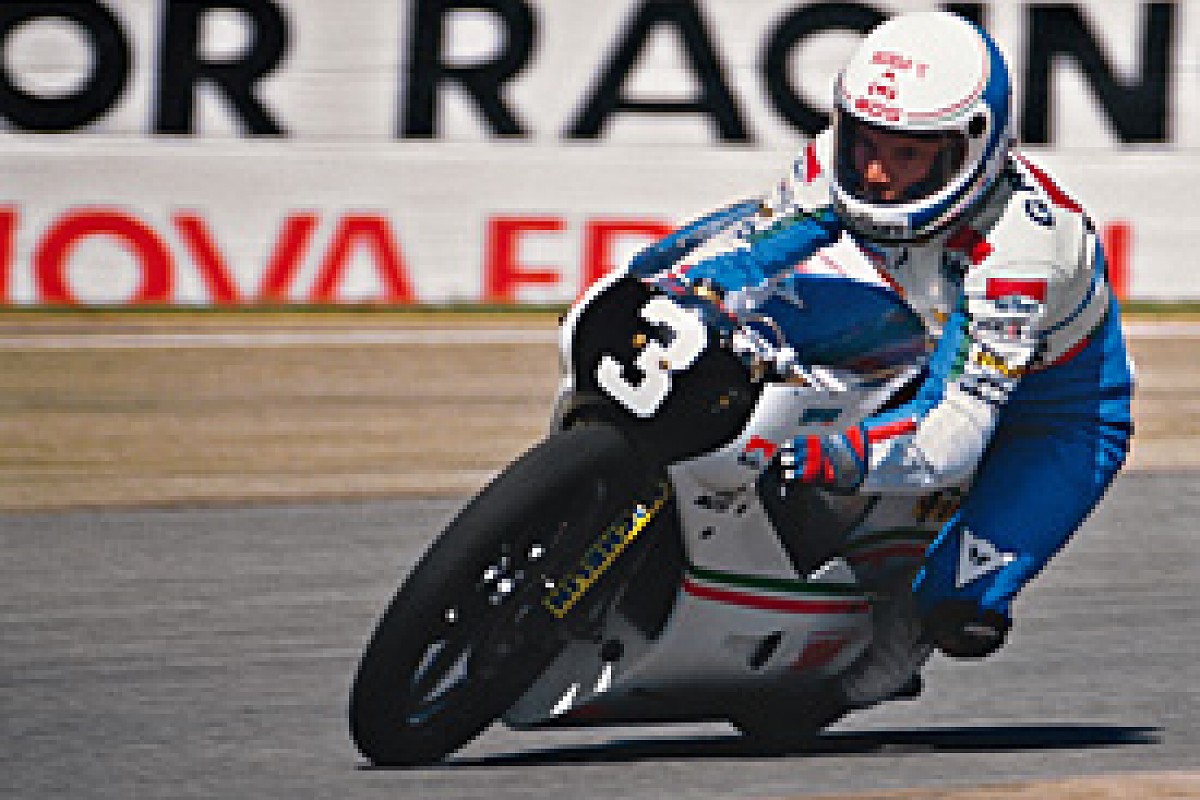 A young Fausto Gresini
But it didn't and along came a certain Valentino Rossi. Amazingly he Rossi was never part of the white, red and green team. Instead, he was picked up by Giampiero Sacchi's Team AGV for the 125cc World Championship back in 1997. He proved rather quick and, as we all know, has since taken Italian motorcycling to a level that has transcended the normal awareness levels of the sport over the past 17 years.
However, Italy has now realised that it needs another superstar to follow Rossi when the great man departs the stage, hence it is kicking it up a gear with this year's two Moto3 racers Fenati and Alessandro Tonucci, names you already know and maybe even cheer for wherever you may be in the world.
Luigi Morciano has also come through the system, and although he is struggling on his Ioda bike at present, he will be a better rider after it.
Spain, France and the UK have had similar projects over the years, but it is Team Italia who've made a mould that bakes a good cake. So if I had to bet on who is going to be Moto3 world champion in 2013 or 2014, I'd say keep watching the white bikes with the Italian tricolore.