There are many times when a journalist gets the 'do you know how to ride a bike?' line from a MotoGP rider during a paddock-based argument.
I had it from Mick Doohan in the heat of a raging blow-out about the merits of the Sachsenring back in 1998. So mad was the legendary Aussie that I thought he was going to hit me. At least I can say that I'm part of a small and exclusive club of those that have been 'Mick'd'.
This time though, the argument is not about whether we journalists know how to ride a bike quickly. In fact, this time the riders have found a group of informed journalists who know more about a subject than they do. This is a first for the riders and they're on the back foot even though they don't know it. This is all about radiation.

To recap, the Japanese Grand Prix at Motegi was due to take place on April 24, but was postponed until October 2 in order for Japan to take stock and rebuild itself after the horrific earthquake and tsunami that hit the country in March and the nuclear power station leakages that followed as a result.
Any reasonable human being was shocked as YouTube videos emerged and live news pictures of exploding power stations crossed the world. The MotoGP paddock - which features a healthy number of Japanese employees - was certainly affected by the time it gathered for its first race in Qatar. Some weren't there, while rumours of damaged engineering units spread, leading to further thoughts that HRC might be short on prototype parts.
The paddock united thanks to 'With you Japan' badges, stickers and t-shirts that sold, with proceeds going to those in need in Japan. For once the entire pitlane sang the same humanitarian song. After all, everyone in that pitlane has worked with a Japanese person. Everyone. We owed it to them.
Then, come mid-May, mutterings rose from some riders during the French GP weekend that they were concerned about radiation levels if they went to Motegi, the circuit being 100 miles away from the Fukushima nuclear plant as the crow flies. "I care more about my health than I do my career," said Jorge Lorenzo at Barcelona. Others tagged along during June.
Finally, last Saturday Casey Stoner and Lorenzo said they were categorically not going to Motegi. But on what grounds were they basing their policy?
Unfortunately for them there is a particular colleague of mine who has a chemistry degree (I'm yet to meet a GP rider with one), while others just saw the simplicity of "unless it's dangerous, you'd better go as your employers are Japanese and they live there" angle.
Lorenzo is adamant he will not travel to Motegi © sutton-images.com
Since the last rider protest in 1989 (which was over track safety at Misano, for the record) the internet has appeared and has made it so much easier for all concerned to get data, quotes and information about what kind of radiation there was in Japan and what kind of dosage you get on a daily basis from eating a banana. Yes, a banana!
Flying six miles high in an aeroplane for 12 hours on the edge of the stratosphere gives you a fair old dose of radiation, never mind an X-Ray on a broken bone. Hang on, doesn't that happen to a motorcycle racer every time they fall off a bike at 200mph?
Indeed, according to this chart if you do 16 long-haul flights per year, you'll get more than the dosage (one milisievert) as if you lived inside the Fukushima exclusion zone for two weeks following the power station leak.
And even having a CT scan at your local hospital gives you 7mSv! Just as Aleix Espargaro had last Sunday night after his big Moto2 off at the Sachsenring.
So just on what grounds are they not going to Japan? Lorenzo said he had seen a Spanish documentary the night before the Barcelona race on Chernobyl and was scared of now going to Japan. Some wag got line of the year by muttering: "If he'd watched a horror movie in March, maybe he wouldn't want to go to Qatar because its dark."
Yes, press conferences had descended to a situation where the press were laughing at the riders for their uninformed reasoning. Uninformed because they had done no research whatsoever, less egging each other on. I hear that Carmelo Ezpeleta's shouting and pointing at them (think something along the lines of "You will go to Japan because I say so") was hardly the most coercing of speeches ever made, but if the real reason they don't want to go is because they feel bullied into it, then they shouldn't be using the cloak of radiation as an excuse.
Moreover, we all happily shook hands with Japanese engineers, management and press colleagues in Qatar while riders rode bikes that were shipped in from Japan and some teams even wore clothing manufacturered there.
Japan is open for business; the FIFA Club World Cup is taking place in Tokyo on December 8-18 December, the Artistic Gymnastics World Championships announced on May 22 that it was going there on October 7-16, while Formula 1 will be at Suzuka on October 7-9. Hell, even IndyCar is going to Japan on September 18 - and to Motegi!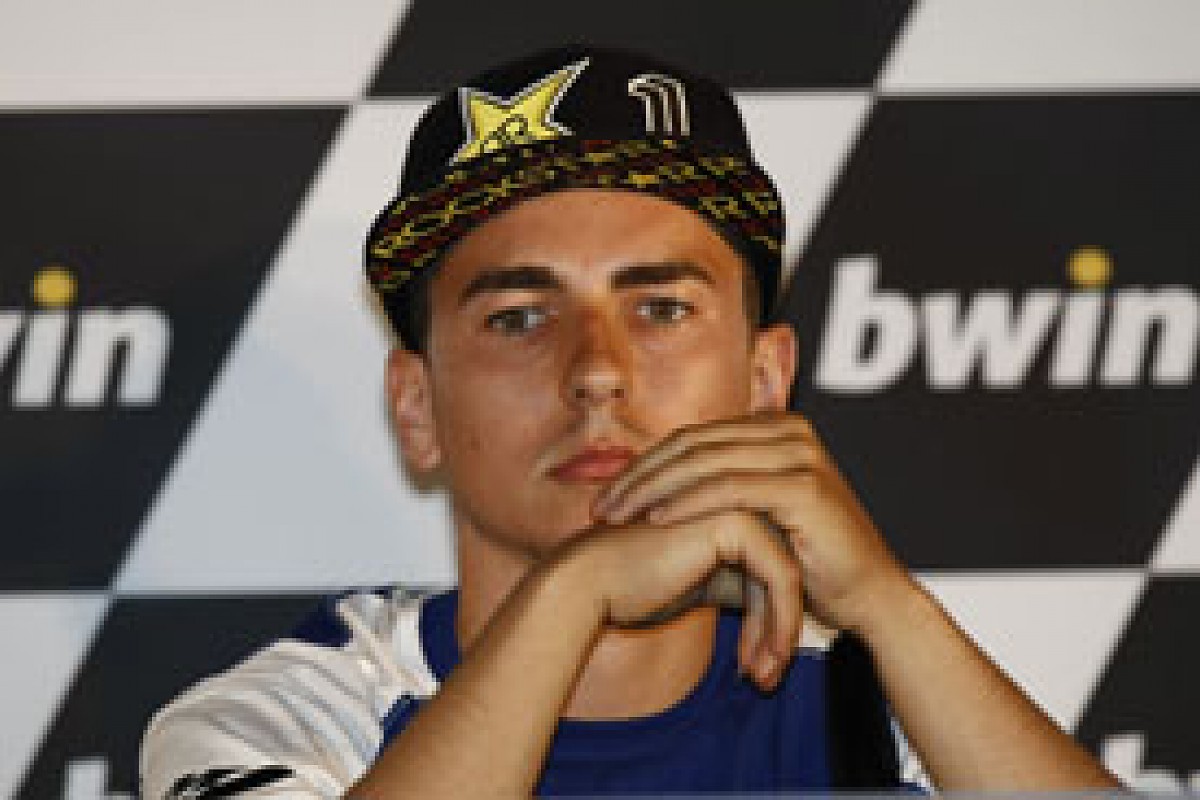 Japan provides most of the bikes on the grid © sutton-images.com
The FIM, whose championship it [MotoGP] actually is, has been listening to all of this and reacted to the riders' requests for an independent assessment of the situation in the area surrounding the stricken Fukushima power station. "We're on the case," was more or less what it said in a statement at Mugello on July 3.
That wasn't really very helpful as we were all expecting results from independent bodies to say it was either safe (as Japan says) or unsafe (as the riders say). The gymnastics governing body made its mind up two months ago, but the next update from the FIM will come only this weekend.
The bottom line is that everyone in the motorcycle industry owes a debt of thanks to the Japanese motorcycle empire. It has propped up racing for the past 30 years and made every single one of its riders extremely rich and wanting for nothing for the rest of their lives.
There are many others in the paddock who owe the majority of their livelihoods to the sport - such as myself - by the very nature of there being Japanese bikes propping up MotoGP grids (11 of the 17 bikes last weekend were Japanese). The MotoGP tyres are from Japan (don't forget the entire 125cc grid's tyres come from Dunlop's Kobe plant) and the entire grid of Moto2 bikes have Honda engines too, plus you have to believe the majority of the Moto3 grid will be Hondas next year.
If further proof were needed that Japan has underpinned the premier class and that we should all be thankful, just think about the last time a Japanese motorcycle was not on the 500cc or MotoGP podium? The answer, thanks to Martin Raines, is as the 1973 Swedish GP with Phil Read, Giacomo Agostini (both MV Augustas) and Kim Newcombe (Konig). That's 38 straight years in which there's been a little celebration going on in a Japanese office on a Monday morning.
On far too many occasions have riders simply stamped their feet during a situation and managed to win generous concessions; Suzuka was done away with as a GP track after Daijiro Kato's death in 2003, and limited tyre allocations were relaxed too after a similar riders' rant after a switch to a single supplier in 2008.
But those examples above are all over technical rules. This is about supporting our comrades in the paddock. The thing that grates me about it is that these very riders have at some point in their careers all demanded more power, or a go-faster part for their machines, and it has always been the Japanese engineers working through the night to enable them to win races and claim bonuses that amount to more than those engineers' annual salaries.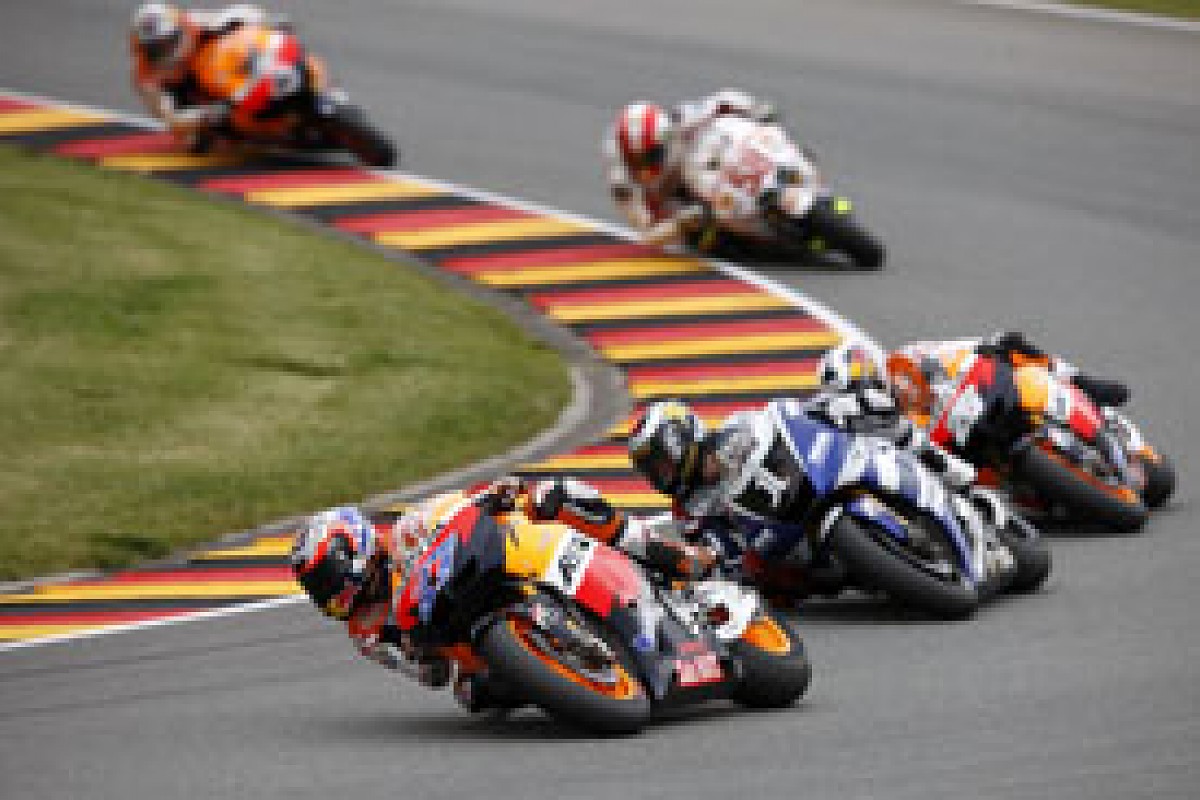 Ezpeleta has good relations with the Japanese © sutton-images.com
Two team managers have already muttered that they'll rip up their riders' current contracts and re-hire them under new conditions so that they would be in breach of contract to create a situation like the one we're currently experiencing. Many riders have said they are unconcerned at forgoing 1/18th of their salaries (£277,000 for a rider earning £5million) but that's not the point in their tax-free bank account.
The point is about supporting Japan and standing up to support the sport that has stopped many of the riders from ending up "Painting garage doors" or "Bashing car panels" as Troy Bayliss and Garry McCoy once said.
Karel Abraham and Hiroshi Aoyama have said they are going while Valentino Rossi has used his 16-year experience of the paddock to wisely fend off a decision until more facts come out. Will all the other riders stick together? I very much doubt it. Will they all say one thing and do another if it means one person stays at home and another just appears out of the garage door on Friday morning in Japan to take easy points? Could very easily happen.
This kerfuffle is a potential chasm in the sport between the non-Japanese riders and the Japanese who supply nearly everything else. Let's hope that it gets resolved quickly and peacefully or some factories will require that they have other riders. It's just a shame that there is a World Superbike race on October 2 at Magny-Cours as there are many from that series who would happily jump on a plane - radiation or not - for a guest ride on a MotoGP bike.
Next move in this game of childrens' chess? I think Japan has worked that out already.