Wow, what a weekend.
It's 3am in the morning and I'm still wide awake after the opening MotoGP race of the year. Truth be told, I thought it was going to be just the same as it has been for the last three years in so far as Casey Stoner was going to disappear into the distance and not be seen again until parc ferme. A terrible start was surprising for the Aussie, but we should all by now that he's cool about things like that, and just like Mick Doohan or Valentino Rossi, Stoner can let the initial madness of the first few laps settle before making his moves.
Valentino Ross celebrates on the podium in Qatar © LAT
Hitting the front and then setting a lap record on lap five [last year he managed the race's fastest lap on only the second tour], he was checking out for an early flight back to Switzerland.
The dust that was then kicked up on the left of our TV screens made me think that it was Rossi who'd fallen, because Stoner was already quite some way up the road. But as the camera panned around there was a man in red. Stoner had dropped it while in the lead, while staring 25 points right in the face.
As Rossi said afterwards: "These 25 points are like gold for our championship, especially at this track." He was sure he was going to get beaten by Stoner under the floodlights. He certainly didn't realise he was going to get 25 points on Casey.
Stoner had flown to a World Championship pulverising them all en route to that title in 2007. I remind you that 10 wins from 17 races was mighty that year, but his falls at Brno and then at Misano in 2008 - both times while in the lead - meant 50 points went into the kitty litter. To boot, he injured his wrist during that period, so crashing twice hardly helped, but he bounced back and flew again.
Ducati now hopes that he can bounce back from this, especially as he hasn't scored a point since winning in Malaysia last year. Remember how he embarrassingly fell off on the warm-up lap at Valencia with a dead cert win in his pocket, just as he had in Qatar?
While Valentino was no doubt celebrating his 25 points gained on Stoner on the Losail podium though, he may start to wonder when he sits down on the flight back to Europe, how he didn't gain more than five points on his Yamaha team-mate Jorge Lorenzo. After all, it was Lorenzo who we all thought would be the one struggling with the injured hand and the Frankenstein scar across the base of his left thumb.
For Lorenzo it was almost a bigger result to even get on the podium, let alone to be second, than it was for Rossi to win. Don't forget, he missed 33 per cent of the pre-season tests, and even during the final one in Qatar, struggled to do runs longer than five laps; not much use when the race is 22 laps long.
But we've seen Lorenzo being wheeled around the Shanghai paddock in a wheelchair after looping it in practice on Friday only to finish fourth on race day. I did say it on the commentary that he can fight through with incredible bravery, but I really didn't think he'd be able to do it again in this first race. Wrong!
Lorenzo may well be the one with the biggest smile on his face as he only lost five points to Rossi while gaining 20 on Stoner.
The odd Yamaha thing was Rossi running out of fuel after the flag. He said the bike was spinning up quite a bit throughout the race and therefore leaving the rear wheel to do a greater distance, but if that was the case, it was tight with only a drop left in after the flag. This could be a bit of bluffing too, making others think that the Yamaha is going to be nip and tuck on fuel (a very Jeremy Burgess thing to do), but in that case, how was that Yamaha the slowest bike down the straight during that race?
Maybe there's a new fuel system that loads the engine up for the shorter straights out at the back, something that Rossi and Burgess got very right at Mugello in 2004.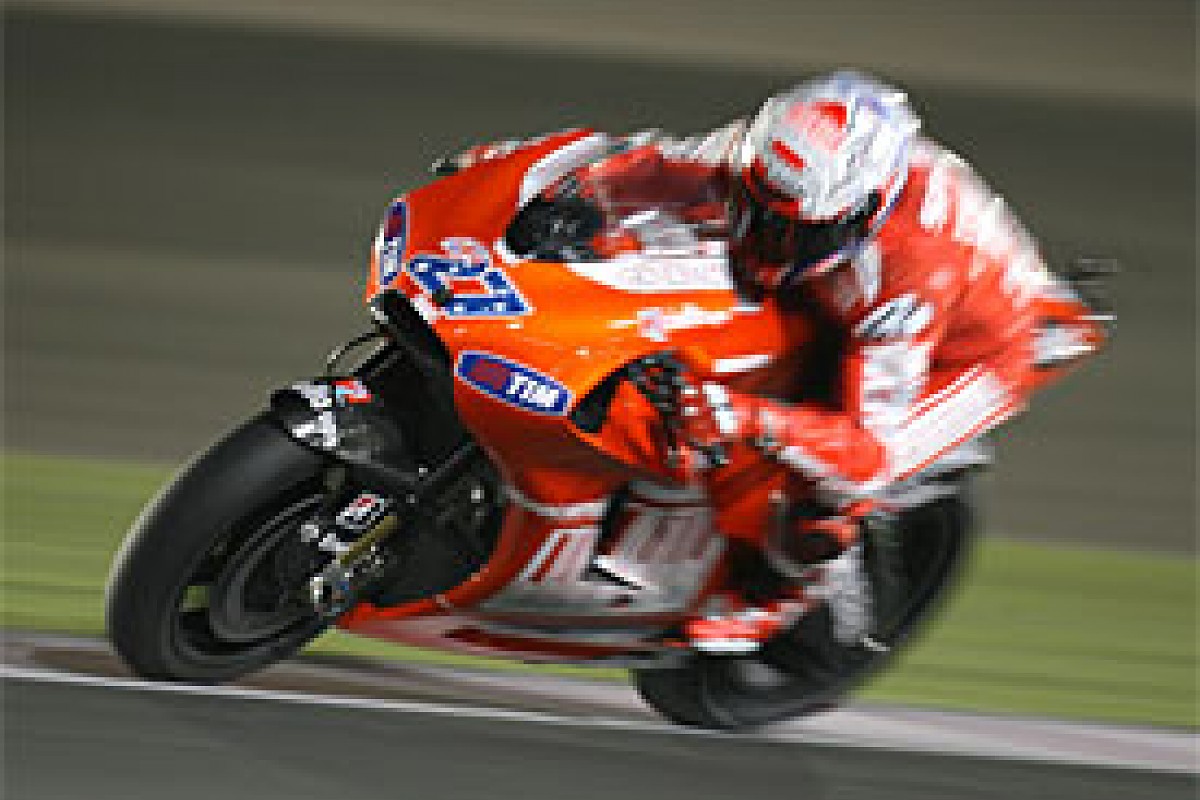 Casey Stoner during the Qatar Grand Prix © LAT
And what of the spoiler, Andrea Dovizioso? All weekend the paddock was awash with word of why Honda was in so much trouble after testing, and what could be the source of its troubles. Not Dovizioso though, who was only beaten by Rossi and Stoner at the Qatar test a fortnight before the race. Admittedly he does go well at Qatar, but you still have to ride it against them.
With Randy de Puniet being the first Honda rider on the grid, there must have been some serious finger wagging going on in HRC offices right through from dawn until just before the warm-up, as both Repsol bikes were in bits with literally minutes to go before they were fired up. Other mechanics finished their rebuilds and race prep yonks earlier, leaving them to kill time and eye up the LCR brolly girl as sport.
For Dovi, that race was a massive result as his more fancied team-mate Dani Pedrosa was 16 seconds behind him. One has to ask what is going on for a fit and healthy Pedrosa to be that far back when his team-mate, who may not be as quick, kicks him into touch. I would not want to be on the number 26 side of that garage going into the Japanese GP next time out at a circuit owned by Honda. That'll be a fun weekend off in the meantime. Not.
So what did they do to the Hondas to make Dovi's fly and Pedrosa's flop? The anti-picture screens may well have been there to try to stop prying eyes, but last-minute changes will never be caught by even the most hawk-eyed of snappers or journos. Indeed, it may not seen even if the screens weren't there. Why? Because it may well be the influence of the newly arrived electronics guys who've been grabbed from the FIAT Yamaha garage of Lorenzo and Rossi.
Christian Battagglia and Andrea Zugna made the jump over to Honda, so maybe their influence is being felt right from the word go, with Dovizioso having faith in their experience and suggestions.
Have those engineers come up with something already that is working for Honda? Too right they have, judging by the leap it had out of the final corner, a new 'torque-ometer' maybe having an influence in getting 235bhp to floor from a slow speed exit to a near 150 degree, second-gear corner.
Fitted around the final drive sprocket on the side of the engine, rumour has it that this device can deliver the precise amount of torque in conjunction with power at any speed, and at anytime. Far cleverer people than I will know the ins and outs of it, but having analysts to assimilate the data it creates is key.
If so, Dovizioso certainly has listened to them and got a hell of a lot more speed on than anyone else on a RC 212V. What he now needs to do is to not show his hand to anyone until the last lap. Passing Rossi over the line and leading close to the end was not a wise move as all it did was give Rossi food for thought so he could get him back, but only after he rode at 110 per cent.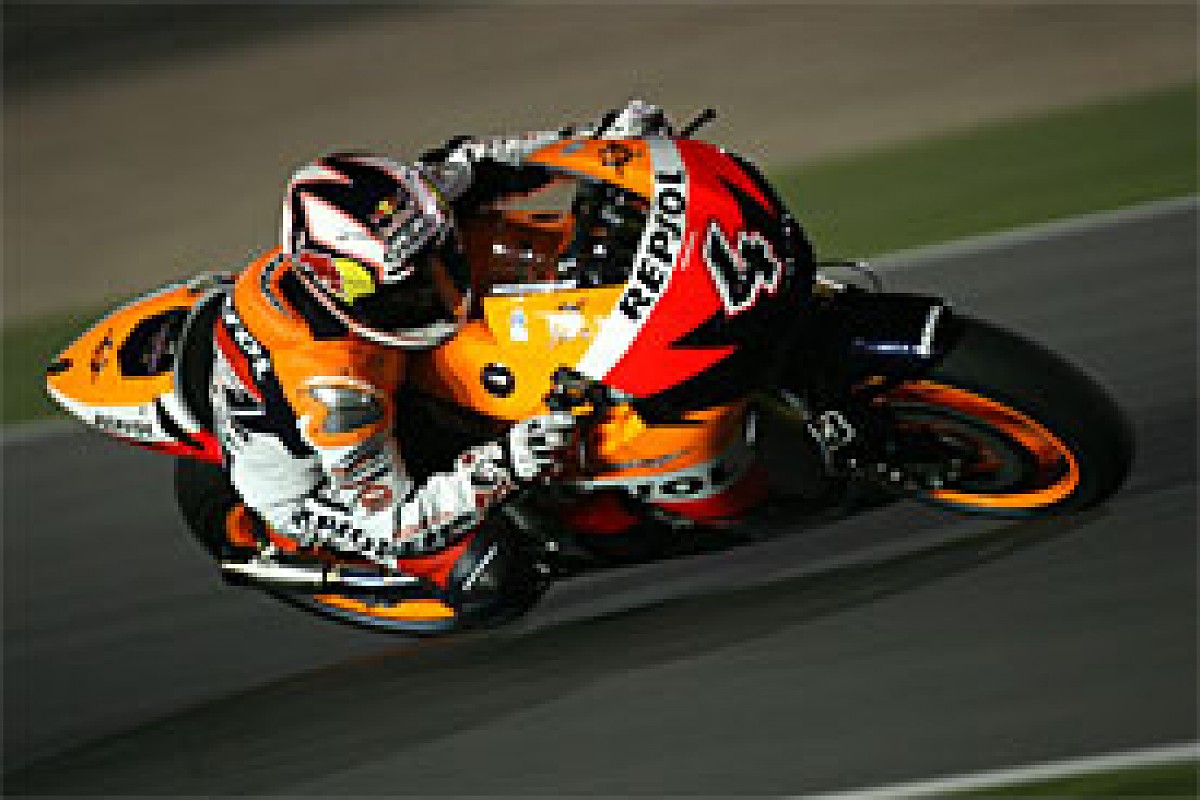 Andrea Dovizioso, Honda, Qatar GP © LAT
It worked for the number four Honda as he beat the guy who used to ride that bike, Nicky Hayden. The turnaround for Hayden from Qatar 12 months ago is down to nothing else but hard work and a true never-say-die spirit from the 2006 World Champion. He was last on the grid last year, admittedly after a massive neck wrenching crash in qualifying, but last nonetheless.
Come the flag it was a bittersweet drag race for Hayden as he was outgunned by Dovizioso and cheated of the podium by 0.11s, but to be 2s off the victory rather than 48s off the win in 2009, is the turnaround that stands out over the entire weekend, Lorenzo's hand and Dovi's podium included.
So all in all, the fabulous four, the aliens, or whatever you want to call the only multiple winners of 800cc MotoGP racing of the past three seasons, may well only be a trio after you analyse their 2010 Qatar race weekend, but when might Dovizioso be able to clinch his second MotoGP win and join the club to again make it four?
Maybe Hayden will be able to join the club too as he could very realistically win two races this year after his showing in Qatar? And Ben Spies? He was only 4s back on Rossi...
Who knows? Journos, paddock sages, world 'experts', armchair enthusiasts and pub pundits can all have an opinion, but no one predicted the result on Sunday, let alone the way in which the race unravelled itself. Pedrosa leading into turn one from the third row of the grid? Stoner binning it while in the lead? Dovizioso reeling in Rossi and leading with six laps remaining? If 2010 is going to be like this then the new decade has got off on the right foot.
A new decade had a new class with Moto2. A tweaked Honda engine and ECU on Dunlop control tyres worked wonders, with the young Shoya Tomizawa making history in an exciting race with sideways action (no traction control), close racing, a brand new winner in GPs, some offs and some mechanicals meaning some have not shown their colours at all yet.
It was great to see such a full grid, and great to hear forty one screaming engines all together.