Le Mans: A place that motorsport people should love because of the evocative race that is the 24 Hours, but for MotoGP people it's an odd place not high on the list of tracks to go to in one's lifetime.
But raceday can be bizarrely entertaining with Frenchmen trying to crash or win their home race at nearly all costs, the glimmer of warm summer sunshine, Yamahas that always fly around the Bugatti track, and, oh yes, the more than 70 per cent chance of rain.
Last Sunday's race probably had the same man winning it if it was wet or bone dry, let alone the mish mash of both that actually happened. That man was Jorge Lorenzo and he's flying at the moment; on top of his game and a MotoGP rider who is nigh on uncatchable in this kind of current form.
He's confident like a Gladiator. He was in the same elevated, almost regal position last year only to whack himself with a stratospheric highsider in China and then knock himself into la la land with a "where am I?" crash at Barcelona. His season came to a very abrupt halt; his dented pride hurting as much as the pain when limping through many an airport the world over.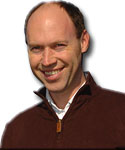 Jorge Lorenzo, Yamaha © Back Page Images
But in now being the only rider to win two races this season, Lorenzo 'did a Rossi' at Le Mans with a fightback from a non-score at Jerez that left him with a 24-point deficit after just three races. However, he's fought back to be right in the hunt again, this time to lead the title chase.
He was, mind, helped enormously by his team-mate and championship leader lobbing it into the gravel, but points are points and you must never feel guilty.
The wet then dry race at the Bugatti circuit was one in which not only Lorenzo cemented his form and confidence, but was the kind of race Marco Melandri needed. The little Italian struggled with the one-rider-only Ducati last year but at Le Mans he got the podium of his life aboard the non-branded Kawasaki - the team that only started the year because it was cheaper to enter a bike and fill its place on the grid than to pay the penalty of leaving the championship.
Amazing similarities to Honda bank rolling BrawnGP onto the 2009 F1 grid.
I wrote about Melandri after the Japanese GP and how he's rejuvenated, but now he knows he's still got the touch. No matter what people say to a rider with regard to how good they are, only they actually know where they're at with the bike - and whether there's any more left with which to screw that throttle right open.
Stoner and Lorenzo have it in bucket loads. Melandri lost that confidence but he's rediscovered it now. It's just up to Hayden to get himself out of the same hole that Melandri was in this time last year when on the red bike.
He needs a Lorenzo pill.
Remember that Melandri had a two-year deal at Ducati only to get out of it after one. I wonder if there is no break through with Hayden, there might be a similarly sad parting of the ways? I sincerely hope not as Hayden is a 100 per cent worker if ever there was one - the proof there in his 2006 title.
But it was interesting to see that Ducati had Troy Bayliss ride the GP9 the other day at Mugello, if only because Filippo Preziosi said: "Working with Troy has been very useful because he has a very different riding style to Vittoriano [Guareschi, test rider]."
Nicky Hayden, Ducati © Back Page Images
Does this mean that Ducati is worried about its bike being too 'Stonered' in that he's the only one able to get it up the front in three years of 800cc MotoGP? Are the Marco Simoncellis and Alvaro Bautistas of this world wary of riding Ducatis in MotoGP? Is this why Gabor Talmasci wants to ride the other Scot Honda alongside Yuki Takahashi?
The irony is that the engineers at Ducati are the few who can see the sheer commitment of Stoner and the massive, ballsy throttle wrenching yank he has that gets him on the gas five or six metres before anyone else in some quick, finely balanced corners. For it is he who makes the difference rather than the bike being made just for him.
Stoner has never been short of confidence, less for post Laguna syndrome last year, while it is great to see Melandri bouncing back. Great. Will Marco be calling Nicky Hayden to offer him some solice, or will it be Valentino Rossi who will now be on the back foot. Clutch problems during free practice, not getting on the front row and then crashing out of a MotoGP race for the first time since Valencia 2007... I very much doubt that Rossi will be down for long, as Jerry Burgess said afer the race: "At least we now have had all of our bad luck on one day." Mugello is next for Rossi and his adoring crowd awaits.
Yes, yes, I know that the race was a 'tyre race' but Melandri and most underdog team supporters (such as myself) are over the moon at his podium. But he's just made life a little harder for Nicky Hayden and Paolo Campinotti (Pramac Ducati team manager) to get anyone to ride their bike next year.
Mind you, will cash strapped Kawasaki put a little more effort in after this? No, they won't. Besides, it's got nothing to do with most of the expensive engineering in the garage, but instead it's all about the bit that costs nothing. Confidence.
Sete Gibernau
Sete Gibernau broke his collarbone during free practice at Le Mans and was immediately flown to the Dexeus Clinic in Barcelona for surgery that should have him back at Barcelona in four weeks time.
Is this the end of his career? Will there be enough time to recouperate? Is this all a bit of a sad end to his career? It's really not looking very good, is it?
Gibernau was harranged during his height when sparring against Valentino Rossi, but I for one was a supporter and saw the side of him away from the theatrical antics and posturing that rankled so many of the yellow army on the Rossi bandwagon. He is a gentleman underneath, believe me.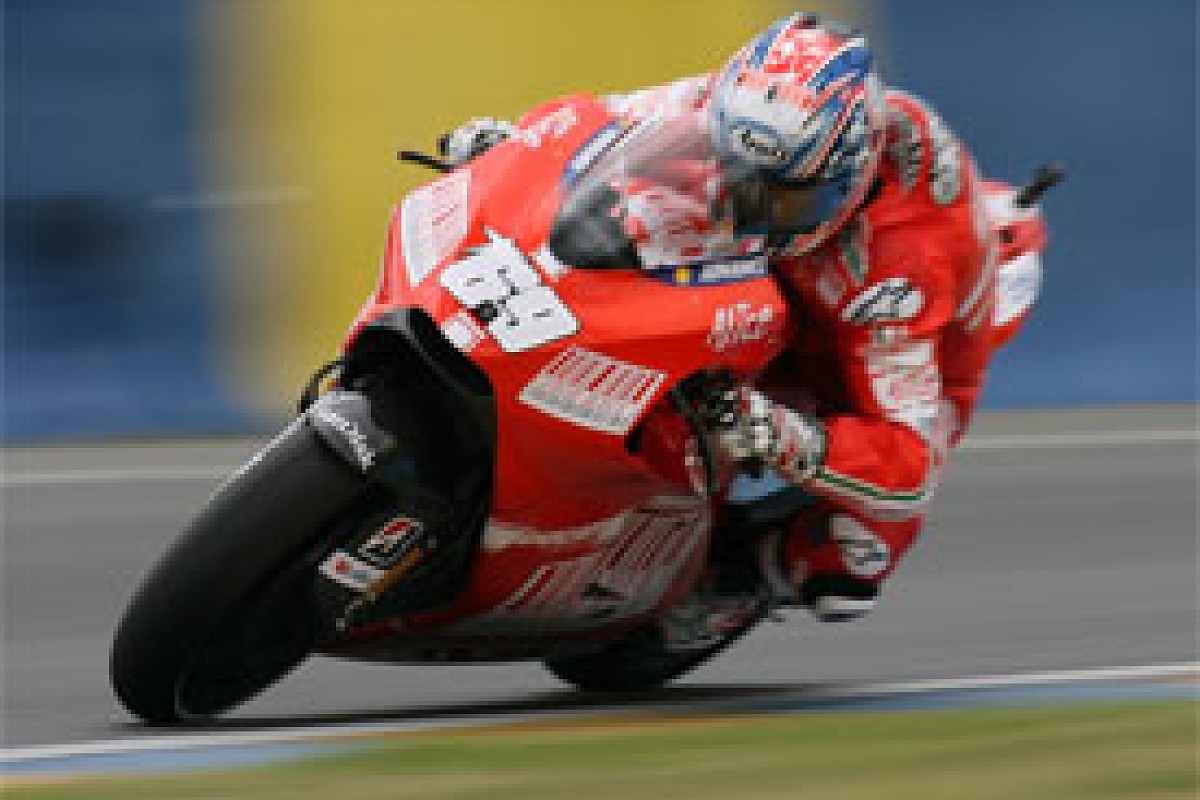 Sete Gibernau, Francisco Hernando Ducati © Back Page Images
Yes, I could see why others got annoyed with him, but to dig deep to win the race that afternoon in South Africa in 2003, just days after his team-mate Daijiro Kato had died is a forgotten effort by many. Within weeks he turned himself into a championship contender and Rossi beater - and there haven't been many of those, have there?
Catalunya 2006 and the massive pile up at Turn 1 was the day that started the slippery slope away from the top. A racing accident at 121mph, where he was flipped over the top of the bars - and still people who'd probably never ridden at 121mph took pleasure in bashing him while down. Unfair and unjustified.
Will he return on the difficult-to-master Ducati, or will he be braver than that and save himself from further needless pain?