On paper at least, Red Bull is charging once again. Buoyed by double DRS and front wing revisions, the team dominated the Japanese Grand Prix. A first front row lock-out of 2012 was followed by victory for Sebastian Vettel, the first back-to-back wins for a Formula 1 driver this season.
McLaren however has dismissed fears that Red Bull has taken a decisive step in the development race, pointing to the nature of the Suzuka circuit as the real cause of Vettel's weekend supremacy.
So has the momentum genuinely shifted? Or, as McLaren technical director Paddy Lowe asserts, could it be that Korea will be a different equation? Either way, the team - along with Ferrari, and in particular Fernando Alonso - will need to find an answer to the pressure currently being applied by the Red Bull squad.
Schumacher 'forced' to retire: Vettel's massive championship gain wasn't the only shock delivered at Suzuka of course, as Michael Schumacher confirmed his retirement, having lost his Mercedes drive to Lewis Hamilton for 2013.
Sources close to the 43-year-old German suggest he is unhappy at his treatment however, with his hand apparently forced by Hamilton's arrival. Despite his positive public comments, we reveal that he was keen to continue racing, but that his vacillation over a one or two-year deal paved the way for Hamilton to agree his contract.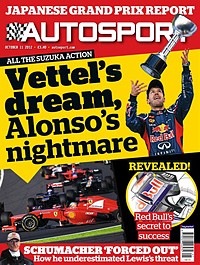 Japanese Grand Prix report: All the inside stories from the Suzuka weekend, including what our experts Gary Anderson and Mark Hughes made of the latest technical upgrades from Ferrari, Toro Rosso, Lotus and Williams.
David Coulthard: In his regular column, 13-time grand prix winner David Coulthard turns his attention to Fernando Alonso's increasingly precarious championship lead, arguing that the Spaniard should never be discounted, no matter what the current situation suggests about his chances.
Romain Grosjean also gets the Coulthard treatment, with the Frenchman's penchant for early carnage a sign that, right now at least, he can't be called a good driver - even if he is seriously fast.
Mark Hughes column: Grand prix editor Mark Hughes meanwhile takes an in-depth look at Schumacher's impending F1 departure. In contrast to his 2006 exit, Hughes says, there is at least a sense that the German knows his glory days are now behind him.
Stellar Macau grid: GP3 runner-up Daniel Abt and third-placed man Antonio Felix da Costa will form part of an unprecedented six-car line up for Carlin at this year's Macau Grand Prix. We look at the implications for both F3 and the race, which has also attracted 2011 British title winner Felipe Nasr, last year's Macau winner Daniel Juncadella and Japanese champion Ryo Hirakawa. There's an impressive line-up for the GT Cup event too, with Audi DTM star Edoardo Mortara, Romain Dumas, Lucas di Grassi and Danny Watts all set to compete.
Citroen targets Sordo, Solberg: With confirmation that Sebastien Loeb will only contest selected events in the WRC next year, Citroen is on the hunt for a top-line driver to fill in for the nine-time champion. As team boss Yves Matton reveals to AUTOSPORT, Petter Solberg and Dani Sordo are the two chief candidates.
Neal to help Shedden: Matt Neal endured a disastrous weekend at Silverstone, as retirements in all three races effectively ruined his bid to defend his 2011 crown. We have all the fall-out from the weekend, including Neal's pledge to help Honda team-mate Gordon Shedden defeat MG's Jason Plato in the title battle.
WRC France: Before the start of his home rally, Sebastien Loeb had insisted he didn't have to win. He did anyway. The unstoppable Frenchman secured his 75th career win, and his ninth and final WRC crown, in typically emphatic fashion, as David Evans reports.
V8 Supercars Bathurst: Jamie Whincup and Paul Dumbrell shared victory in a classic 50th running of Australia's biggest touring car race, the margin of victory a mere 0.3 seconds from the chasing duo of David Reynolds and Dean Canto. Phil Branagan brings you the full report from the last all-Aussie showdown on the legendary mountain.
From the archive: Stefan Johansson never got to see the chequered flag when he scored his breakthrough F3 victory - but then, as he tells AUTOSPORT, nor did almost everyone else as torrential rain sparked carnage at Silverstone in 1979.
Race of my life: In this one from our archive, the late Al Holbert, the most successful racer in IMSA history and a three-time Le Mans 24 Hours winner, counted beating his hero and mentor as his finest ever drive.
Read this week's AUTOSPORT digital magazine