The European Grand Prix was a thriller, fully in need of the expert dissection of Mark Hughes in this week's issue of AUTOSPORT magazine. Read Mark's report as we bring you 14 pages of action, great pictures, results, technical analysis and all the trimmings from the Valencia weekend that resulted in Fernando Alonso's emotional home win.
Of course, we could all have been slightly less overwhelmed had Sebastian Vettel cantered to victory in his Red Bull. The team's new breakthrough in the development race - which could put a very different slant on the second half of the 2012 season - is covered in detail in our news pages.
Mark Hughes column - Meanwhile, Hughes gives us his regular weekly column, which explains that the crazy patterns of this season are nothing to do with tyres. But they are.
GP2 and GP3 Valencia - And if you thought the grand prix was good... GP2 Series action on the streets of Valencia was sensational. Simon Arron reports on the goings-on from here and GP3, where there was rarely a dull moment.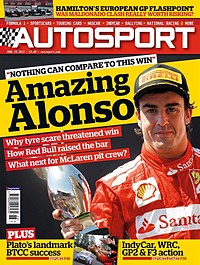 IndyCar - Over in the States it was all-action too, as Ryan Hunter-Reay took an IndyCar Series win at Iowa Speedway in a race where Will Power crashed, Scott Dixon faded and Dario Franchitti didn't even get going. Mark Glendenning was our man on the spot.
BTCC Croft - It's a rare weekend where the BTCC doesn't give you racing as close as F1, GP2 or IndyCar... Matt James reports on another bout of Honda supremacy.
British F3 Brands Hatch - Further south, the British F3 boys were racing at Brands Hatch. The action wasn't as exciting here as even the BTCC, although it was marginally better than England v Italy - especially so for Jack Harvey, who put in another superb performance. Marcus Simmons reports.
F2 Spa - Spa means dodgy weather, and so it proved for Formula 2 last weekend, where Sunday's race lasted three laps before everyone drowned. Saturday was OK though, and Markus Pommer put in a great performance to break his duck, watched by Jack Nicholls.
WRC New Zealand - David Evans went all the way to New Zealand to see the latest round of the WRC. He reports on a predictable win for Sebastien Loeb and Citroen, and gauges the respective bemusement of the Northern Europeans who drive Fords.
Sports Extra - We cover all the rest of motorsport around the world and in the UK, with highlights including a stunning British GT round at Brands Hatch - decided by 0.022 seconds - and action from Dijon historics and MG Live at Silverstone.
From the archive - We talk to Johnny Herbert about a European Grand Prix in Spain that wasn't held at Valencia. Bet you forgot about his lone appearance for a certain French GP team, didn't you?
Race of my life - Jacques Villeneuve looks back at his favourite moment from his motorsport career.
Read this week's AUTOSPORT digital magazine.