Felix Rosenqvist says racing his IndyCar team-mate Scott Dixon is like "playing with fire" and he would have been more aggressive against a non-Chip Ganassi Racing-run car at Mid-Ohio.
The Chip Ganassi team-mates fought for victory as Rosenqvist closed in rapidly during the closing stages as he had better tyre life than Dixon.
Most drivers went for a three-stop strategy but Dixon made only made two pitstops, making him vulnerable at the end.
IndyCar rookie Rosenqvist caught Dixon and the two banged wheels, Dixon narrowly holding on to take his second win of the year by 0.093s and a fourth-straight top-five finish.
On the battle, Rosenqvist said: "Well, it's always playing with fire, you know, when you see that orange car [Dixon's].
"Chip's first rule is always don't take out your team-mate or we're going to have a serious discussion.
"He always says that before the race, and that's going to stick in your head for sure when you're catching up to Scott.
"As I said before, I trust him to give the room when it's needed and to be aggressive when it's needed, and I didn't really feel worried about it.
"I mean, when my team trusts me to go for it, I trust them that that's the right call and I do what I'm told, go for it, have fun.
He added: "I mean, if it was someone else, obviously you would have gone a bit harder.
"But being Scott, you know he's going to fight you fair.
"I mean, I know a couple other drivers in this championship who I wouldn't go even as hard as I did with Scott because there would just be an accident.
"So yeah, I think he's always on the right level of aggression and safety at the same time."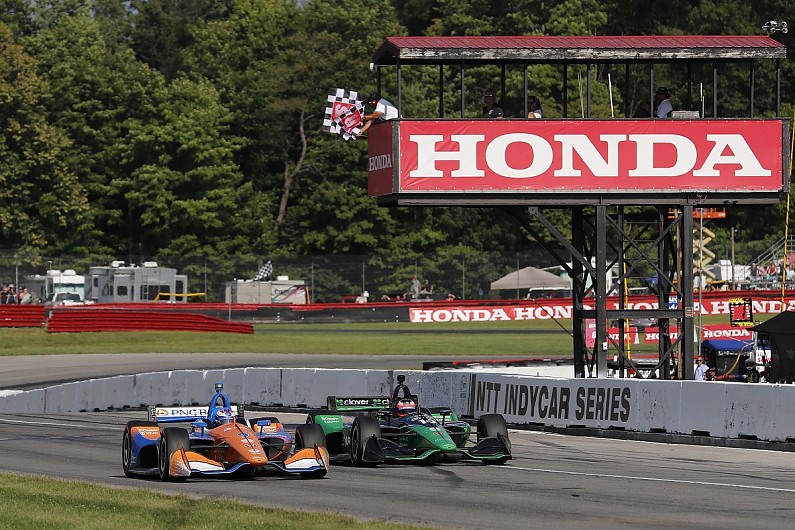 Dixon, who has 62 points to make up in four races if he is to defend his IndyCar title, said that it is not like racing a rookie, competing against Rosenqvist, because of how many series he has competed in.
"Probably pretty sure that next time he's not going to let that slide," said Dixon of the battle.
"I think there's a big understanding in any team that the last thing you want to do is take each other out.
"And Felix is a rookie here in IndyCar but has raced in many different series and has much broader knowledge of racing than I even do because he's touched so many different kind of formulas.
"Again, I keep saying it, but he's a big talent.
"He's going to win a lot of races.
"He was super-fast all weekend."
Autosport has produced a standalone special magazine to celebrate our 70th birthday. All current print subscribers will receive a copy for free. To order your copy of the 196-page Autosport 70th Anniversary issue, please go to: autosport.com/autosport70th