Scott Dixon says he and the Chip Ganassi Racing team have no choice but to take a more aggressive approach to win races, now that his IndyCar title hopes are fading.
Five-time champion Dixon claimed only 17th at the Indianapolis 500 and made a rare error in the opening Detroit race on Saturday.
Dixon clipped the inside wall at Turn 6, breaking the toe-link, with the Ganassi driver unable to prevent a secondary impact with the outside barriers.

It marked Dixon's first retirement since 2017 and now means he has slipped to a distant fifth in the standings, 92 points behind Detroit race one winner Josef Newgarden.

"We've got nothing to lose now, right?" he told Autosport.

"We'll just be going for the win - and that's not just the second race here but all the races now.

"And that's kind of fun - fun for the driver and fun strategy-wise for the guys in the team.

"We've had similar deficits before and we've clawed it back and got back in the championship hunt. We've just got to do it again. There's still 10 races to go."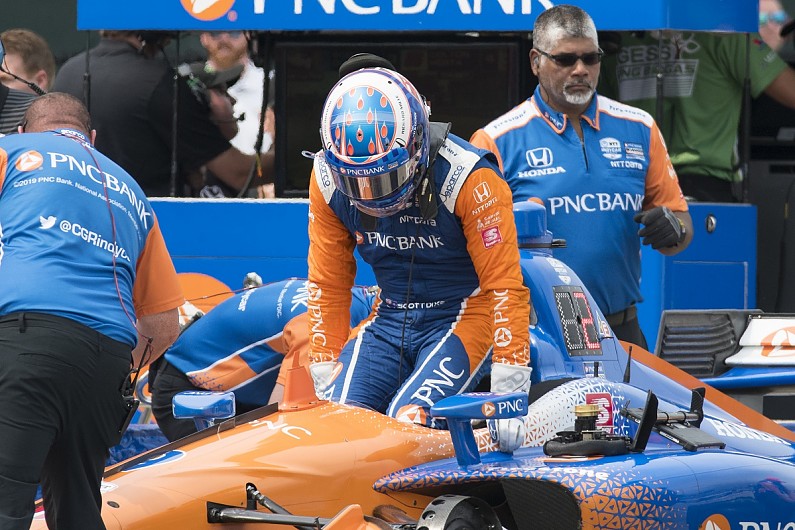 Dixon had jumped eventual winner Newgarden on the first lap of a wet/dry race but slipped behind the Penske driver through the changeover to slick tyres.

"We were better earlier in the run," said Dixon of his pace.

"Josef got truly lucky with that yellow coming out just as he's pitting. Both [Alexander] Rossi and I would have cleared him in a normal pitstop sequence when we all switched to slicks.

"If we'd still been in it at the end? I don't know, to be honest.
"It's hard when you've got a track where the racing line is dry but it's wet off-line. Where do you go to make an outbraking manoeuvre? It's going to be a pain.

"But you've got to hand it to those guys [on Newgarden's #2 Penske]. They've found a way to turn average weekends into great results, and we've seen championship runs where a certain driver can do no wrong."