IndyCar rookie and new Red Bull junior Patricio O'Ward will not contest the remaining two oval races he was originally lined up to enter with Carlin.
Reigning Indy Lights champion O'Ward signed to drive for Carlin this season after breaking his ties with Harding Steinbrenner Racing in February.
Originally O'Ward was supposed to start all 12 races that Charlie Kimball was missing, plus the Indianapolis 500.
In early May, the 20-year-old Mexican announced he had joined Red Bull's junior programme and was aiming for a Formula 1 future.
He then suffered a huge accident in practice for the Indianapolis 500 and ultimately failed to qualify.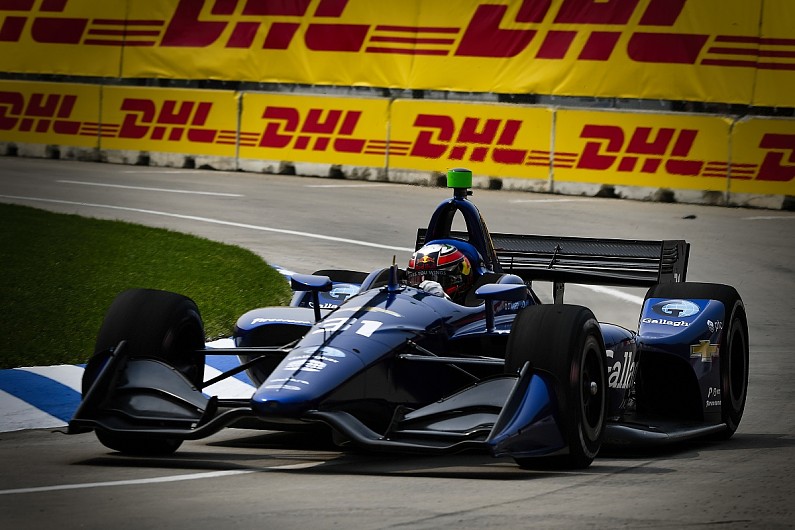 Carlin is fielding O'Ward and Max Chilton for this weekend's Detroit double-header but will modify its planned line-up for the Iowa Speedway and Gateway races in July and August.
Team owner Trevor Carlin told Autosport: "[Patricio] is doing the races we originally agreed to, with the exception of Iowa and Gateway."
Asked if he would place Kimball in the car for those two extra races, or enter just one car for Chilton, Carlin replied: "We will run two cars for the whole season."
Kimball still has Texas Motor Speedway, Pocono Raceway and the season finale at Laguna Seca left in his part-time programme.
Asked by Autosport if he would be prepared to race for Carlin at Iowa and Gateway too, Kimball responded: "I'll drive every time I can, but for now I haven't heard anything from the team about adding two races to my schedule."
Aside from Kimball, another likely candidate to partner Chilton is RC Enerson.
He was a strong candidate for the 13-race ride until his sponsor deal fell through, but he would have to pass a rookie oval test to IndyCar's satisfaction.
Another possibility would be Conor Daly, who shone in his one-off for Andretti Autosport at the Indy 500.