IndyCar rookie Patricio O'Ward has been added to Red Bull's junior driver scheme.
Indy Lights champion O'Ward joined Carlin for the 2019 IndyCar campaign shortly after parting ways with previous squad Harding-Steinbrenner Racing on the eve of the season, when it became clear the team could not offer him a full-year drive.
The 20-year-old Mexican has a deal covering 13 of the season's 17 IndyCar races.
A statement from O'Ward's press office said the 20-year-old will see out his current IndyCar campaign with Carlin, which continues with this weekend's Indianapolis road course race.
But he made clear the Red Bull link allowed him to look towards an F1 future.

"This is a great opportunity for me," said O'Ward. 'Naturally every racing driver has their eye on F1 and would give anything to be world champion so to join the Red Bull Junior Team that has provided that F1 possibility to so many drivers is fantastic for me.
"I'm thrilled to be contesting the IndyCar series with Carlin, apart from the Indianapolis 500 we are prioritising the road course so Indy is the only oval I am doing.
"I'm very proud to have been approached to be a member of the Red Bull Junior Team and thank Dr [Helmut] Marko and the team at Red Bull for seeing my potential.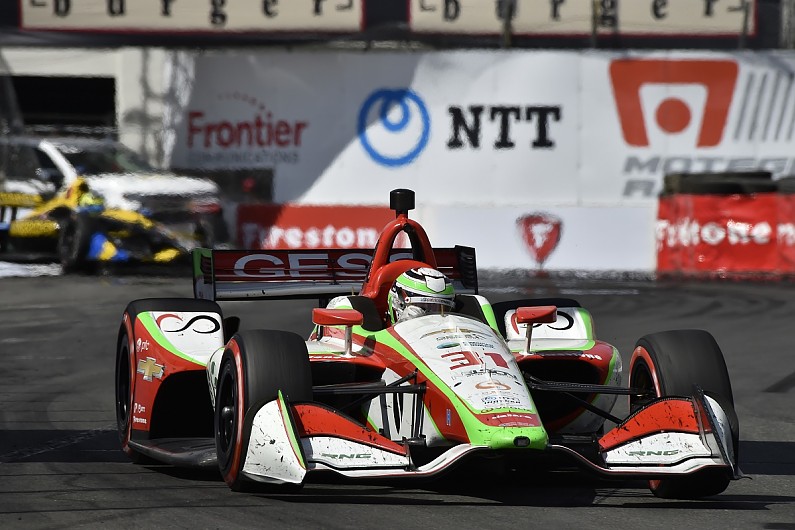 "My focus for the remainder of the season is absolutely delivering results in the NTT IndyCar Series with Carlin. We have a great package and a lot of potential together.
"It's great to race in an environment where we completely support each other as a team."
O'Ward already has 15 of the 40 superlicence points needed to race in F1 from his Lights title.
Prior to that, he was champion of the IMSA SportsCar Championship's now-defunct Prototype Challenge class in 2017 and finished runner-up in the Pro Mazda series (now Indy Pro 2000) in 2016.
He immediately impressed in IndyCar by qualifying fifth and finishing ninth when he made his series debut with Harding in last year's finale.