Marco Andretti says being "less fixated" on lap times leaves him well-placed to end his family's Indianapolis 500 drought in the 2019 race.
Andretti is driving a dayglo-orange Andretti-Herta Autosport Dallara-Honda as he marks the 50th anniversary of his grandfather Mario's Indy 500 win in the STP-liveried Hawk.
Mario made 29 Indy 500 starts, his sons Michael and Jeff started the race 16 and three times respectively and grandson Marco has taken the green flag there on 13 occasions, yet the patriarch's 1969 win remains the family's sole Brickyard victory as drivers. Michael has now taken five wins as a team owner.
Marco Andretti has four top-three Indy finishes to his name, including defeat to Sam Hornish Jr by just 0.0635 seconds on his debut in the race in 2006 (pictured below).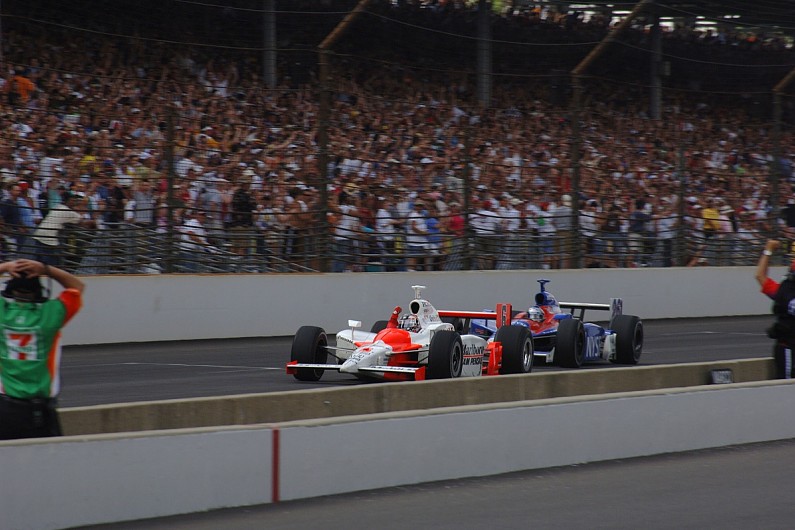 He will start 10th, second fastest of the Andretti Autosport entries, but admitted he had not focused much on qualifying.
"I've been less and less fixated on lap times this year," he said.
"The thing that's different for me, comparing my first 13 years to now, is remembering this is a big rollercoaster month - or two weeks.
"It's easy to get caught up in those emotions, good or bad.
"But this year we've had an even-keeled kind of month.

Indy 500 2019: The team by team guide

"I've been 29th fastest and we've been fine, I've been second fastest and it's no big deal.
"And that's because I know that the last third of the race is the only thing that matters.
"I've seen [Juan-Pablo] Montoya break a winglet and go a lap down and win the race.
"It's only the last third of the race where you'll see me stress, and it'll be in a good way.
"The first two-thirds of the race are about getting there, having the car you want for the final third.
"We were 70% there on Thursday, we didn't find everything we wanted in Carb Day practice so we need to make some good changes before the race.
"But I'm with a great team and if we get back on the right trajectory, from 10th, I feel we're sitting pretty."
Chevrolet dominated the qualifying results, with Harding Steinbrenner driver Colton Herta and Andretti's Alexander Rossi the only Honda drivers to make the 'Fast Nine' pole shootout.
Andretti admitted that Chevrolet might have the edge on outright power.
"I think Chevy is pretty stout, so I think the best Honda runners are going to have to do it on fuel strategy - which we're only going to know about when we see which lap the top Chevys are peeling off into the pits - or through having better balance. Or both," he said.
"If your balance is strong, so that you can carry more throttle than the others even when your tyres are going away near the end of a stint, then that's going to be key for us to make a fight of it.
"I think everyone will have their hands full with this package again. It will be a long 200 laps.
"But if everything's good on pitstops and we avoid bad luck and the cautions don't go against us, we're looking good."