The underfunded Juncos Racing IndyCar team that knocked McLaren and Fernando Alonso out of the Indianapolis 500 has secured multiple new sponsors leading up to the race.
At the start of Indy 500 practice week, team owner Ricardo Juncos revealed that his two main sponsors for the team's second IndyCar race of the season had pulled out - one of them extremely last minute.
Then driver Kyle Kaiser had a heavy crash during 'Fast Friday' practice last week, forcing the team to prepare its spare car.
Only 35th fastest in first qualifying, 2017 Indy Lights champion Kaiser ended up among the six drivers fighting for the final three spots on the grid in last row qualifying.
But further work from the small Juncos team and a bold effort by Kaiser meant they beat Alonso and McLaren by an average of just 0.019mph to snatch the final spot on the grid.
Club Atletico River Plate, an Argentinian sports club based near Buenos Aires with a famous football team, is among four organisations that have stepped up to sponsor Juncos this week.
River Plate is the reigning champion of the South American international club competition Copa Libertadores, and has won 36 league titles in its home country.
Its president Rodolfo D'Onofrio said the club had been inspired by fellow Argentinian Juncos's (pictured) Indy 500 story.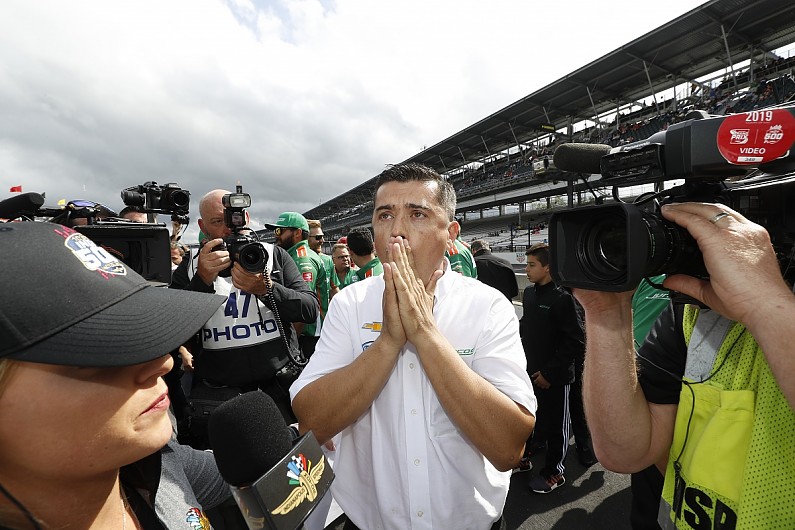 "This past week, the car has symbolised effort, tenacity, and the talent of a group of people who make up the Juncos Racing team to achieve a dream," he said.
"And they have achieved that dream. The story of River Plate has been similar over the past 118 years.
"That is why River Plate Athletic Club is honoured to participate in the 103rd running of the Indianapolis 500 supporting Ricardo Juncos and his entire team. Through this, we are uniting the two sports that the Argentines are most passionate about: motorsports and soccer."
The River Plate announcement followed news earlier in the week that Indianapolis-based email intelligence platform 250ok, insurance company NFP and Global Medical Response would all sponsor Juncos at Indy.
250ok CEO Greg Kraios was another to highlight how Juncos's against the odds achievement had spurred the decision to back the team.
"After hearing Ricardo's story, and knowing they were in need of a sponsor, I jumped at the opportunity," said Kraios.
"From our similar upbringings, supporting his hardworking and odds-defying team felt like a personal calling."
Juncos has not yet been able to confirm any further IndyCar rounds after the 500.