McLaren has ruled out getting Fernando Alonso into the Indianapolis 500 by buying a rival IndyCar team's entry, following its shock failure to qualify for the race.
A troubled practice and qualifying week for the team, which was running independently for Alonso's second Indy 500 bid bar an alliance with Carlin, culminated in its double Formula 1 champion driver being bumped out of the field by Kyle Kaiser and the small, cash-strapped, Juncos Racing team at the end of Sunday's last row qualifying session.
Indy 500 rules allow teams that fail to make the cut to get on the grid by doing a deal to take an entry that has qualified.
But McLaren sporting director Gil de Ferran, the 2003 Indy 500 winner, said the team was not considering that option.
"We will not do that. We want to earn our place in the field," he insisted.
McLaren CEO Zak Brown had earlier suggested that he would rather try again next year than buy a place.
"We'll come back fighting. We don't want to buy in," Brown told the Associated Press.
"We want to earn it. Anyone can buy in. We want to get in on merit."
Asked by Autosport what his response would be if McLaren asked to buy the Juncos entry, team owner Ricardo Juncos replied: "We're racing next weekend. That's it."
McLaren teamed up with IndyCar powerhouse Andretti Autosport for its previous Alonso Indy entry in 2017 but this time ran largely independently.
De Ferran denied his team had underestimated the challenge of IndyCar's biggest event.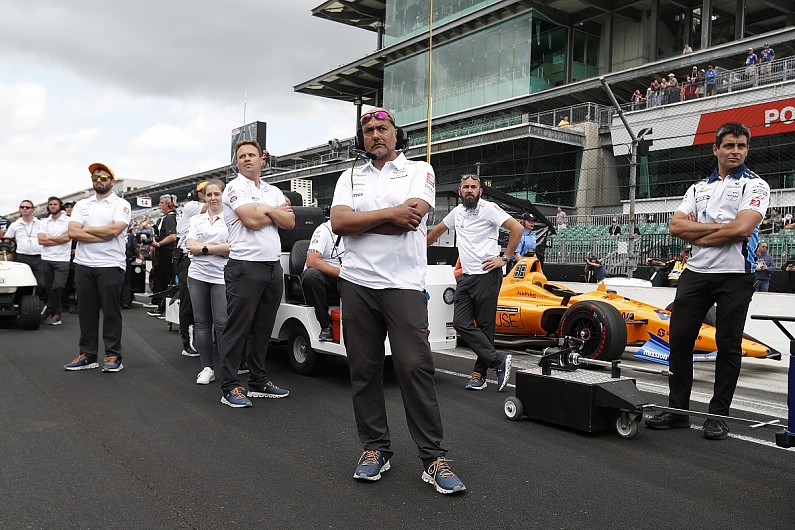 "This is a very difficult sport. We certainly didn't underestimate the challenge," he insisted.
"I've been here before. I've seen some incredible people not make the race.
"So we were certainly very aware of how difficult this was going to be.
"We're very humble about everything that went on over here, and at this time I just want to say that we did learn a lot of lessons.
"We have to really look inwards and look at everything that we learned, cement those lessons and move forward."
The 2000/01 Champ Car champion and sometime Honda F1 team boss admitted the non-qualification was the "most painful experience" of his motorsport career, and also publicly apologised to Alonso.
"I want to apologise to you because we didn't give you a car that was fast enough," de Ferran said to Alonso during a joint media briefing.
"You drove like the champion that we know you are. Particularly these last three days, it's been incredibly tense and very difficult, and we couldn't have asked anything more from you, Fernando.
"So I'm sorry, man. You're an amazing driver."