Simon Pagenaud gave Penske its first Indianapolis 500 pole for seven years in qualifying for the 2019 edition of IndyCar's premier race.
The 'Fast Nine' pole shootout ran straight after the shock events of the last row-setting session in which Fernando Alonso and McLaren were bumped out of the field by Kyle Kaiser and the minnow Juncos Racing team.
Had the rain that delayed proceedings on Sunday continued, the first three rows of the grid would have been set on Saturday speeds, which would have meant Ed Carpenter Racing's Spencer Pigot taking his first IndyCar pole at the Indy 500.
The ECR team was Pagenaud's main threat, with owner/driver Ed Carpenter initially fastest with a 229.889mph average.
That was beaten by Pagenaud's incredibly consistent run, in which he only dipped below 230mph with his final lap and ended up with an average of 229.992mph.
Pagenaud, who is yet to finish above sixth in the Indy 500 during his career, was comfortably faster than the other two Penske drivers in the pole session - as his team-mates Will Power, last year's winner, and Josef Newgarden ended up only sixth and eighth.
Pigot was last to run having set the pace on Saturday, and his early speed suggested he might be able to deny Pagenaud.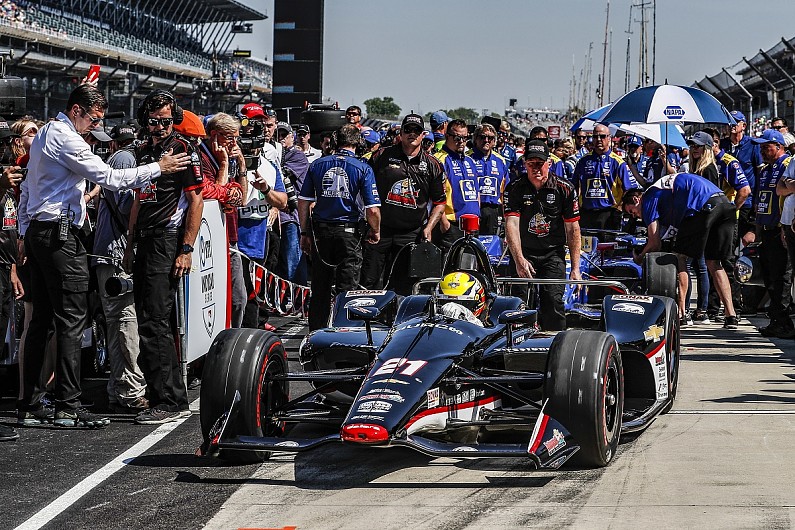 But he faded across his run and ended up having to settle for the final front row spot, as he dropped to third behind Pagenaud and Carpenter.
ECR effectively has three cars in the top four, with Ed Jones qualifying its entry in association with Scuderia Corsa in fourth.
Austin race winner Colton Herta continued to star in his rookie IndyCar season by ending qualifying for his first Indy 500 as the highest placed Honda entrant.
The Harding Steinbrenner driver will start fifth.
The other two Honda runners in the final session were Dale Coyne Racing with Vasser-Sullivan driver Sebastien Bourdais in seventh and Andretti Autosport's 2016 Indy 500 winner Alexander Rossi, who was slowest of the pole group in ninth.
The rain meant the loss of the planned open practice session that was due to follow pole qualifying had it run in its intended early afternoon slot.
That means the next time the drivers will take to the track will be in Friday's traditional 'Carb Day' final practice.
2019 Indy 500 starting grid
| Pos | Driver | Team | Car | Gap |
| --- | --- | --- | --- | --- |
| 1 | Simon Pagenaud | Team Penske | Dallara/Chevrolet | 2m36.5271s |
| 2 | Ed Carpenter | Ed Carpenter Racing | Dallara/Chevrolet | 0.0700s |
| 3 | Spencer Pigot | Ed Carpenter Racing | Dallara/Chevrolet | 0.1131s |
| 4 | Ed Jones | Ed Carpenter Racing | Dallara/Chevrolet | 0.2358s |
| 5 | Colton Herta | Harding Racing | Dallara/Honda | 0.6194s |
| 6 | Will Power | Team Penske | Dallara/Chevrolet | 0.9219s |
| 7 | Sebastien Bourdais | Dale Coyne Racing | Dallara/Honda | 0.9388s |
| 8 | Josef Newgarden | Team Penske | Dallara/Chevrolet | 1.0937s |
| 9 | Alexander Rossi | Andretti Autosport | Dallara/Honda | 1.1969s |
| 10 | Marco Andretti | Andretti Herta | Dallara/Honda | 0.8458s |
| 11 | Conor Daly | Andretti Autosport | Dallara/Honda | 0.9417s |
| 12 | Helio Castroneves | Team Penske | Dallara/Chevrolet | 1.0066s |
| 13 | Marcus Ericsson | Schmidt Peterson Motorsports | Dallara/Honda | 1.0144s |
| 14 | Takuma Sato | Rahal Letterman Lanigan | Dallara/Honda | 1.1603s |
| 15 | James Davison | Dale Coyne Racing | Dallara/Honda | 1.1786s |
| 16 | Tony Kanaan | AJ Foyt Enterprises | Dallara/Chevrolet | 1.2845s |
| 17 | Graham Rahal | Rahal Letterman Lanigan | Dallara/Honda | 1.2955s |
| 18 | Scott Dixon | Chip Ganassi Racing | Dallara/Honda | 1.2985s |
| 19 | Oriol Servia | Schmidt Peterson Motorsports | Dallara/Honda | 1.3738s |
| 20 | Charlie Kimball | Carlin | Dallara/Chevrolet | 1.4264s |
| 21 | J.R. Hildebrand | Dreyer & Reinbold Racing | Dallara/Chevrolet | 1.4313s |
| 22 | Ryan Hunter-Reay | Andretti Autosport | Dallara/Honda | 1.4528s |
| 23 | Santino Ferrucci | Dale Coyne Racing | Dallara/Honda | 1.5544s |
| 24 | Matheus Leist | AJ Foyt Enterprises | Dallara/Chevrolet | 1.5640s |
| 25 | Jack Harvey | Meyer Shank Racing | Dallara/Honda | 1.5792s |
| 26 | Jordan King | Rahal Letterman Lanigan | Dallara/Honda | 1.7131s |
| 27 | Ben Hanley | DragonSpeed | Dallara/Chevrolet | 1.7271s |
| 28 | Zach Veach | Andretti Autosport | Dallara/Honda | 1.8252s |
| 29 | Felix Rosenqvist | Chip Ganassi Racing | Dallara/Honda | 1.8563s |
| 30 | Pippa Mann | Clauson-Marshall Racing | Dallara/Chevrolet | 1.8932s |
| 31 | Sage Karam | Dreyer & Reinbold Racing | Dallara/Chevrolet | 1.5476s |
| 32 | James Hinchcliffe | Schmidt Peterson Motorsports | Dallara/Honda | 1.6847s |
| 33 | Kyle Kaiser | Juncos Racing | Dallara/Chevrolet | 1.8040s |