Alexander Rossi used a mental technique pioneered by Olympic swimming legend Michael Phelps to ensure his performances did not drop off during his 2018 IndyCar title-contending season.
Rossi lost out to eventual champion Scott Dixon in the Sonoma finale in his breakthrough IndyCar season in which the 2016 Indianapolis 500 winner spearheaded a revived Andretti Autosport charge.
The American's consistency allowed him to maintain a challenge to Dixon, with only a lock-up at Detroit and clashes at St Petersburg and Road America hurting his campaign.
But Rossi also had several brushes with Robert Wickens that drew criticism, after he had previously struggled to shake off a reputation that IndyCar was a last resort following his spell in Formula 1.
Reflecting on his 2018 season, Rossi says inspiration from Phelps - the most decorated Olympian of all-time with 28 medals - kept him on track during increased attention.
"I'm not going to let the negative comments hurt my performance," said Rossi.
"One of the ideas I stole from Michael Phelps a while ago was that thing where any negative story written about him he would print and put in his closet and use it as motivation.
"But equally I'm not going to start believing all the praise, either. That can hurt your performance too.
"I think the one exception where I suppose I did get a little annoyed was Detroit.
"I'd made a racing mistake so I was pissed at myself already, and then people misinterpreted what I said on TV afterward.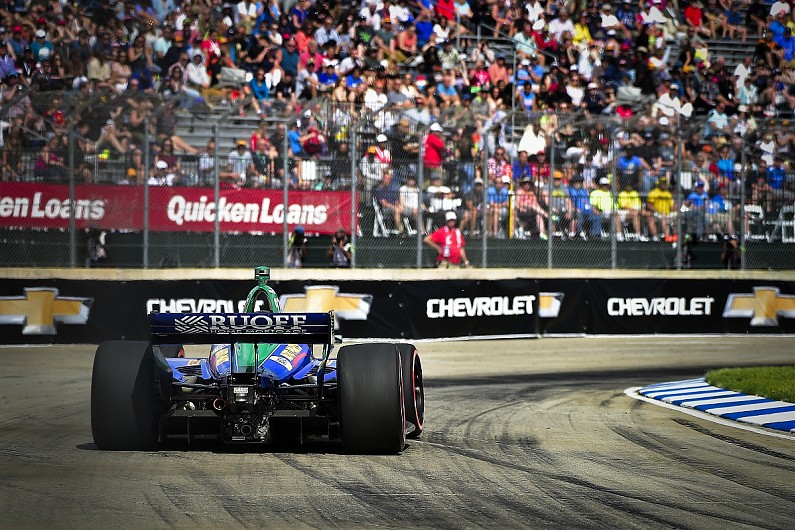 "They thought I wasn't owning the error or I was blaming the team, which wasn't the case.
"Ultimately you can't dwell on those things or allow yourself to care too much about what people say.
"And even when you do, the important thing is to not let it affect your performance in a negative way.
"All you can do is your best, and then learn from your mistakes. That's what I think any athlete tries to do."
Rossi added that he did not believe his popularity "went up and down" during his IndyCar career, but that there was "more talk" around him during 2018.
The Andretti driver says he believes he is currently regarded more highly than when he first joined IndyCar following his F1 spell with Manor.
"I think that sense of expectation and that rise in profile is a good thing," said Rossi, "especially compared with where I was in 2016 before the Month of May.
"Our [Andretti's] cars weren't great back then so we weren't achieving much in the races, not by the team's usual standards, and then off track, I think people may have had a certain impression of me without knowing me.
"I hope people now know I'm committed to IndyCar and I intend to be here for a long time.
"So comparing early 2016 to where we are now, it's very different, a positive shift."