James Hinchcliffe says he is glad Schmidt Peterson Motorsports did not buy him a seat in the 2018 Indianapolis 500 after he failed to qualify.
Bumping returned to the Indy 500 in 2018 after a surge of interest pushed entries beyond the 33-car limit, and Hinchcliffe was a shock non-qualifier alongside Dale Coyne Racing's Pippa Mann.
SPM then sought to find Hinchcliffe a way into the race, with IndyCar keen for him to race as one of its most popular drivers, but its search was called off days later after a lack of options emerged, despite SPM running a third car for Jay Howard.
That meant Hinchcliffe missed the double-points race, which played a key role in him finishing 10th in the championship standings, tying with team-mate Robert Wickens - who missed the final three rounds through injury.
"I think in a lot of ways that was the right call [to not buy a seat for the Indy 500]," Hinchcliffe said.
"From a championship position, I'd love to have been in it.
"But great teams and drivers have missed out on that race before and they went home and came back the next year with an even greater fire to succeed, and that's the path we decided to take."
Hinchcliffe failed to qualify due to a poor first run as the track rubbered in, while bad timing meant he could not complete a final run in the session.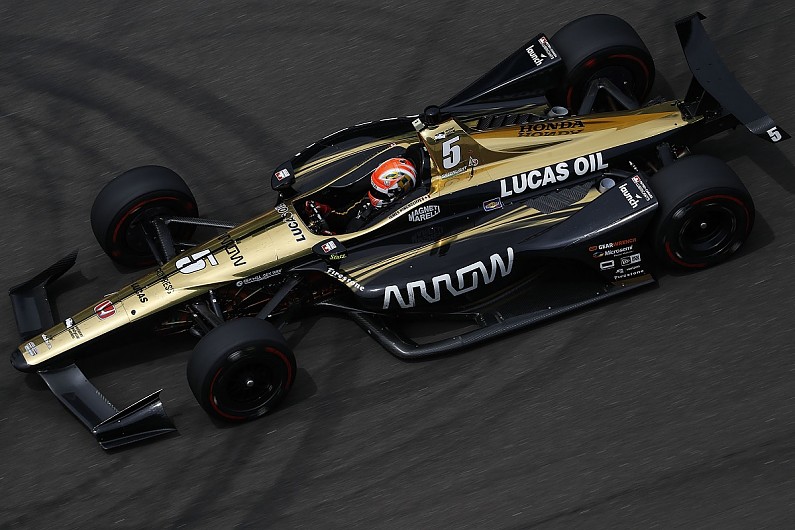 He said SPM had been too complacent in the run up to qualifying, pointing to the contrasting example set by Rahal Letterman Lanigan Racing - which turned poor practice pace into a comfortable qualifying performance.
"I'm experienced enough at Indy to know that every time you're on track you've got to maximise what you've got," he said.
"We did everything we could in that first run but it just wasn't enough.
"But yes, you can look back at it and play Monday morning quarter-back and see a lot of different things that we could have executed slightly differently.
"The whole practice week, we didn't have a particularly fast car and despite a lot of analysis, we haven't found any great reason for it.
"The attitude was 'we're probably not going to qualify great but we're not worried about not being in the show'. So maybe we didn't react to the situation as we should have.
"Over in the Rahal camp, they were having similar problems finding speed and they were switching chassis, switching engines, all-hands-on-deck.
"We did none of that, because we simply didn't think we were in that deep trouble - and we paid the price.
"It was a tough lesson, no doubt about it, but we have incredible partners on the team who didn't rake us across the coals for it, so we were harder on ourselves internally than anyone was externally."
Hinchcliffe and SPM split with former Audi LMP1 engineer Leena Gade after failing to qualify, and he took his only victory of 2018 at Iowa in July.