Harding Racing has announced a collaboration with Andretti partner Steinbrenner for the 2019 IndyCar season, and has signed Indy Lights champion Patricio O'Ward and his title rival Colton Herta.
The IndyCar team has been renamed Harding Steinbrenner Racing and is understood to be working with support from former Andretti staff, but has not decided on an engine supply after working with Chevrolet in 2018.
Steinbrenner has been an Indy Lights partner of Andretti's since 2017, running one car this year for Herta, who finished second behind champion O'Ward.
Harding reportedly competed at Sonoma with technical support and staff from Andretti as O'Ward had a strong debut by qualifying inside the top six and finishing ninth.
It was one of Harding's strongest weekends, having replaced Gabby Chaves with Conor Daly in select races as it struggled after a promising four-race debut in 2017.
"We are happy to announce that Mike Harding of Harding Racing and George Steinbrenner IV of Steinbrenner Racing will join forces in 2019 to become Harding Steinbrenner Racing," said Harding president Brian Barnhart.
"We will be making the move to a two-car team, fulfilling a goal we stated earlier in the year.
"We have decided to go all in for the future by hiring two recent stars of the Indy Lights series: Freedom 100 winner and Indy Lights series runner-up, Colton Herta, and reigning Indy Lights champion, Patricio O'Ward.
"We are thrilled with their performance in the 2018 Indy Lights Series in which they ran 1-2 for Andretti Autosport.
"We are also exceptionally proud to have recently provided them with them their inaugural IndyCar experience at Sonoma Raceway."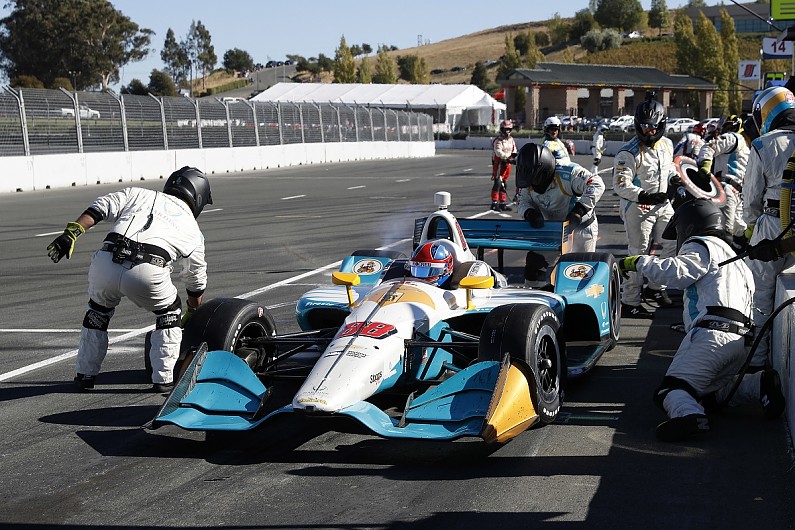 George Michael Steinbrenner IV, the owner of his namesake organisation, said: "I am extremely excited to make the leap into the IndyCar series.
"Since I was a kid, it has been my goal to be a team owner in the IndyCar Series and I'm so excited to be doing that with Harding Racing.
"They are a team that shares our values that they don't want to just be here, but to be a dominant mainstay in the series.
"That will continue to be our goal as we head into a partnership with a team that shares the same ideals and it makes life a heck of a lot easier."
It remains to be seen how this partnership with an Andretti associate would affect McLaren's prospective IndyCar programme.
The McLaren programme had been linked with a partnership with Andretti that would allow it to work out of Harding's base.
That could potentially allow McLaren to continue in its favoured route of an Andretti affiliation despite Honda ruling out powering an Fernando Alonso-fronted team, because Harding's current Chevrolet association means its base would not house any competing Honda engines.
McLaren's discussions with the series are ongoing, with a deadline of this month according to McLaren CEO Zak Brown, whiile Alonso is likely to make his own post-F1 career decision in October.
In the short term, IndyCar will consider the signing of O'Ward a boost in its hope of securing a first step backing into international racing.
IndyCar has previously eyed a race at the F1's Mexican Grand Prix venue, but the circuit was keen to have a local driver competing in the series.
O'Ward is the first Mexican to race in the series since Esteban Gutierrez failed to convert his stand-in role at Dale Coyne Racing for the injured Sebastien Bourdais into a permanent seat for 2018.