Mazda will end its support of the Road to Indy programme at the end of 2018 after nine years, affecting the Indy Lights, Pro Mazda and USF2000 IndyCar feeder categories.
Launched in 2011, the programme provided scholarships for the champion of each category, with recent Indy Lights champions such as Spencer Pigot, Ed Jones and Kyle Kaiser earning part-time IndyCar seasons off the back of their feeder category successes.
Mazda's influence meant that 27 of the 35 drivers who attempt to qualify for the 2018 Indianapolis 500 were Indy Lights graduates.
The manufacturer will ensure the 2018 Indy Lights, Pro Mazda and USF2000 champions will receive scholarships into the next category, and the 2018 Mazda Road to Indy Global Shootout will be held in December.
Irish Formula Ford 1600 racer Keith Donegan won the shootout last year.
"On behalf of Mazda, I'd like to thank Andersen Promotions and everyone involved with the Road to Indy for a wonderful nine years, but the time has come for Mazda to focus our resources into other areas of our motorsports footprint," said John Doonan, Mazda's director of North American motorsports.
"We have truly enjoyed our role in developing young racers into Indy 500 hopefuls.
"Motorsports is at the core of Mazda's DNA and the company remains committed to its variety of motorsports programmes in the coming years including our grassroots club racing initiatives, the Global MX-5 Cup, the Mazda Road to 24 [Daytona 24 Hours initiative], and [IMSA SportsCar Championship outfit] Mazda Team Joest."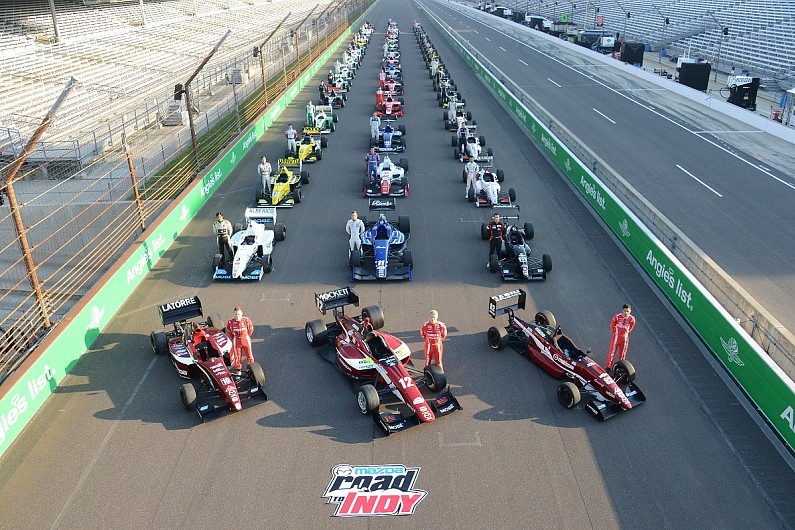 IndyCar is the sanctioning body of the Road to Indy and confirmed the programme will continue.
"The Road to Indy programme has staged great racing over the years while developing teams and drivers for the Verizon IndyCar Series, and that will continue with plans soon to be announced," read a statement from the series.
"Mazda has been a transformative partner, and IndyCar is appreciative of its many contributions."
Andersen Promotions has been integral to IndyCar's feeder categories, having previously owned an Indy Lights team, and launched the current incarnation of USF2000 in 2010 before founding Pro Mazda two years later.
Dan Andersen, Owner and CEO of Andersen Promotions said: "We would like to thank Mazda for nine tremendous years in supporting and headlining the Mazda Road to Indy Presented by Cooper Tires.
"They have been a great partner and their scholarships have helped so many drivers achieve their dream of progressing to the Verizon IndyCar Series.
"Mazda has been a key player in establishing and helping to grow our driver development system into the unparalleled programme it is today.
"We at Andersen Promotions are committed to maintaining the outstanding ladder structure we have in place for 2019 and beyond. We are currently in discussions with several potential companies as we actively pursue a new partner."
Cooper Tyres had also been a key backer of the scheme and will continue as presenting sponsor, potentially filling the Mazda void.
Autosport says
Tom Errington, American Racing Reporter
There is absolutely no doubt that Mazda has played a huge part in developing IndyCar's current generation of talent, and Josef Newgarden's title victory in 2017 was just reward for the programme as he became the first Road to Indy graduate to win the top-tier championship.
But leave sentiment in the past, and this is a period of choppy waters for the Road to Indy ladder. Just seven cars contested the most recent Indy Lights round at Mid-Ohio and with the 2019 season set to start in March, IndyCar needs to react quickly to replace Mazda and its deep pockets.
To IndyCar's credit, plans to lower the cost of Indy Lights should help the category blossom again, particularly with IndyCar's lowered costs in 2018 aiding its own resurgence.
One thing is for certain, IndyCar has to protect the Road to Indy programme.
Autosport has produced a standalone special magazine to celebrate our 70th birthday. All current print subscribers will receive a copy for free. To order your copy of the 196-page Autosport 70th Anniversary issue, please go to: autosport.com/autosport70th