Ed Carpenter Racing will give Jordan King his first IndyCar oval test at Phoenix on Sunday, as part of his bid to get a full-season seat for 2019.
Formula 2 race-winner and former Manor Formula 1 development driver King will drive ECR's #20 car in the 11 road and street course events this season, with team owner Ed Carpenter racing at the six ovals.
But King has made clear he wants to get oval mileage during this season too, and Carpenter said that will happen this week.
"After the Phoenix open test on Friday and Saturday this week, we will stay on and test Jordan the day after," Carpenter told Autosport.
"He won't be taking part in the rookie oval test on Thursday, but we'll have him there watching and learning and then we'll run him Sunday."
Carpenter was non-committal about the prospect of fielding King in ECR's third car at the Indianapolis 500.
"At the moment that isn't the plan, but you never know," he said. "It's a long way off until May."
King told Autosport last week he wanted to do an oval test this year "to try and make my stock more valuable" ahead of what he hopes will be a long-term IndyCar career.
"The goal for me this year is to learn as much as I can and prepare myself to the best of my ability to try and get a full-time seat in IndyCar for 2019," he added.
"On a day to day, race weekend to race weekend basis, getting good results and making progress is the priority.
"I've got to prove myself for the following year, because I aim to stay out here now."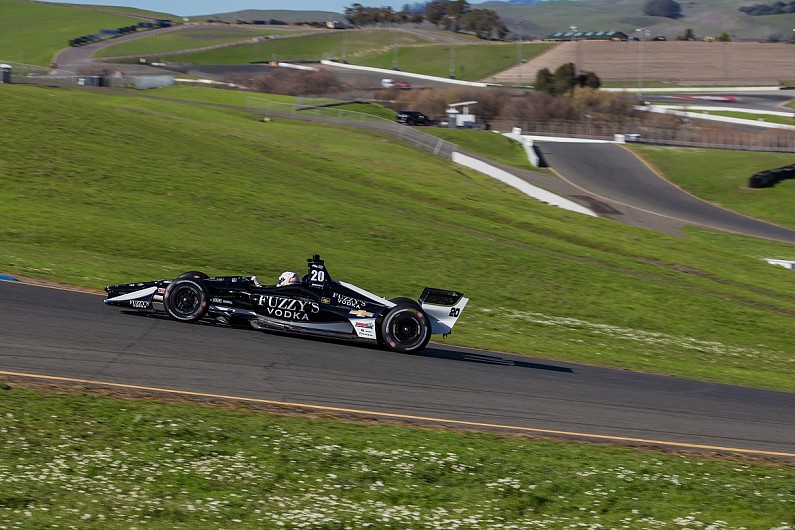 King had his first day of IndyCar testing with ECR at Sonoma on Monday and on unofficial timing was eighth fastest of the 12 cars present, 0.2 seconds quicker than full-time ECR driver Spencer Pigot.
"I was really happy with Jordan today," Carpenter said.
"We have some work to do as a team, but from the first-impression standpoint, Jordan drove well so I feel very encouraged by what he'll bring to the team."