IndyCar could test an equivalent of Formula 1's proposed 'shield' cockpit protection system this summer.
The Ferrari F1 team will trial the shield in British Grand Prix practice this weekend.
IndyCar's president of competition and operations Jay Frye had already made clear that provision for extra cockpit protection was likely to feature on the series' 2018 car (below), and a shield-style device could appear during one of the four tests scheduled across July to September.
"If we do go the route of using a screen like Formula 1's shield, we're probably looking to have it slightly more vertical - less raked back," Frye told Autosport.
"Right now I'd say it was one of two applications we want to try, possibly in one of those four sign-off tests.
"We've been working on potential applications for more than a year now, and we're particularly looking at a standard application that might work everywhere - because of how diverse our series is in terms of tracks.
"The 'halo' wouldn't work at a place like Texas because of the sightlines on banked ovals.
"We've had to look carefully at the distortion issues with screens, particularly the amount of adjustment a driver might have to do if he looks over it then switches back to looking through it.
"You don't want a depth perception difference at 220mph or when you're braking hard and trying to judge the closing distance on the car in front."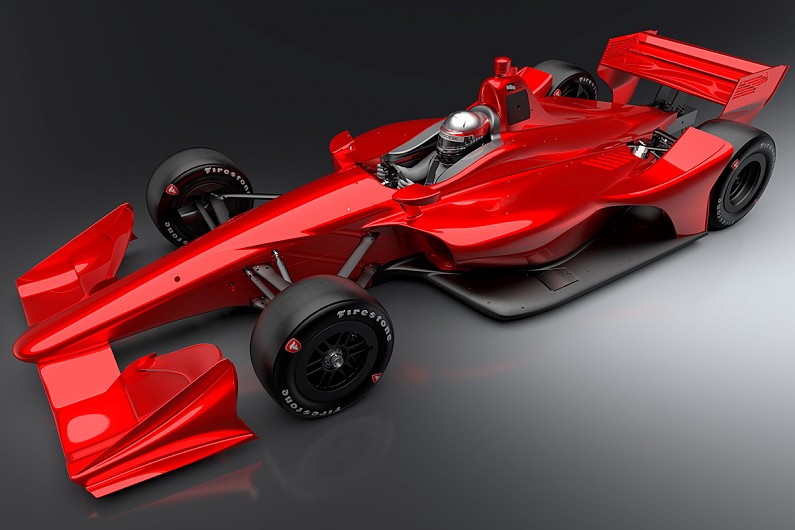 Frye said that IndyCar had been consulting with the armed forces about materials used in military applications such as the canopies of Lockheed Martin F-16 fighter jets, and also talking to drag-racing teams.
The prospect of a shield equivalent in IndyCar was welcomed by leading drivers.
Penske's Will Power said it "absolutely looks like the right idea for us", adding "if the testing shows it works from the vision point of view, there's absolutely no reason not to run it on the cars. It's an absolute must-do.
"If we can get it the right height for a driver to be looking through it, and not over it, then I think we've got to go with it."
James Hinchcliffe backed it on both aesthetic and safety grounds.
"I think it's the future, I truly do," he said. "It's functional, it's sleek, and it's safer.
"Right from the get-go when we were shown the renderings of something similar on an IndyCar, we all liked it.
"It would have saved me from that concussion on the Indy road course in 2014, when I got a wing endplate right in the forehead."
Ex-F1 racer turned Ganassi IndyCar driver Max Chilton called the shield "definitely the best solution I've seen for an open-wheel car" and was willing to accept visibility compromises for it.
"If someone tells you it affects vision by 5% but improves safety by a lot more, then it's the way forward, isn't it?" he said.