Esteban Gutierrez is likely to continue as Dale Coyne Racing's IndyCar replacement for the injured Sebastien Bourdais even on ovals.
The ex-Formula 1 driver is making his IndyCar debut in Detroit this weekend with Coyne after Bourdais was ruled out, likely for the remainder of the season, by injuries sustained in crash in qualifying for the Indianapolis 500.
Gutierrez switched to Formula E earlier this year after losing his Haas F1 seat, but has targeted an IndyCar programme to run alongside his Techeetah drive in the electric single-seater series.
Team owner Dale Coyne said he was impressed by the 2010 GP3 champion's CV and was willing to favour Gutierrez over drivers with oval experience such as Oriol Servia and Bourdais' Indy replacement James Davison.
"It's not just a one-event deal," said Coyne. "He'll do more - ovals as well.
"He wants to be here, he wants to be in IndyCar.
"We didn't have a lot of time to get the deal done.
"Adrian [Fernandez, Indycar race winner and Gutierrez's manager] contacted me about a driver before Indy, and I didn't know who the driver was at that stage.
"So I contacted him to see who it was and when he told me, I thought, 'OK, he's got a good resume', so it fell into place pretty quickly."
Gutierrez was 21st in the opening Detroit practice session, 2.8 seconds off the pace, but Coyne said he did a "good job, kept his nose clean and got quicker each lap".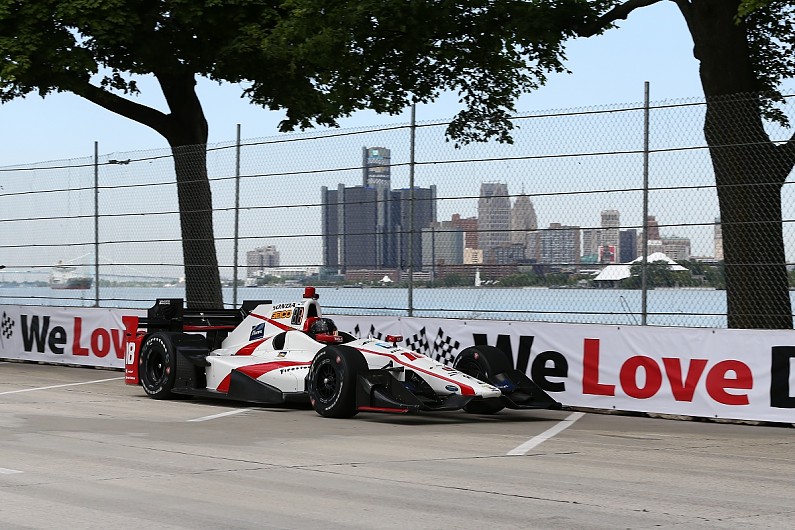 The Mexican wants to sample an oval before he commits to any such race this season.
"Hopefully I can at least do a test day before that," said Gutierrez. "That will be important for me to get a feeling.
"It's completely new to me, but I'm very keen to learn and to go there and try out.
"I'm a racer. I like challenges, so that's what I'm looking forward to."
Gutierrez confirmed he was hoping he "can do the rest of the season" in IndyCar - if so, he will either have to skip three races or be replaced by Techeetah in Formula E.
The remaining three rounds of the FE season all clash with IndyCar - Formula E's double-header in Berlin clashes with Texas, its first trip to New York with Toronto and the season finale in Montreal with Mid-Ohio.
Gutierrez, who acknowledged he would "love to try the Indy 500", said: "So far I'm enjoying it a lot.
"I think it's important to think on Detroit right now.
"I'll take it step by step very progressively, no mistakes, just enjoying the experience, and the speed will come naturally.
"It may take a few races, may take a few sessions, I don't know, but as long as it comes naturally and I'm enjoying it, I'm sure the speed will be there."
Autosport has produced a standalone special magazine to celebrate our 70th birthday. All current print subscribers will receive a copy for free. To order your copy of the 196-page Autosport 70th Anniversary issue, please go to: autosport.com/autosport70th