To understand where IndyCar racing stands in the US psyche, one must understand the story of Buddy Rice.
Brash, young, different and American, Rice had the moment that should have launched his career into the troposphere. In 2004, set to a shower of sparks and dust and backed by the soundtrack of a tornado warning, Rice won the Indianapolis 500. He was what 'they' wanted. Right demographic, right style, right cool factor. A marketing and driving wunderkind.
And then he faded away.

Before he set out to qualify seventh for this Sunday's 100th anniversary running of the Indianapolis 500, he hadn't started an IndyCar race for two years. Instead, he'd been finding what was out there and doing the best he could with what he found. His long journey back is a story in itself, but the significance of its telling is a reflection of a form of racing still struggling to overcome itself, the economy and a twisted scene that sometimes eats its own.
Rice was - and still is - exactly what was supposed to have rescued open-wheel racing. In the depths of the split that nearly destroyed an entire genre of motorsport, along came an edgy, punky, 'Generation Y' racer with extreme talent. Win the Indy 500 with a flat-billed baseball cap and you'd expect every energy drink marketing guru in the Western hemisphere to be after you.
Instead, nothing.
Rice refused to latch onto a corporate sugar daddy and try to sell the sponsor to teams. He insisted on selling his skills. He wants to be - and is - a paid racer. He did some A1GP, won the Daytona 24 Hours with Brumos Racing in 2009, did a full Grand-Am season with Spirit of Daytona Racing last year, and had a top 10 finish at the '24 this year with Action Express Racing. The latest chapter is a one-off with John Barnes' Panther Racing outfit. Truth be told, his chances of winning again are quite stout - as good as they've been since 2004.
Rice won the 2004 Indy 500 © LAT
He's not the only one approaching the 500 from a one-off or part-time perspective that has a solid shot. Townsend Bell, Dan Wheldon and Ed Carpenter are all on the first three rows and all fast enough to contend.
But it's Rice's story that leaves us wondering. Why would a racing series that says a core group of American racers is the key to connecting with its fan base, let one of the best Americans fall through the cracks?
"The economic climate makes it hard," Rice says. "Some guys had deals but were able to put things together. Basically I pay my bills by driving race cars. Did I try a lot of avenues to put something together to get here? Yeah, but they never came together. This deal was John Barnes' deal. The car was blank throughout qualifying. He's putting the sponsors together. It was win-win for both of us."
A win-win for all of the part-timers in Sunday's race, too! The familiar old chassis is finally becoming their ally, a fact that became evident when some of the more established teams struggled in qualifying and the one-offs and newcomers took charge.
"You have to remember that everybody has had these cars for so long," Rice adds. "Chip [Ganassi] and Roger [Penske] set the bar and made little tiny improvements on these cars over the years. Everybody else came to realise what they had to do to get to the same level.
"It was more of a shock last year that Tag [Alex Tagliani] was where he was than it is this year. Sam [Schmidt, Tagliani's team boss] put a big deal together, and almost all of his cars are up there on the grid. There's a lot to be said for that. They came here with their guns loaded."
Rice might still be considered a long shot, but not as long as most expect. He's good at Indy - always has been - and his numbers from the week of practice and qualifying are sound. As effective as Panther has been at Indy in recent years - three consecutive second-placed finishes with Wheldon and Vitor Meira - a podium finish wouldn't be all that shocking.
"I wanted to make sure that if I came back, I wanted to have a shot of winning," Rice remarks. "I didn't want to come back just to be in the field. That may sound cliche, but I wanted to come back in something good. The way the rules are structured here, it's opened the door for a lot of programmes to work. I wanted to make sure I was in the right programme for me."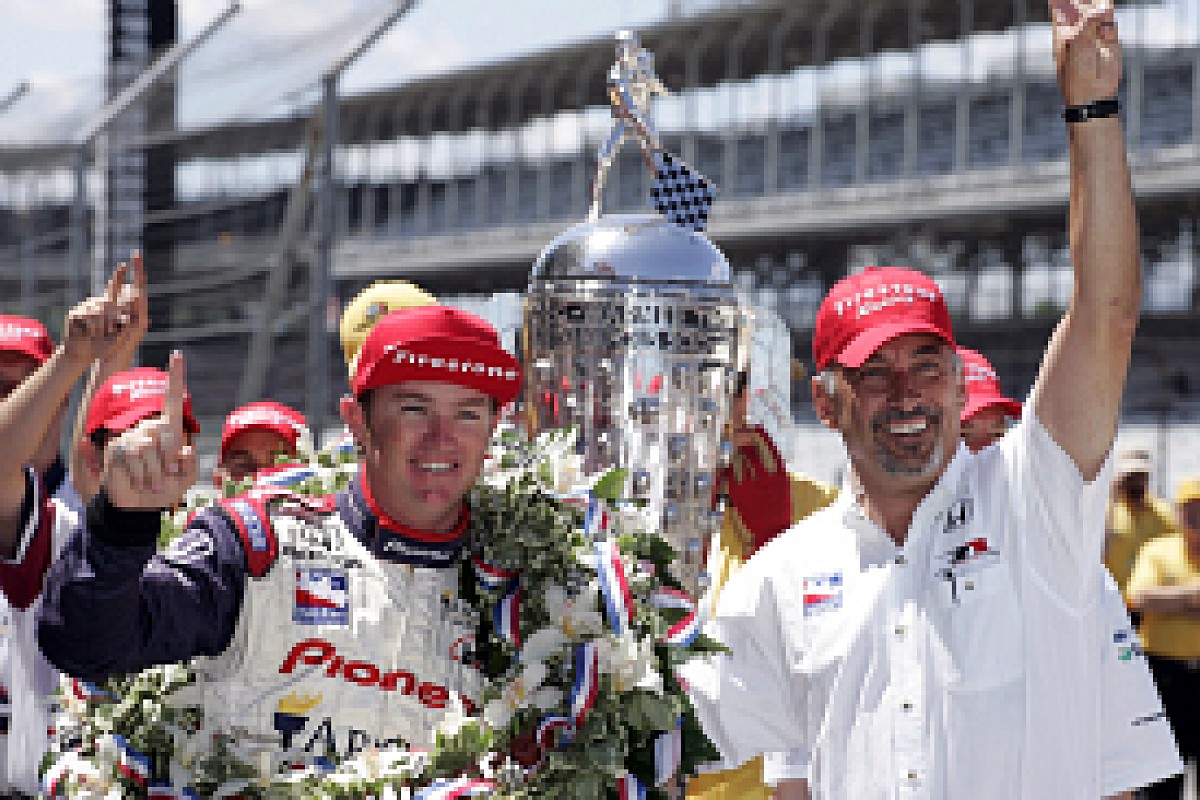 Rice has qualified seventh for Panther © LAT
So he contacted people. Lots of people. He worked the phone, made the assurances, tried to sell his ability. He wasn't bringing anything other than skills. That's an issue in the world of IndyCar one-offs. It dragged for a time. Then it exploded.
"I was talking to several different people, but nothing was coming together," he says. "Then, within about 24 hours, I had three contracts. Wham, wham, wham. Three different teams with three different deals. JB [Barnes] called and we started talking, and it was a pretty simple deal. He asked me a couple of questions and I said, 'Yeah, I'll do it.' Their track record here is pretty solid. I knew when he called that it was pretty much a no-brainer."
That's not the only no-brainer. Buddy Rice could win this Sunday's race. It doesn't take a genius to understand that. The 2004 winner could also be the 100th anniversary winner.
"I'll show up with my helmet and my suit. That's it," Rice says. "You don't forget how to drive."