Following IndyCar racing is a bit like riding a Tilt-a-Whirl at a ramshackle county fair. You're up, you're down. You see things, but you can't quite interpret what you're seeing. Sometimes you don't know whether you're happy or dizzy or about to get sick.
Take, for instance, the recent and unfortunate debacle of Tony Kanaan and Gil de Ferran. With Kanaan unable to come up with enough sponsorship backing to make it float, the entire De Ferran Dragon Racing team collapsed. A few days later, FAZZT Race Team was rescued by Sam Schmidt. Good for Sam, but not for de Ferran or Kanaan, who's still trying to find a ride for the 2011 IZOD IndyCar Series season just weeks before the season opener.
A disturbing scenario if ever there was.

The Kanaan/de Ferran partnership promised much but fell through © LAT
Think this through and you'll be justified for having a confused opinion of the current state of North American single-seater racing: Kanaan, Paul Tracy, Sebastien Bourdais and Dan Wheldon - all former champions, all world-class racing drivers - are being asked to bring money in order to compete.
If you need proof of where this thing is, you have it. Four sensational talents don't have rides because they're being asked to do what Milka Duno does. Only they can't do it - the fund-raising part of it - like Milka can.
Ride-buying is nothing new, of course. It occurs on all levels of professional motorsport to some degree, and any form of it is revolting. But the level to which it has ascended in IndyCar is downright embarrassing. Tracy can't find a ride because he can't generate enough backing? Really? Bourdais, who won four consecutive CART/Champ Car titles, is told he's welcome only if he finds a 'Sugar Daddy'? Kanaan, a driver so fierce and skilled he'd be competitive behind the wheel of a bread truck, can't produce enough corporate interest to run 17 races in a series that costs a fraction of NASCAR or Formula 1?
The patient isn't well, doctor. Let's hope there's a cure, stat.
All teams are affected by the financial issues tugging at IndyCar. Even mighty Team Penske isn't immune from the overall weakness.
At one point before it found enough sponsorship money in the offseason, Penske had to cut loose longtime team manager Tom Wurtz because it didn't have enough to keep him. "It was the hardest decision I ever had to make," Penske Racing president Tim Cindric said. Around the same time, Cindric and Roger Penske warned driver Ryan Briscoe that there might not be enough lettuce in the bowl to keep him in 2011.
Briscoe faced an uncertain winter before Penske found funding © LAT
Fortunately for all, the team's sales and marketing people pieced together enough backing to keep Briscoe on board, while Wurtz took over at KV Racing Technology.
But in general, it's not an uplifting scene. The immediate cause of the shortage of cash surrounding IndyCar racing is the lack of looks. The sport's jewel, the Indianapolis 500, attracts only a 3.6 television rating on ABC, which pales in comparison to the Daytona 500. The sales pitch in IndyCar is this: You're getting a bargain! Which is quite obvious. But when some if its best drivers can't convince corporations to latch on for enough money to be competitive, it's evident there's a serious lag.
Add to that the confusion surrounding the current state of affairs of the television package, and you've got further reason for concern. Versus, a third-tier cable network, has 12 of the 17 races this season.
NBC recently purchased Comcast, which owns Versus, giving reason for optimism that perhaps NBC will move IndyCar up a level and make it available to more households, but so far nothing has been confirmed. A few days remain before IndyCar's first open test of the season, yet no on-air TV talent has been hired by NBC, and It remains unclear if NBC will rebrand Versus this year.
A bump in the TV package has the potential to be a huge score for IndyCar, which is committed to the Versus contract for another eight seasons. The possibility of the same old TV thing, on the other hand, doesn't do much for anyone. Try selling uncertainty to an ad exec at a Fortune 500 company.
Bridgestone/Firestone USA couldn't buy it anymore. After years of support, the Firestone brand will leave after the 2011 season. No matter how the news is twisted, it's not a constructive development.
After decades of a losing proposition, BFUSA officials decided it just didn't make sense to run a promotional programme that simply doesn't get seen.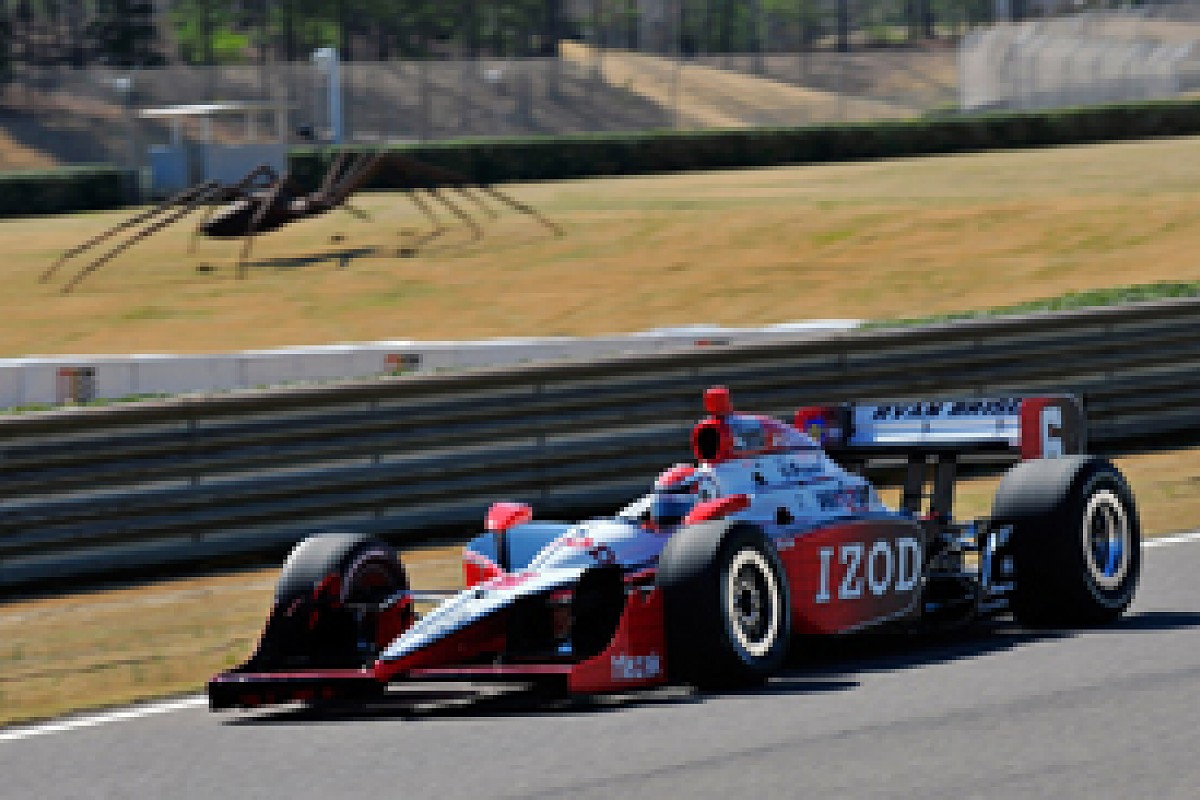 Tony George is back on the scene © LAT
Then, just when people thought the Tilt-A-Whirl couldn't spin any faster, Tony George reemerges on the board of directors at Hulman & Company, which operates Indianapolis Motor Speedway and the IndyCar Series. The howl on the racing chat boards was practically audible. As the situation appeared to be gaining a modicum of traction, the guy blamed for its downfall - the split that tortured the sport from 1996 to 2008 - returns.
It's easy, no matter how incorrect, to blame every single aspect of the lag in IndyCar racing on the split. It's like blaming the parents of a serial killer for the murders. True, the villain may have had a lousy childhood, but that doesn't explain the entire story. Something else had to be wired wrong.
What we've got here is a mixed bag of former champions forced to buy rides, teams collapsing suddenly, or being rescued, and a general inability to connect with the American public.
And, on top of all that, we have a frightful reaction to what may or may not be the benign return of the guy who may or may not be responsible for the split we may or may not be blaming for the mess we're in. Whirl some more, kids.
Certainly the economy is partly to blame, but other forms of top-level racing are healthy. NASCAR tore it up with an awful product in the Daytona 500 - big ratings and rave reviews, apparently from people who watched the race blindfolded. F1, in spite of some cracks in the armour, remains a global sports juggernaut. A flagging economy is little more than an excuse. IndyCar should be stronger than it is, and we can't quite place the blame. Or even offer proper, focused suggestions on the repair.
Not all is lost, of course. It's just confusing at this point in time.
Kanaan is likely to take his money somewhere in the series, and - while the Tracy and Bourdais situations are undecided - IndyCar's on-track show is solid. It's just not being seen. The small fan base, if splintered and bitter, remains loyal. Attendance and ratings were up in 2010, however marginally, and Randy Bernard is turning the corner on the past and pressing forward with the backing of team owners and participants.
But the latest developments are dizzying, if not troubling. It's not an inspiring scene. It's puzzling, often maddening.
Did I mention that Kyle Busch is after Kanaan to drive for him in the NASCAR Camping World Truck Series? And he isn't even asking him to bring money to the deal.
Here's our chance to watch Kanaan drive a bread truck. Not sure we should be dizzy or sick.