In association with
Sir Jackie Stewart will be reunited with the Matra MS80 he drove to victory in the 1969 Formula 1 British Grand Prix at next month's Silverstone Classic.
Stewart, who will celebrate his 80th birthday next week, will drive the Cosworth DFV-powered Matra for some demonstration laps on both Saturday and Sunday afternoons.
The 1969 British GP featured Stewart battling the Lotus 49 of Jochen Rindt and swapping the lead repeatedly until Stewart spotted his rival's rear wing becoming loose and rubbing on a rear tyre.
Stewart warned Rindt, who pitted and eventually finished fourth, as the Tyrrell man won for the fifth time in sixth races on the way to his first of three F1 titles.
"I am looking forward very much to getting back to Silverstone in the Matra, even if not at quite the same speeds as 50 years ago!" said Stewart.
"The 1969 British Grand Prix was one of the most exciting and enjoyable Formula 1 races that I ever had.
"Jochen was one of my best friends. The cooperation we had in not trying to block each other allowed us to run away from the rest of the field.
"We knew, because in those days there was no aerodynamic sophistication, that we could draft each other and pass if we were not blocked.
"Almost every lap, we exchanged the lead on the Hanger Straight and going into the 155mph Woodcote corner, which in those days had no chicane.
"We pointed to each other which side to be passed on, to avoid reducing our lead from the rest of the pack.
"We exchanged the lead more than 30 times and it was a fantastic race for both of us."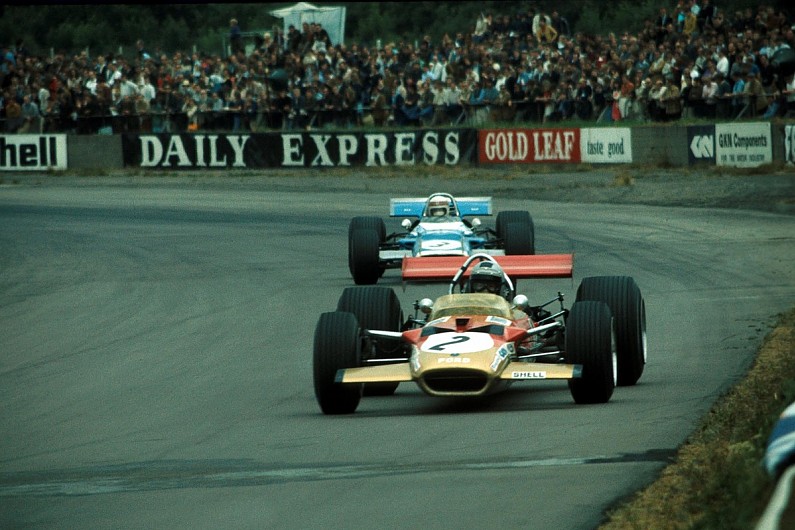 Recalling his Ken Tyrrell-entered Matra, Stewart said: "The Matra MS80 was a wonderful car to drive and the Lotus 49 was also exceptional, in addition to which we were such good friends that there were no nasty circumstances during the entire race, until the unfortunate point at which Jochen's rear wing came loose.
"My father and my brother were there to see me win. It was a big day in my life as we had lapped the entire field."
Stewart will also be raising awareness and funds for his own Race Against Dementia Fellowship Programme with Alzheimer's Research UK.
His wife, Lady Helen Stewart, suffers from frontotemporal dementia.
Stewart founded Race Against Dementia believing the application of F1 technology and philosophies could produce earlier solutions to the condition.
"I am extremely grateful to the organisers for supporting Race Against Dementia," said Stewart.
"Helen will be truly proud of what we're doing to challenge her illness and the challenge dementia poses to us all."