Prema Racing was "exceptional" to win both races in the first round of the new FIA Formula 3 series, say Ferrari Formula 1 junior drivers Robert Shwartzman and Marcus Armstrong.
Shwartzman took a dominant pole for Prema as its cars filled three of the top four spots in qualifying, adapting its strategy perfectly after an early red flag curtailed qualifying.
Shwartzman won Saturday's race after a penalty for on-the-road winner Christian Lundgaard, and Jehan Daruvala won the Sunday reversed-grid race on the new championship and car's debut.
"I must say I like this car much more than last year, not that last year's car was bad, just because I struggled to get used to it, I lost a lot of time," Shwartzman told Autosport.
"This car in my case is really nice, I know how to work with it, how to keep it nice and clean. I really like the brakes and the DRS. Generally, I'm really happy.
"I thought it was going to be a struggle.
"Pace-wise our car feels exceptional."
Armstrong took third in the first race and fifth in the second, also labelling the car exceptional - in his case after qualifying - and says there is a lot more to come from him.
The 18-year-old was cautious in his use of the degrading Pirelli tyres in race one and then used them too quickly in the following race as he struggled to pass Max Fewtrell in the opening laps.
"Personally, I feel as though I can only go forward from here, I'm not particularly satisfied with my own performance this week, and I know that I didn't do a very good job in some cases," Armstrong told Autosport.
"I know in the next few rounds, I'm expecting to improve a lot.
"If I could do it again, it would be a completely different race [two]."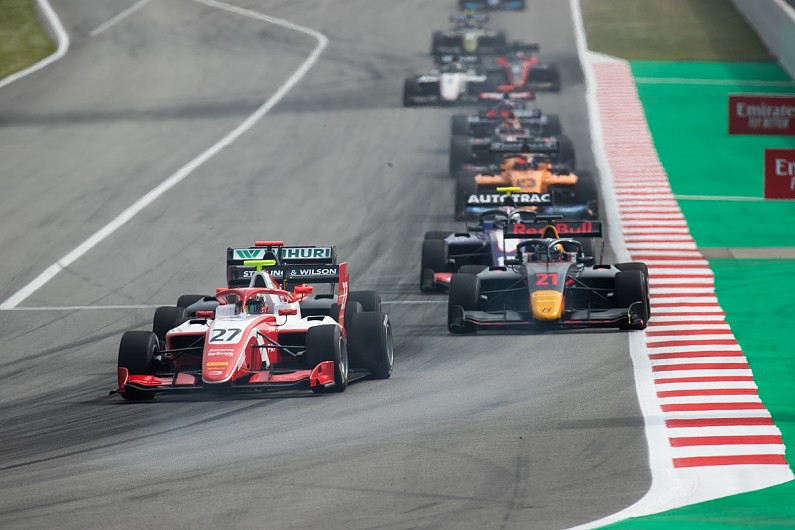 Jehan Daruvala, who won the sprint race after passing Trident's ex-Red Bull junior Niko Kari, added: "I'm very happy and the team did a great job. Scoring two wins in the first weekend of the series is excellent!"
Prema boss Rene Rosin said he was proud of his team after it adapted quickly to the new formula.
The reigning Formula 3 European champion team had not competed in the GP3 series that merged with European F3 for 2019, with the new F3 car taking many parts including the engine, gearbox, DRS and Pirelli tyres from that championship.
"I think we have a good line-up of drivers who are all really competitive," Rosin told Autosport.
"When we had the first car, with so little time and no experience in GP3, I think we did a good job.
"Of course we have some guys with experience in GP3 like our technical director.
"We have an amazing group of people that are working together that I'm really proud of.
"The team did an amazing job in preparing everything here, to be ready and so competitive.
"The field is tough, 30 cars, whatever you say, it's difficult."