Mick Schumacher continued his domination of the Nurburgring Formula 3 European Championship round by taking his second win of the weekend.
From pole position, Schumacher was never headed as he defeated Prema team-mate Robert Shwartzman and Motopark's Dan Ticktum in a repeat of the first-race podium.
This race was far less intriguing than the first, with the leading trio rarely looking like getting on terms with each other.
Schumacher made a good start to lead before, as with Saturday's race, the safety car emerged due to a Turn 1 incident.
Once again title contender Juri Vips was an innocent victim, the Estonian this time getting turned around by Enaam Ahmed in a collision that left Ahmed stranded on the track and Vips continuing at the tail of the field.
Shwartzman had no answer at the restart to Schumacher, who opened a one-second advantage within a lap, and was 2.5s to the good when there was another safety car late in the race.
This was again caused by a Turn 1 shunt, when Marino Sato harpooned Ben Hingeley out of 12th place in a collision that left both out of the race.
This time Schumacher was 1.3s up at the end of the first lap of green-flag racing, and he reeled off the laps to finish 3.2s up on Shwartzman.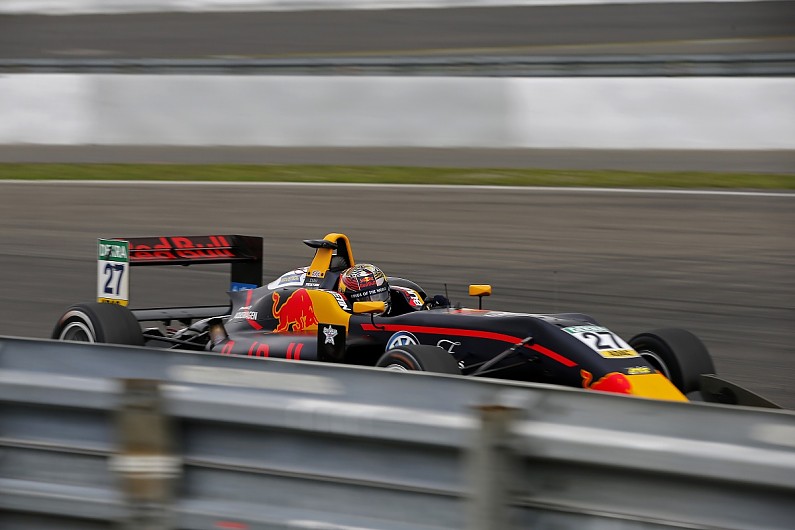 Championship leader Ticktum got moderately close to Shwartzman, and even had a tentative glance at Turn 1 with two laps remaining, but the Red Bull Junior settled for another podium, with his points advantage over Schumacher cut to 16 points.
Prema pair Marcus Armstrong and Ralf Aron spent the whole race in fourth and fifth, while Alex Palou took sixth for Hitech GP.
Palou was part of the most exciting episode in the race when, after the final restart, he was challenged at Turn 1 by Jonathan Aberdein.
This in turn encouraged Sacha Fenestraz to attack Aberdein, and led to a massive midfield bunching from which Guan Yu Zhou gained two places to leap from 10th to eighth by passing Fenestraz and Sebastian Fernandez.
Fernandez, who had been running ninth, sailed down the escape road at the Turn 5 cut-through with a left-rear puncture.
It all shook out with Aberdein (Motopark) taking seventh from Zhou (Prema), and Carlin duo Fenestraz and Ferdinand Habsburg.
Race 2 result

| Pos | Driver | Team | Car | Laps | Gap |
| --- | --- | --- | --- | --- | --- |
| 1 | Mick Schumacher | PREMA Theodore Racing | Dallara/Mercedes | 24 | 35m05.477s |
| 2 | Robert Shwartzman | PREMA Theodore Racing | Dallara/Mercedes | 24 | 3.229s |
| 3 | Dan Ticktum | Motopark | Dallara/Volkswagen | 24 | 3.745s |
| 4 | Marcus Armstrong | PREMA Theodore Racing | Dallara/Mercedes | 24 | 5.334s |
| 5 | Ralf Aron | PREMA Theodore Racing | Dallara/Mercedes | 24 | 6.316s |
| 6 | Alex Palou | Hitech Bullfrog GP | Dallara/Mercedes | 24 | 9.631s |
| 7 | Jonathan Aberdein | Motopark | Dallara/Volkswagen | 24 | 10.151s |
| 8 | Guanyu Zhou | PREMA Theodore Racing | Dallara/Mercedes | 24 | 10.698s |
| 9 | Sacha Fenestraz | Carlin | Dallara/Volkswagen | 24 | 11.569s |
| 10 | Ferdinand Habsburg | Carlin | Dallara/Volkswagen | 24 | 12.806s |
| 11 | Fabio Scherer | Motopark | Dallara/Volkswagen | 24 | 14.605s |
| 12 | Keyvan Andres | Van Amersfoort Racing | Dallara/Mercedes | 24 | 16.452s |
| 13 | Artem Petrov | Van Amersfoort Racing | Dallara/Mercedes | 24 | 17.202s |
| 14 | Jehan Daruvala | Carlin | Dallara/Volkswagen | 24 | 17.811s |
| 15 | Sophia Florsch | Van Amersfoort Racing | Dallara/Mercedes | 24 | 19.734s |
| 16 | Nikita Troitskiy | Carlin | Dallara/Volkswagen | 24 | 20.712s |
| 17 | Ameya Vaidyanathan | Carlin | Dallara/Volkswagen | 24 | 21.737s |
| 18 | Juri Vips | Motopark | Dallara/Volkswagen | 24 | 38.952s |
| - | Sebastian Fernandez | Motopark | Dallara/Volkswagen | 19 | Retirement |
| - | Ben Hingeley | Hitech Bullfrog GP | Dallara/Mercedes | 15 | Retirement |
| - | Marino Sato | Motopark | Dallara/Volkswagen | 14 | Retirement |
| - | Enaam Ahmed | Hitech Bullfrog GP | Dallara/Mercedes | 0 | Retirement |