Antonio Felix da Costa topped the first day of qualifying for the Macau Grand Prix in a session punctuated by four red flags.
The factory BMW driver propelled his Carlin Dallara-Volkswagen to the top of the times just before the third of the red flags as he bids to repeat his Macau win from 2012 in the first running of the FIA F3 World Cup.
It was good enough to put him 0.226 seconds clear of Callum Ilott, who continued his strong Thursday form in the lead Van Amersfoort Racing Dallara-Mercedes.
Da Costa spearheaded an extremely strong day by Carlin that finished with all four of the British team's cars in the top nine, with Sergio Sette Camara sixth, Lando Norris seventh and Jake Hughes ninth, the last two being the fastest Macau rookies.
That was despite Norris hitting the wall at San Francisco Bend - with Joel Eriksson also smacking into the barriers at the Solitude esses, that caused the third of the red flags to be called.
"It was a good session," said da Costa.
"It's a lot of fun more than anything - this morning I was not so happy with the car, but I think the track improved, with new tyres it made it easier and the team did a good job bringing the car to my liking.
"I have to say the level of rookies is really impressive - when I was a rookie I wasn't as close to the top as these guys, and they're pushing me hard."
Two-time Macau winner Felix Rosenqvist was frustrated with the continual stoppages, the Swede feeling he got nowhere near the best out of his new tyres and taking third place in the lead Prema Powerteam machine.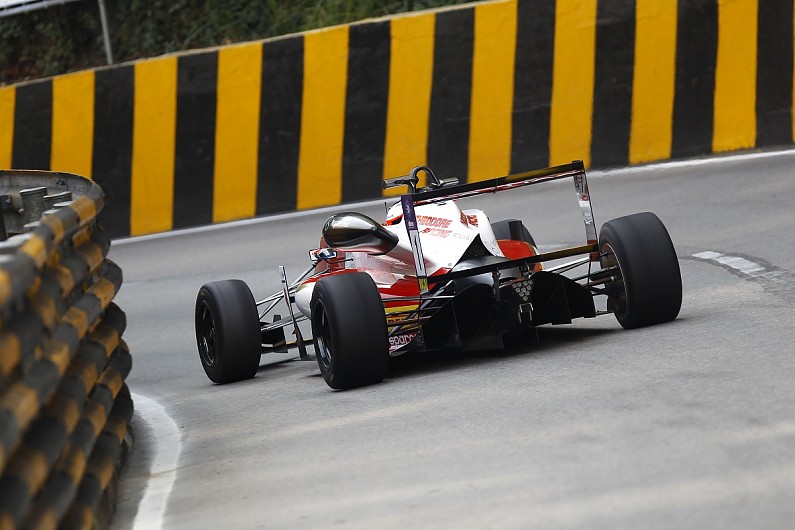 Matching Rosenqvist to the thousandth was highly impressive Japanese champion Kenta Yamashita, who continued his strong opening day by taking fourth in T-Sport's Tomei-engined car, although he caused the first red flag when a wheel came off, possibly as the result of a split rim.
Daniel Juncadella ended the afternoon fifth fastest in his Hitech GP car, and also heavily in the barriers at Fisherman's Bend, causing the fourth and final red flag of the session.
Splitting the Carlin teamsters was Nick Cassidy, who was even more annoyed than Prema team-mate Rosenqvist with the red flags on his way to eighth fastest.
The top 10 was rounded out by Scot Sam MacLeod in his Fortec Motorsport car, just ahead of Alexander Sims, who got stuck in reverse in the Lisboa escape road just before the second red flag.
Another crasher was Japanese series ace Sho Tsuboi, who nosed his TOM'S machine into the wall at Police before it was craned away under local yellow flags.
Ferdinand Habsburg returned to the track after being released from hospital following his morning crash with a spinal muscle strain, but no broken bones.
QUALIFYING RESULTS:
| Pos | Driver | Team | Car | Time | Gap |
| --- | --- | --- | --- | --- | --- |
| 1 | Antonio Felix da Costa | Carlin | Dallara/Volkswagen | 2m11.535s | - |
| 2 | Callum Ilott | Van Amersfoort Racing | Dallara/Mercedes | 2m11.761s | 0.226s |
| 3 | Felix Rosenqvist | SJM Theodore Racing by Prema Powerteam | Dallara/Mercedes | 2m11.797s | 0.262s |
| 4 | Kenta Yamashita | ThreeBond with T-Sport | Dallara/Threebond | 2m11.797s | 0.262s |
| 5 | Daniel Juncadella | Hitech GP | Dallara/Mercedes | 2m11.821s | 0.286s |
| 6 | Sergio Sette Camara | Carlin | Dallara/Volkswagen | 2m11.994s | 0.459s |
| 7 | Lando Norris | Carlin | Dallara/Volkswagen | 2m11.996s | 0.461s |
| 8 | Nick Cassidy | SJM Theodore Racing by Prema Powerteam | Dallara/Mercedes | 2m12.123s | 0.588s |
| 9 | Jake Hughes | Carlin | Dallara/Volkswagen | 2m12.360s | 0.825s |
| 10 | Sam MacLeod | Fortec Motorsports | Dallara/Mercedes | 2m12.536s | 1.001s |
| 11 | Alexander Sims | Double R Racing | Dallara/Mercedes | 2m12.600s | 1.065s |
| 12 | Arjun Maini | Motopark | Dallara/Volkswagen | 2m12.657s | 1.122s |
| 13 | George Russell | Hitech GP | Dallara/Mercedes | 2m12.670s | 1.135s |
| 14 | Anthoine Hubert | Van Amersfoort Racing | Dallara/Mercedes | 2m12.727s | 1.192s |
| 15 | Maximilian Guenther | SJM Theodore Racing by Prema Powerteam | Dallara/Mercedes | 2m13.017s | 1.482s |
| 16 | Dan Ticktum | Double R Racing | Dallara/Mercedes | 2m13.102s | 1.567s |
| 17 | Pedro Piquet | Van Amersfoort Racing | Dallara/Mercedes | 2m13.276s | 1.741s |
| 18 | Andy Chang | ThreeBond with T-Sport | Dallara/NBE | 2m13.336s | 1.801s |
| 19 | Nikita Mazepin | Hitech GP | Dallara/Mercedes | 2m13.438s | 1.903s |
| 20 | Joel Eriksson | Motopark | Dallara/Volkswagen | 2m13.479s | 1.944s |
| 21 | Hong Li Ye | B-MAX Racing Team | Dallara/Volkswagen | 2m14.012s | 2.477s |
| 22 | David Beckmann | KFZTeile24 Mucke Motorsport | Dallara/Mercedes | 2m14.062s | 2.527s |
| 23 | Jann Mardenborough | B-MAX Racing Team | Dallara/Volkswagen | 2m14.174s | 2.639s |
| 24 | Guanyu Zhou | Motopark | Dallara/Volkswagen | 2m14.278s | 2.743s |
| 25 | Keyvan Andres | KFZTeile24 Mucke Motorsport | Dallara/Mercedes | 2m14.803s | 3.268s |
| 26 | Sho Tsuboi | TOM'S | Dallara/Toyota | 2m15.051s | 3.516s |
| 27 | Daiki Sasaki | B-MAX Racing Team | Dallara/Volkswagen | 2m15.261s | 3.726s |
| 28 | Ferdinand Habsburg | Fortec Motorsports | Dallara/Mercedes | 2m15.336s | 3.801s |
| 29 | Tadasuke Makino | Toda Racing | Dallara/Toda | 2m15.618s | 4.083s |