Round 1: Oulton Park
Pre-season favourite Jean-Eric Vergne gets his title tilt off to an excellent start by converting two pole positions into two wins at Oulton Park. Carlin team-mate James Calado is looking good for two poles on a damp but drying circuit in qualifying, until differential failure ruins his chances, while reigning Formula BMW Europe champion Felipe Nasr destroys his car at Druids on his out-lap.
Calado leaves Cheshire with only six points, while local man Oli Webb (Fortec) finishes second to Vergne twice to start his season strongly. Formula BMW graduate Rupert Svendsen-Cook mugs Raikkonen Robertson's Daisuke Nakajima to win British F3's first ever reverse-grid race.
Points:
1. Vergne         50
2. Webb           33
3. Svendsen-Cook  30
4. Buzaid         27
5. Nakajima       19
6. Huertas        18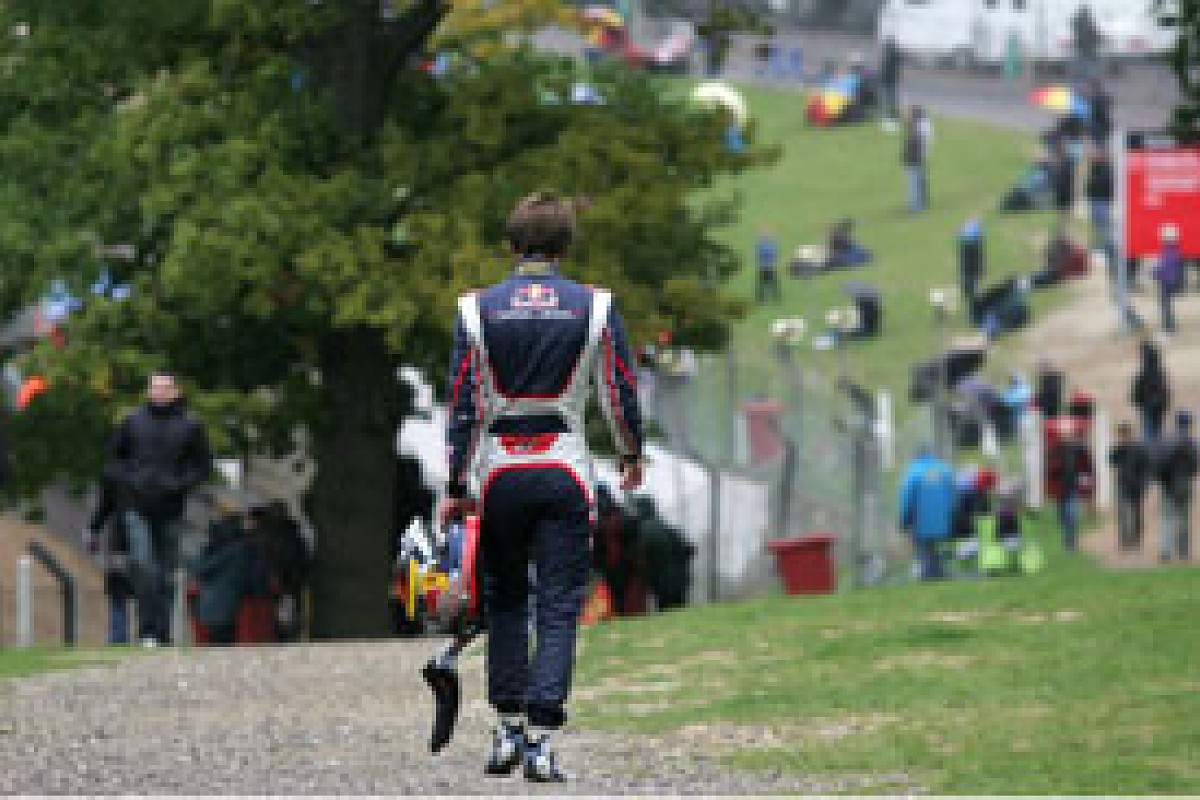 Jean-Eric Vergne © LAT
Round 2: Silverstone GP
Calado makes up for his Oulton Park disappointment with two hard-fought victories on the new Silverstone GP circuit. He claims a pair of poles in qualifying before twice fending off a racey-looking Webb to record his maiden series wins.
The pair clash in the wet reversed grid race, which is dominated by 2008 McLaren AUTOSPORT BRDC Award winner Alexander Sims.
Euro Series top dog ART returns to British F3 as a guest entry, but struggles for pace in practice and qualifying. Radical set-up changes help Sims to take that win, before he storms from 14th to fourth in the feature race. Vergne sets the pace in practice but overdrives in qualifying and fails to make the top three in any of the races.
Points:
1. Vergne         76
2. Webb           64
3. Calado         51
4. Buzaid         49
5. Nakajima       40
6. Svendsen-Cook  34

Round 3: Magny-Cours
Webb thrusts himself to the head of the points table by scoring his maiden series wins in Vergne's backyard. The Frenchman dominates qualifying to take two poles but messes up his starts, while Webb hooks it up beautifully to control proceedings from the front.
Vergne wins the reverse-grid race, after Carlin team-mate Jazeman Jaafar pitches Calado into a roll at the Adelaide hairpin and Hitech's Gabriel Dias jumps the re-start. Hitech makes it onto the podium in all three races though, with Dias and rookie Will Buller finishing two-three in race one, Buller taking third in race two, and Dias completing one of the best weekends of his career by filling the podium behind Webb and Vergne in race three.
Points:
1. Webb      115
2. Vergne    113
3. Calado     67
4. Dias       59
5. Buzaid     52
6. Nakajima   49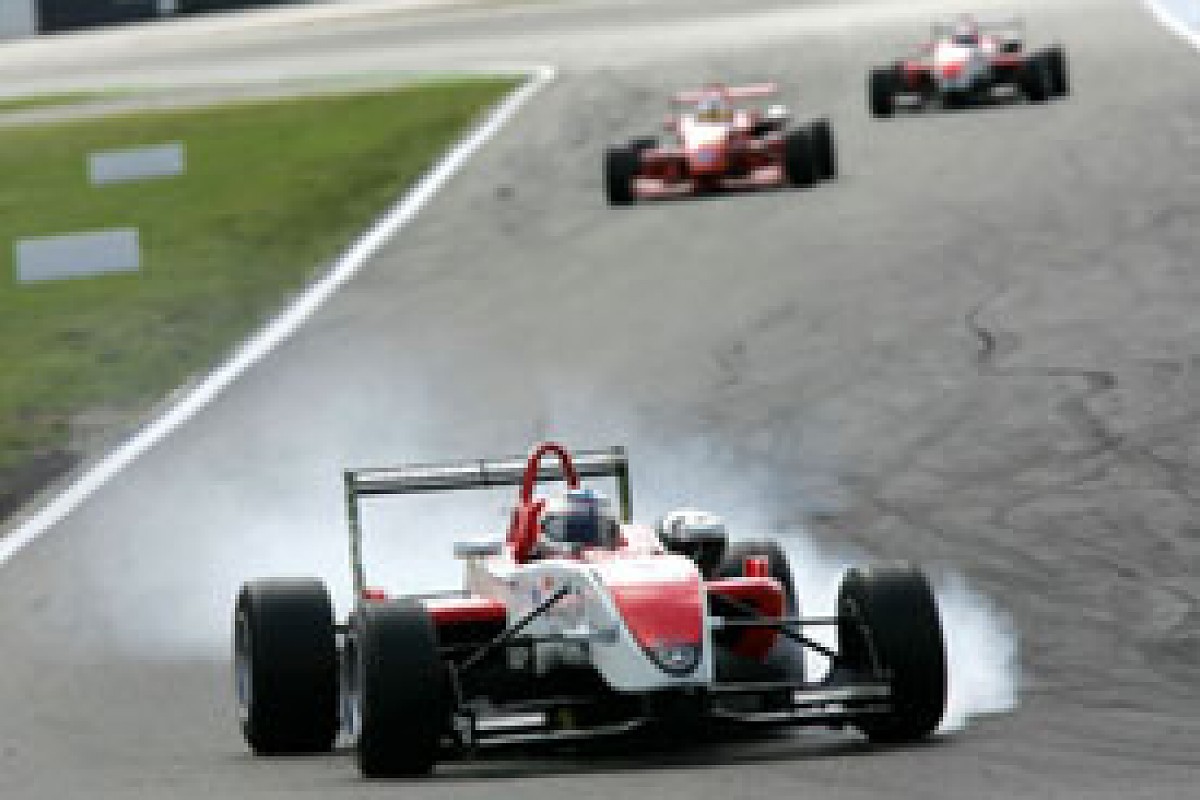 Daniel McKenzie © LAT
Round 4: Hockenheim
After a stern ultimatum from Red Bull motorsport director Helmut Marko, Vergne dominates in Germany and takes charge of the title race. Victories by 19 and 22 seconds over Jaafar and Buller in the full-points races allow the Frenchman to reclaim the series lead from Webb, whose weekend is blighted by offs and a drive-through penalty.
Webb's Fortec team-mate Daniel McKenzie scores his maiden podium in race one, before Dias uses his freshest set of tyres to defeat Webb for reverse-grid honours. Jaafar caps the best weekend of his season with third in race three, while Jay Bridger manages two top six finishes for fledgling squad Litespeed.
Points:
1. Vergne   161
2. Webb     127
3. Calado    88
4. Dias      83
5. Buzaid    78
6. Jaafar    61

Round 5: Rockingham
Vergne is not the fastest man at Rockingham but fights hard and rides his luck to extend his championship lead. Webb beats Vergne to two poles in qualifying but makes a poor start in race one, allowing Vergne and Raikkonen Robertson's Carlos Huertas through. Huertas leads, but leaves the door open for Vergne at the Deene hairpin. The Colombian harries the Frenchman for the rest of the race, but can't prevent Vergne claiming his sixth win of the season.
Double R loses out in the reversed grid race too, as Fortec calls the strategy right to help McKenzie defeat Nakajima in the first British F3 race to feature mandatory stop/go pitstops. Anthony Hieatt's team finally gets its reward in the feature race, as Nasr comes through from fourth on the grid to record his maiden F3 win.
A collision between race one protagonists Huertas and Vergne spears the Frenchman into Webb at the start - putting Huertas out and dropping the other two back as the safety car is deployed. Nasr loses out to Carlin's Adriano Buzaid at the re-start, but re-passes his fellow Brazilian before streaking away to win by more than 15 seconds. Vergne fights his way back to second, while Webb recovers to sixth.
Points:
1. Vergne   199
2. Webb     148
3. Calado   115
4. Buzaid    98
5. Dias      96
6. Buller    70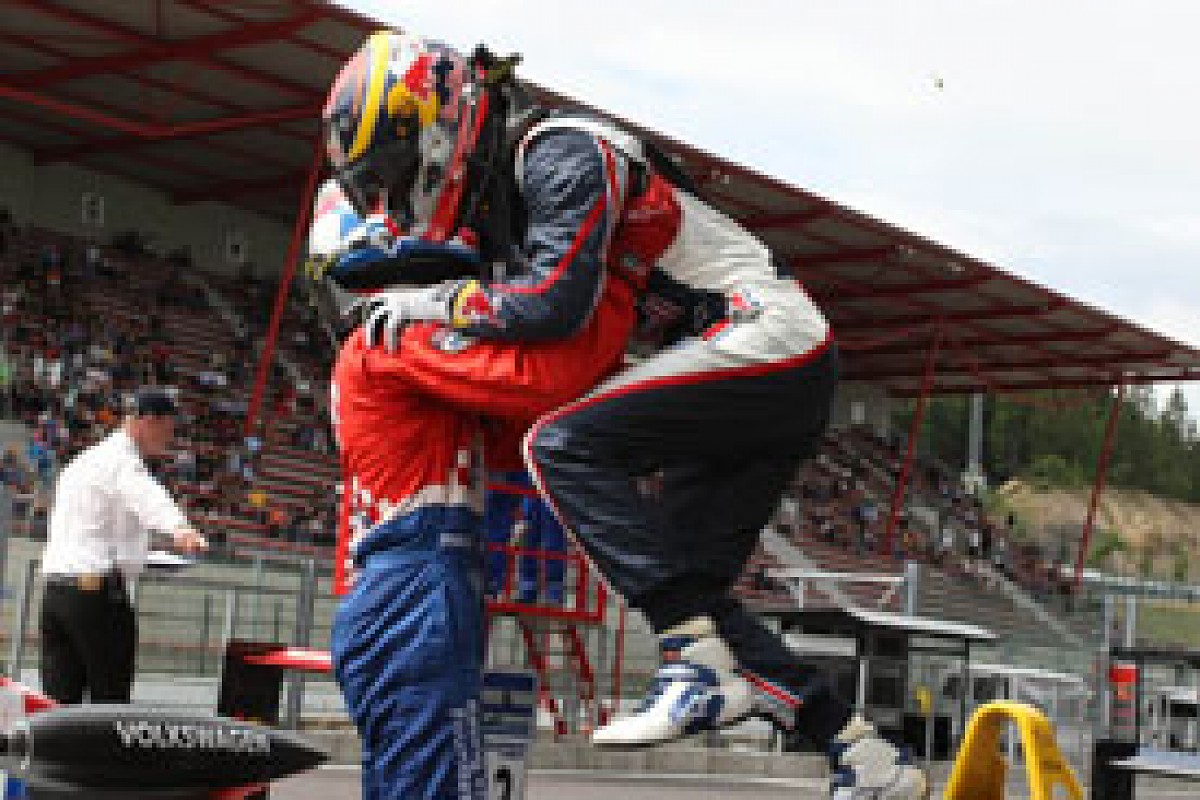 Jean-Eric Vergne and James Calado © LAT
Round 6: Spa
Vergne is back to his best in Belgium and becomes the first driver to win all three races in a weekend, as British F3 enjoys its largest grids of the year thanks to an influx of Euro Series entries. The Frenchman slipstreams past team-mate Calado to take race one and chalk up Volkswagen's 100th win as a Formula 3 engine manufacturer.
Vergne storms from seventh to second on the first lap of the reversed grid race, before overtaking poleman Nasr to grab the win. Polesitter Webb robustly defends his lead in the finale, but loses out to Vergne and Calado before completing a difficult weekend by crashing out after a tangle with Huertas. On another guest outing in the British series, Sims climbs from 16th on the grid to complete the podium for ART.
Points:
1. Vergne   251
2. Webb     164
3. Calado   152
4. Dias     110
5. Buzaid   110
6. Nasr      74

Round 7: Thruxton
Two more wins put Vergne on the verge of clinching the championship. Team-mate Calado is the man to beat in practice, but tows Vergne to a pair of poles in qualifying. Despite a bad start, the Racing Steps Foundation driver overhauls Vergne to win the first race and lead home Svendsen-Cook and Buzaid in a Carlin 1-2-3-4.
Vergne works hard on his driving to reverse the pace deficit to Calado and win the next two races. Fortec tries running without the top plane on Webb's rear wing as it struggles to match Carlin's aerodynamically efficient package. The Brit eventually reverts to conventional settings and manages to finish second to Vergne in race three, but the title is now all but lost.
Points:
1. Vergne        299
2. Webb          195
3. Calado        194
4. Buzaid        135
5. Dias          112
6. Svendsen-Cook  98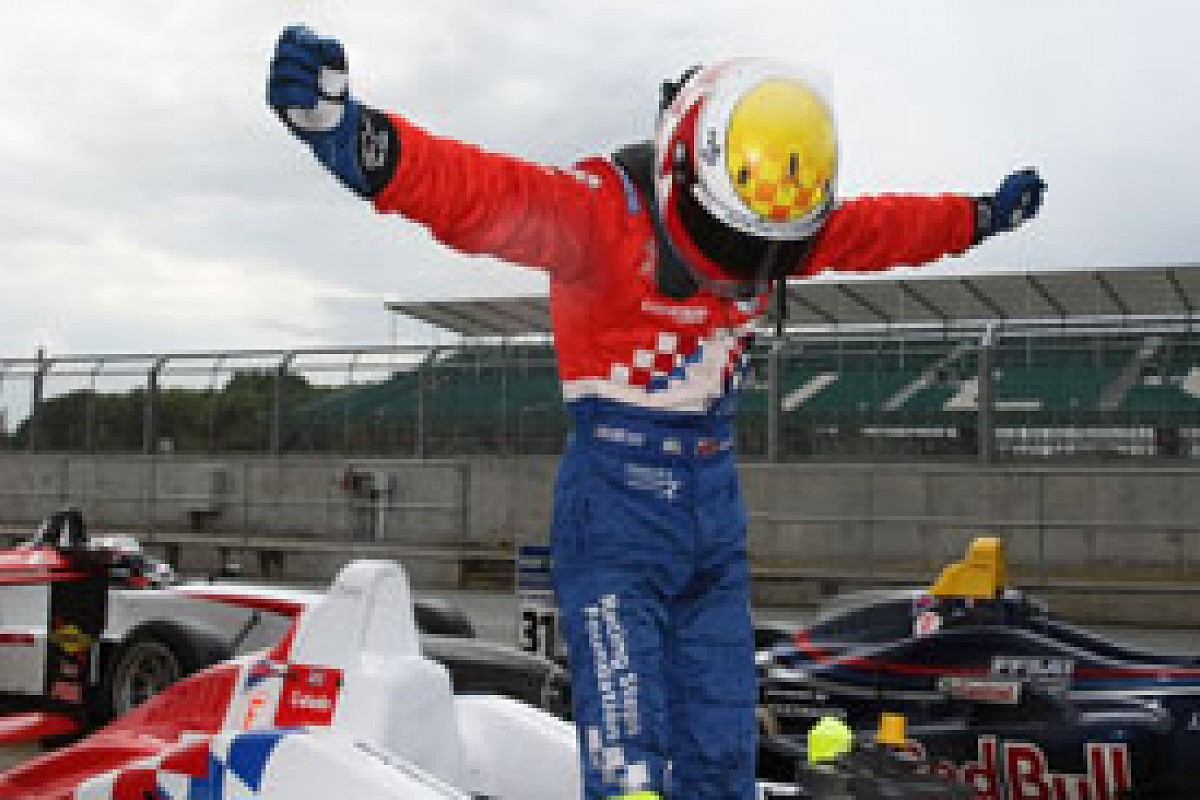 James Calado © LAT
Round 8: Silverstone GP
Vergne wraps up the championship with two rounds to spare, becoming the first Frenchman ever to claim the British F3 title. The Red Bull Junior sets himself up perfectly with two more poles, but loses out in a straight fight with wet weather maestro Calado in race one. Brazilian Lucas Foresti heads Buzaid to claim his maiden podium in another Carlin 1-2-3-4, while Webb struggles home ninth.
Double R loses out on reverse-grid success again in race two, as mandatory pitstops make a popular return. Buzaid chalks up his first win of the season after making a better stop then poleman Huertas. Vergne finishes third in that one, before dominating the finale to record win number 12 and clinch the crown.
Points:
1. Vergne         344
2. Calado         230
3. Webb           213
4. Buzaid         170
5. Dias           116
6. Svendsen-Cook  115

Round 9: Snetterton
Buzaid's late-season flourish continues in Norfolk as he enjoys his most competitive outing of the season. A masterclass in tyre wear management helps Vergne overcome his Brazilian team-mate and win race one, held on a wet but drying track.
Hitech's Dias chalks up his second reversed grid victory of the year in a wet race two, while a strong charge from fifth on the grid to second by countryman Buzaid is a prelude to a well judged win from pole in the finale.
Buzaid has Vergne beaten for pace for the first time this season as Calado completes the podium, while Webb puts a wheel on the grass and suffers a high-speed crash at Riches.
Points:
1. Vergne   382
2. Calado   251
3. Webb     223
4. Buzaid   215
5. Dias     135
6. Nasr     125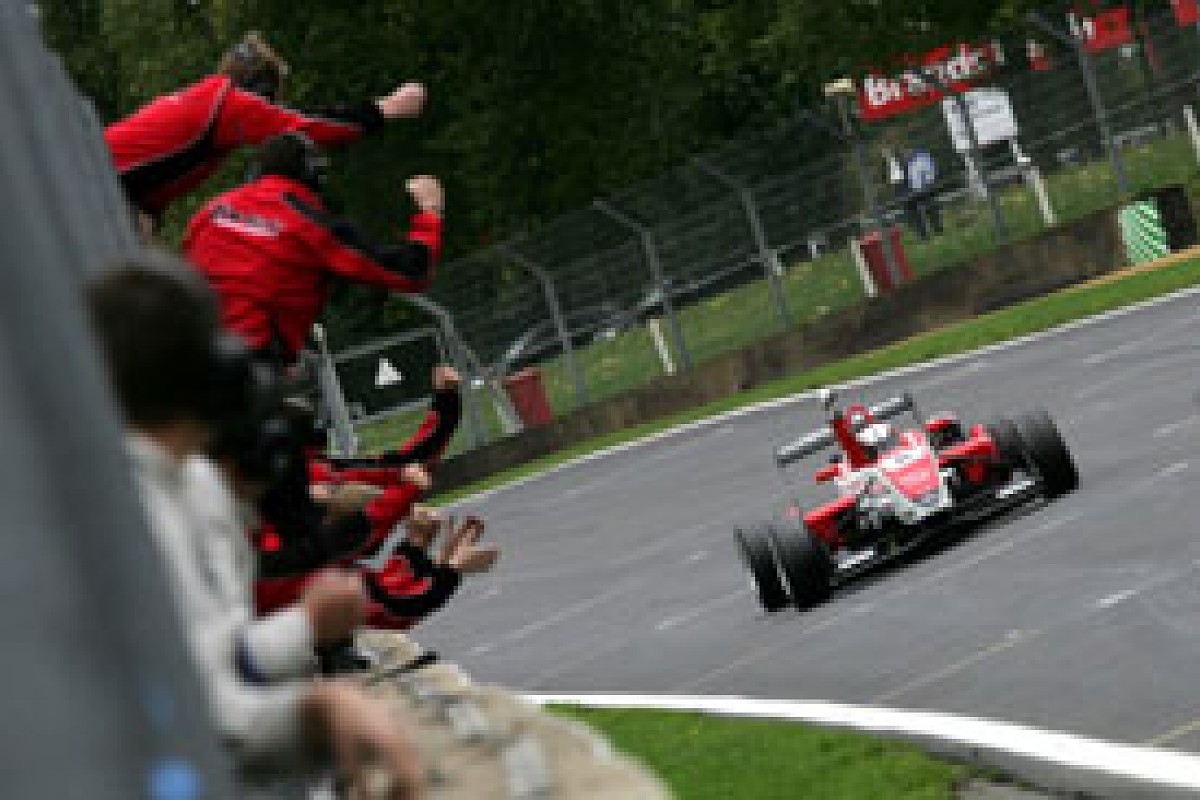 Oli Webb © LAT
Round 10: Brands Hatch GP
Webb and Fortec return to form in the season finale. Double R's Felipe Nasr is quick enough to score two poles in qualifying but loses his times for setting them under yellow flags. Webb inherits pole for the first race and uses it to good effect, leading home Calado to score his third win of the year.
Webb's Fortec team-mate McKenzie wins the reversed grid race, before lining up on pole for the season finale. Rain as the drivers head off on their parade lap creates the conditions for a thriller and McKenzie tumbles from first to sixth on the first lap as Calado streaks away. The conditions eventually become bad enough to require a mid-race switch to wet tyres. Despite a slow stop, Calado fends off Hitech's Will Buller to finish the year with a win.
As several drivers (including champion Vergne) fall off the road in the worsening weather, a gamble to change to wets before the start pays off for T-Sport's Menasheh Idafar, who clinches the National Class title by becoming the first National Class driver to score an outright podium since Adam Carroll at Silverstone in 2002.
Final points:
1. Vergne   392
2. Calado   293
3. Webb     250
4. Buzaid   238
5. Nasr     136
6. Dias     135

2010 F3 season summary
2010 F3 final points standings
*For the full analyis of the British F3 season, buy this week's AUTOSPORT magazine - or get the online version, here.