Nikita Mazepin will start the Formula 2 sprint race in Baku from pole after Luca Ghiotto was penalised for a crash with McLaren Formula 1 junior Sergio Sette Camara.
On lap 21 of 26 of the Saturday race, a chain reaction as leader Jack Aitken backed up the pack at a safety car restart including Virtuosi Racing's Ghiotto hitting the rear of Sette Camara and spinning his DAMS car out.
Carlin's Louis Deletraz also crashed out during the aborted race start.
Ghiotto took sixth on the penultimate lap of the race from Prema driver Sean Gelael, after fighting back from a poor start at the beginning of the race.
The incident meant Ghiotto lost the championship lead to Nicholas Latifi, and he has now dropped further points after he was given a post-race penalty that dropped him to ninth.
"It was determined that Ghiotto had failed to maintain position behind Sette Camara prior to the restart," read an F2 statement.
Sette Camara said the contact had happened as both were trying to keep their tyres warm.
"While I was weaving and looking for the leader and everything, my rear wheel touched the front wheel of Luca," he told Autosport.
"The guy behind has to control the situation as he has the view.
"I don't know if he was looking at his mirror or dash, or if he braked too late, but the contact happened and it was very bad for me.
"Luca is a clean guy, not a dirty driver, but if you make a mistake, sometimes if the mistake costs the others too much you still have to have a punishment for it."
The decision means Alfa Romeo Formula 1 reserve driver Correa loses his reverse grid pole as Ghiotto's demotion moves him up from eighth to seventh in the sprint race result.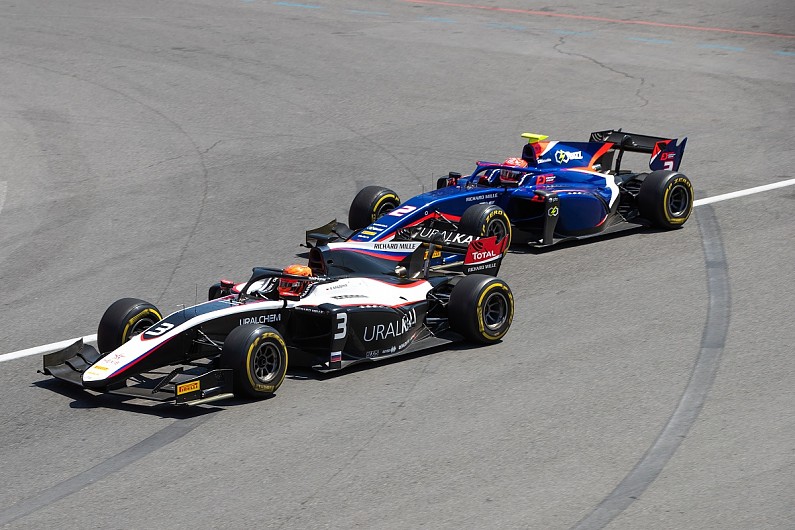 ART Grand Prix's Mazepin - runner-up in GP3 and a regular F1 test driver with Force India last year - is promoted into eighth, his best result of the season, and to sprint race pole.
His former-GP3 rival Dorian Boccolacci - eventual winner Aitken's Campos Racing team-mate - was also penalised post race.
The F2 statement continued: "Furthermore, Dorian Boccolacci was handed a two-place grid drop for Sunday's Baku race when it was found that he had failed to enter the pitlane at the end of the feature race as instructed by the race director.
"The French rookie from Campos finished fifth and is the highest classified rookie, scoring his first F2 points.
"He will start tomorrow's race in sixth."