Sebastian Vettel's dream of emulating Michael Schumacher's Formula 1 success with Ferrari is slipping away following the confirmation that he will leave Maranello at the end of the season.
The next few months are set to reveal the final chapter to the four-time world champion's story in the iconic red overalls.
But with the sense that his best opportunities to build a Schumacher-esque dynasty are behind him, and an expectation that Ferrari has some catching up to do when the season does get underway, there is a lingering feeling of what could have been.
PLUS: How Vettel's Ferrari dream died
From great expectation when he signed for the 2015 season, Vettel's spell at Ferrari has had great highs - if not the ultimate high of winning a world championship - and also some major low points.
Here is the timeline on Vettel's rise and fall at Ferrari.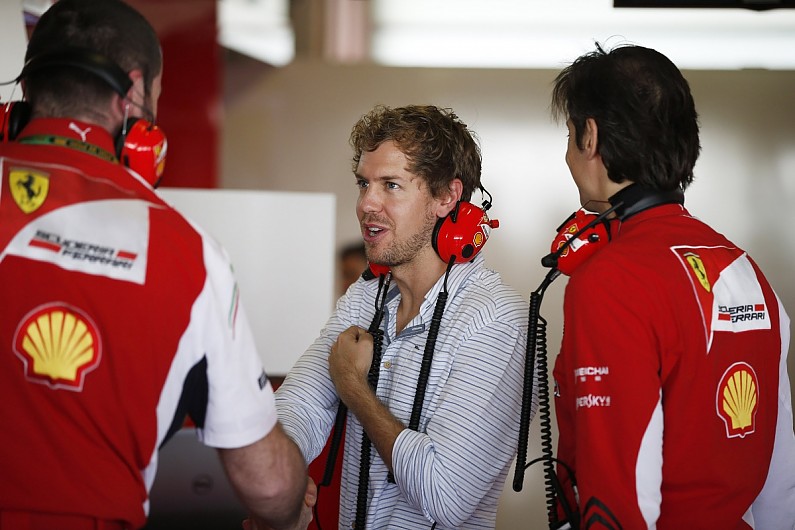 November 2014 - Vettel's dream move
After weeks of speculation following his confirmed departure from long-term backers Red Bull, Ferrari announced Vettel would replace the McLaren-bound Fernando Alonso from 2015 on an initial three-year deal.
The four-times F1 world champion called it "the dream of a lifetime" as he hoped to follow in the footsteps of his idol Schumacher, who had racked up five world titles in a row during his time at the Scuderia.
Having romped to four consecutive world drivers' and constructors' crowns with Red Bull between 2010-13, his relationship with the organisation that backed his junior career grew stale, while the emergence of new team-mate Daniel Ricciardo appeared to unsettle his authority within its ranks.
With Red Bull struggling to match the performance levels of Mercedes at the start of the V6 hybrid era, Vettel made just four podium appearances in 2014 and endured his first winless season in F1 since his debut in 2007.
As the opportunity opened up at Ferrari with Alonso preparing to part company, his chance to realise a dream became a reality, having received a glimpse of life being adored by the Tifosi when he claimed a historic first victory for Toro Rosso at the 2008 Italian GP.
"The next stage of my Formula 1 career will be spent with Scuderia Ferrari and for me that means the dream of a lifetime has come true," Vettel said.
"When I was a kid, Michael Schumacher in the red car was my greatest idol and now it's an incredible honour to finally get the chance to drive a Ferrari.
"I already got a small taste of what the Ferrari spirit means, when I took my first win at Monza in 2008, with an engine from the Prancing Horse built in Maranello."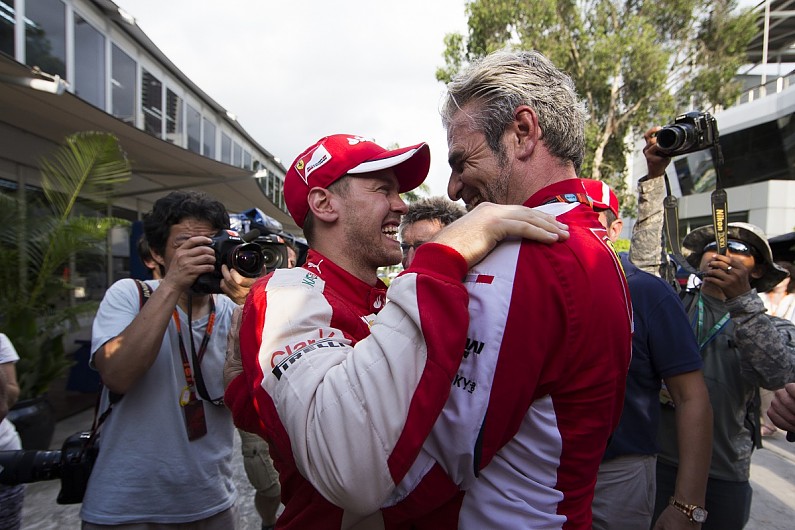 2015 Malaysian Grand Prix - Vettel's first Ferrari win
In only his second grand prix for Ferrari, Vettel ended both his and the teams' win drought - dating back to the 2013 Spanish Grand Prix - with a superb strategy to charge to victory at in Malaysia.
The win poured renewed belief into Ferrari and led by its new signing there was fresh hope to halt the early Mercedes domination that was displayed at the 2015 opener in Australia.
Vettel remained in the title picture until the summer break, as Ferrari showed flashes of race-winning performance with the SF15-T, but was unable to match the unrelenting consistency of Mercedes.
Further wins in Hungary and Singapore ensured Vettel stayed the closest challenger to Lewis Hamilton and Nico Rosberg, often taking advantage of any slip-ups, but he was ultimately unable to single-handedly turn the tide.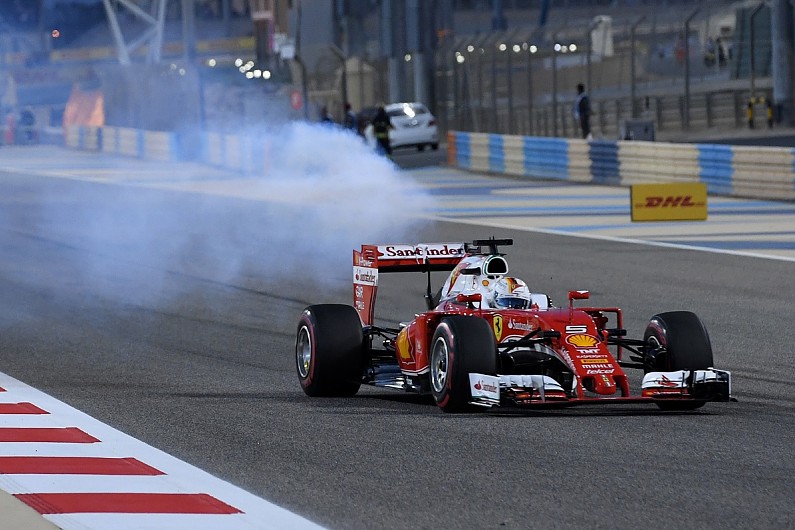 2016 Bahrain Grand Prix - A false start
Looking to build momentum following an encouraging maiden season with Ferrari, Vettel hit neutral in his second F1 campaign with the team due to poor reliability, coupled with the unrelenting Mercedes juggernaut.
At the Bahrain Grand Prix, almost 12 months on from his first Ferrari triumph, Vettel suffered engine failure on the warm-up lap with thick plumes of smoke escaping from his exhaust which forced him to log the first DNS of his F1 career.
The season became one of fruitless toil and ended without a win, while Vettel was also beaten to third place in the standings by Red Bull and Ricciardo. The SF16-H had dropped the baton, rather than picking it up from its predecessor.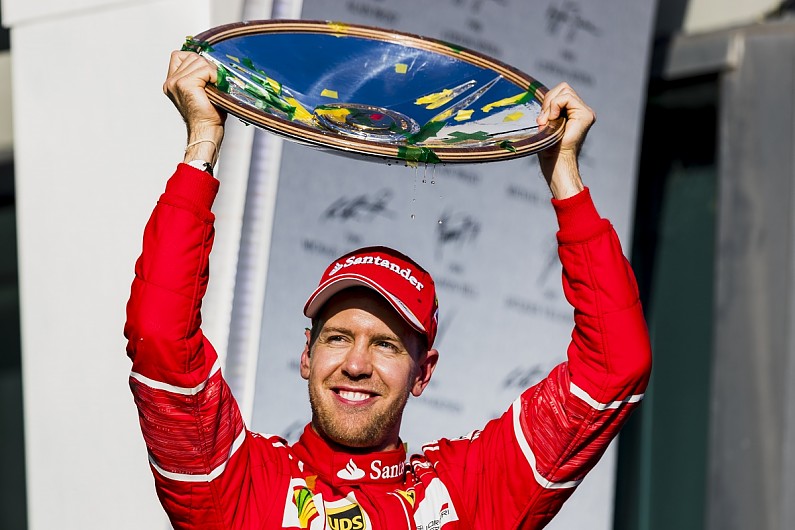 2017 Australian Grand Prix - A golden opportunity
With revised regulations offering Ferrari another chance to challenge Mercedes, and lessons learnt from the previous year, Vettel bolted out of the starting blocks with victory in Australia, a feat he repeated in Bahrain and Monaco.
He showed excellent consistency too, with second places in China, Russia and Spain putting him in the lead of the standings for the first time in his Ferrari career.
Vettel's lead was cut to a single point when he lost a certain fourth place in the British GP to a late puncture that dropped him to seventh, but mounted an excellent recovery by winning the following race in Hungary, with Hamilton only fourth, to extend his advantage back to 24 points heading into the summer break.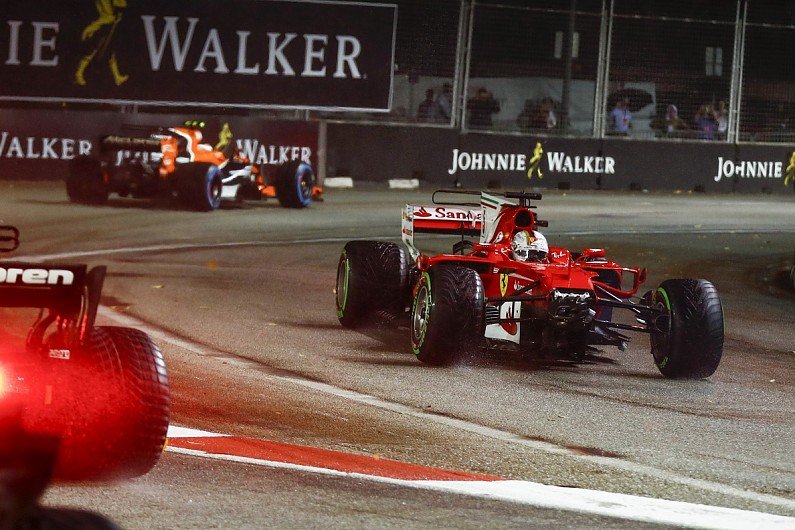 2017 Singapore Grand Prix - Crashing before the first turn
In what must cause nightmares for Ferrari fans across the world, Vettel collided with both teammate Kimi Raikkonen and Red Bull's Max Verstappen before reaching the first corner of the Singapore Grand Prix.
Vettel, looking to defend his pole position against Verstappen, was unsighted to Raikkonen launching his own attack up the inside, having made a brilliant launch from the second row.
Three into one didn't go and the trio clashed heavily, putting Raikkonen and Verstappen out of the race on the spot, while damage to Vettel's Ferrari caused him to spin off a few corners later. It marked the first Ferrari double DNF on the first lap of a grand prix in F1 history, and to make matters worse, victory for Hamilton turned a slender three-point advantage into a suddenly comfortable 28-point lead.
A disastrous hat-trick of Asia flyaway races were completed for Vettel when technical gremlins wrecked his chances in Malaysia and Japan, allowing Hamilton and Mercedes to pull clear and clinch the title.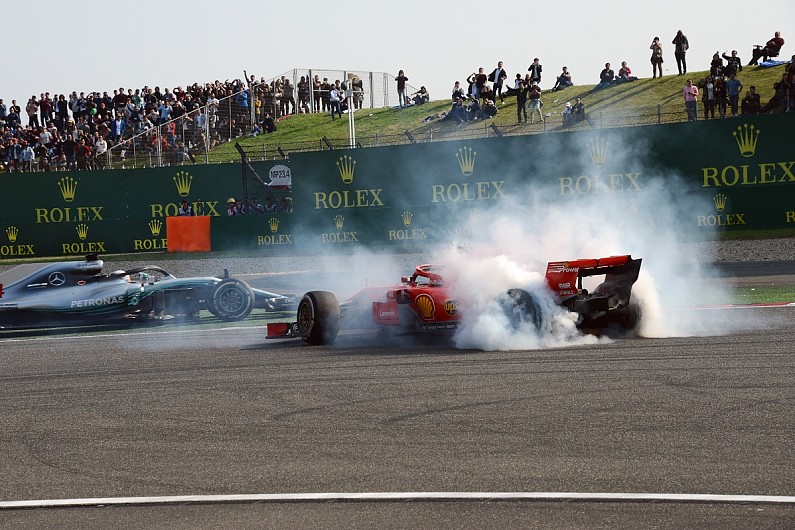 2018 Chinese Grand Prix - From perfect start to costly clashes
On reflection 2018 was truly Vettel's best chance to ink his status in the Ferrari history book. With the SF71H proving more than a match for Mercedes, Vettel taking victories in the opening two races in Australia and Bahrain, his early momentum was slowed when he was turned around by Verstappen during the Chinese Grand Prix.
But wins in Canada and Great Britain restored the German's control in the world championship and he left Silverstone silenced with an eight-point buffer over Hamilton heading to his home round at Hockenheim.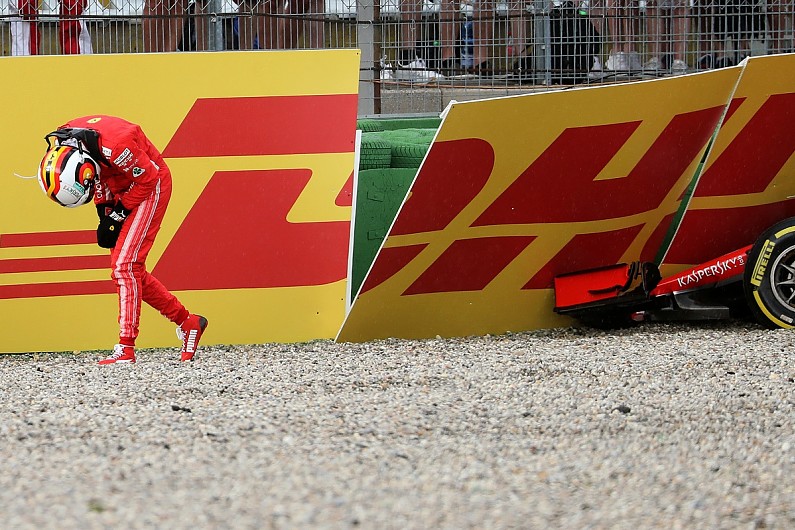 2018 German Grand Prix - Snatching defeat from the jaws of victory
Starting from pole at Hockenheim and with Hamilton down in 14th place, everything was in Vettel's favour as he looked to tighten his grip in the F1 championship tussle.
But a late rain shower unsettled the German into a careless crash from the lead with 16 laps to go, allowing Hamilton to take full advantage by returning the favour and winning on his rival's home soil.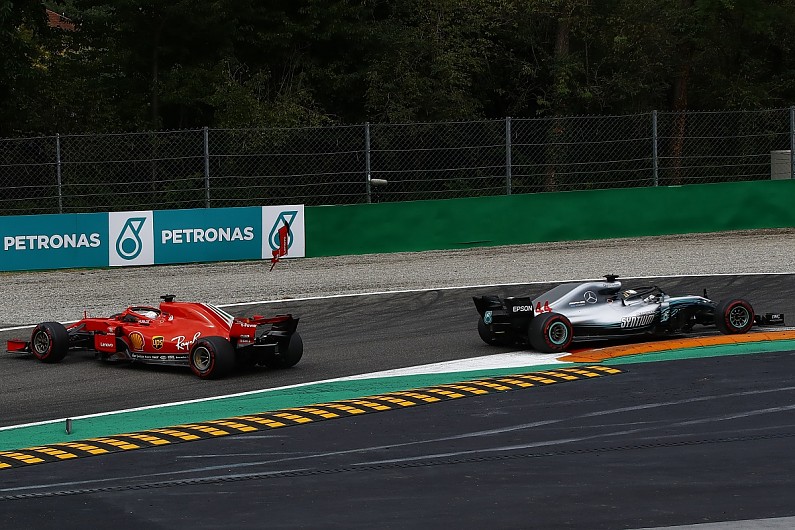 2018 Italian Grand Prix - Buckling under the weight of expectation
Vettel staged a solid recovery from his gut-wrenching Hockenheim crash with second place at the Hungaroring and a win straight after the summer break at Spa-Francorchamps, which trimmed the gap down to 17 points.
But the pressure began to tell again heading to the Italian Grand Prix, with the adoring Tifosi starved of a Ferrari win since 2010. A qualifying mix-up saw teammate Raikkonen take pole position ahead of a fuming Vettel, who was left exposed to the Mercedes pair directly behind.
Under attack from Hamilton approaching the second chicane on the opening lap, Vettel was sent into a spin and dropped to last. Although he recovered to fourth, Hamilton defeated Raikkonen for the win, pushing Vettel's title chances further out of reach.
After clashes with Verstappen at Suzuka and Ricciardo at Circuit of the Americas, an eight-point lead had turned into a 70-point deficit over a run of nine races.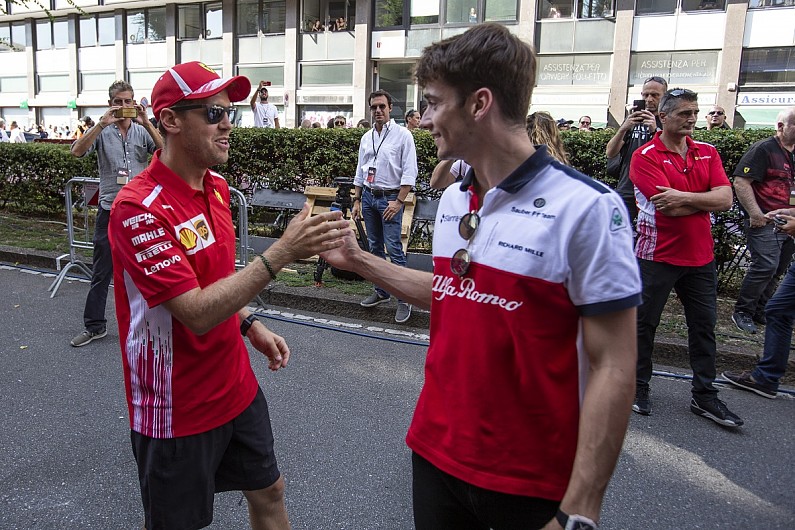 September 2018 - Ferrari confirms Leclerc as Raikkonen's replacement
One week after his Monza disappointment, it was confirmed Vettel would have a new teammate from 2019 with the Scuderia picking Charles Leclerc to effectively swap seats with Raikkonen.
The youngster was billed as Vettel's eventual successor, but the German would remain the team leader for the foreseeable future, as Ferrari broke from tradition of signing established drivers to go for a promising junior from within its ranks.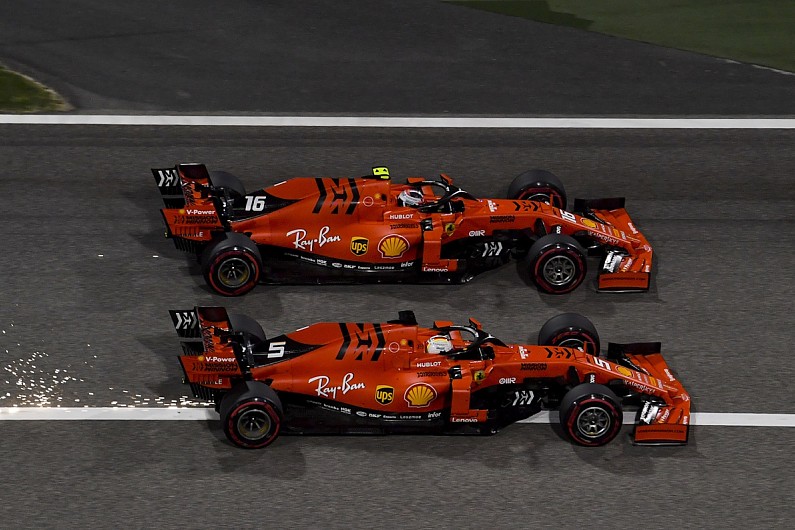 2019 Bahrain Grand Prix - Leclerc outshines Vettel early
Despite encouraging signs from pre-season testing, the SF90's pace didn't come through in the early rounds of 2019, while Vettel struggled with the handling of a car that proved fundamentally aero-deficient.
In only his second race for Ferrari, Leclerc grabbed pole position - beating Vettel by almost three-tenths of a second - and had looked set to convert it into victory had it not been for a late engine issue.
Vettel's woes deepened as he spun while battling Hamilton for position, triggering memories of the previous seasons.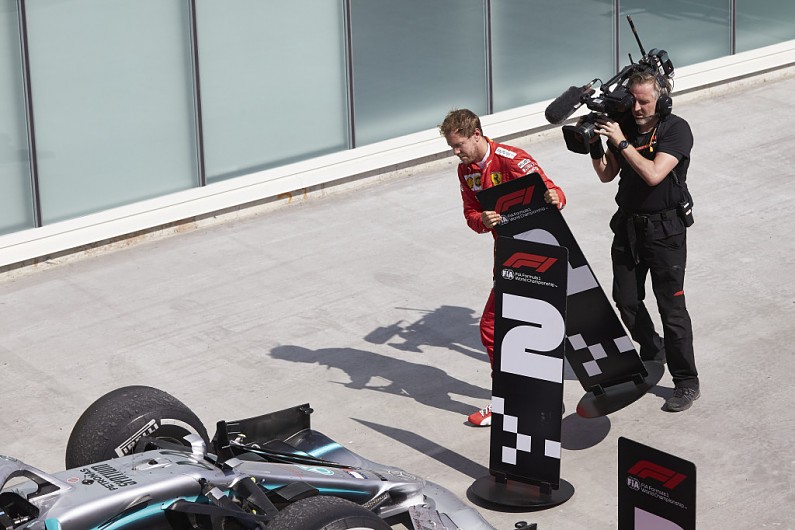 2019 Canadian Grand Prix - Frustrations boil over
In a trouble-free weekend and with pole position for the Canadian Grand Prix, Vettel finally looked his former self after an underwhelming first half of the season. But once again pressure appeared to tell on the German as he slipped off track while fighting to hold onto the lead under pressure from Hamilton.
The resulting time penalty for an unsafe re-entry infuriated the Ferrari driver as he became powerless to prevent a weekend he had dominated being handed to Hamilton.
Eager to make a point, he initially refused to take part in the podium ceremony, then swapped around the #1 and #2 finisher boards as a sign of protest.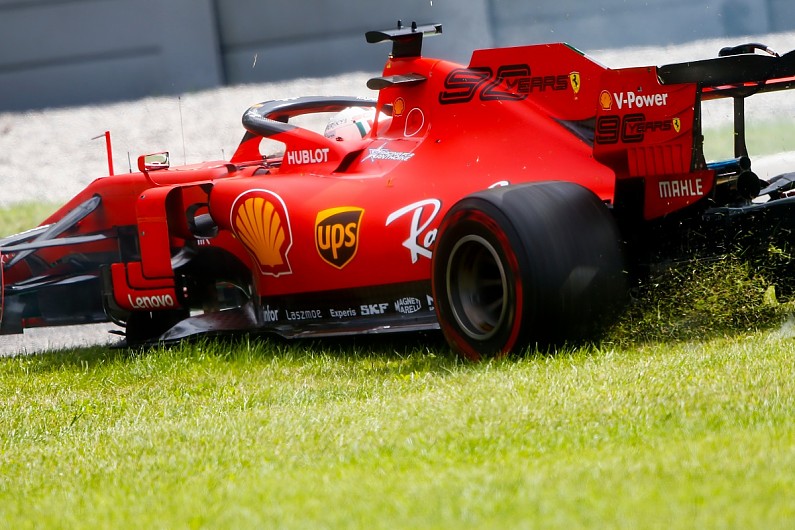 2019 Italian Grand Prix - Ferrari's new darling steps up on the biggest stage
After his maiden F1 victory a week earlier at the Belgian Grand Prix, Leclerc delighted the Tifosi by delivering that long-awaited Monza victory for Ferrari.
Much like at Hockenheim in 2018, when it rains it pours for Vettel: he spun during the early laps and after serving a penalty for an unsafe return to the track, languished to a 13th-place finish one lap down.
Race strategy grumblings in Singapore - where Vettel takes victory - and Russia don't ease the tensions building between Vettel and Leclerc, which comes to a head later in the season.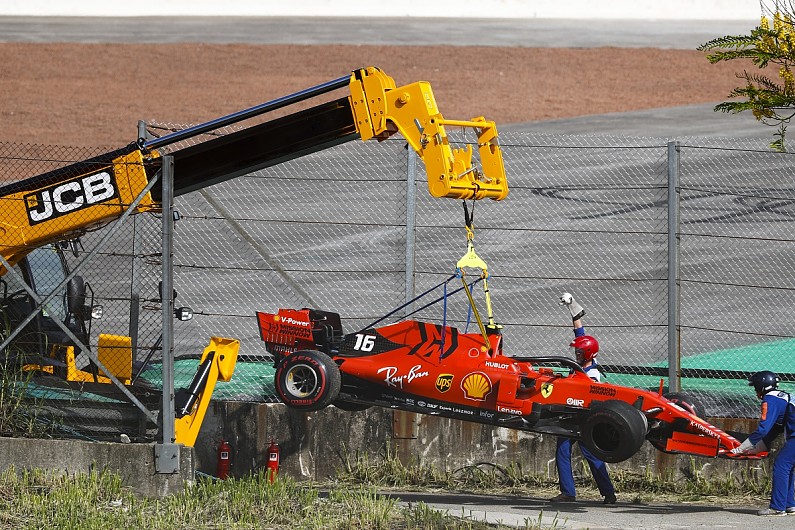 2019 Brazilian Grand Prix - Vettel and Leclerc clash
In the closing stages of the Brazilian Grand Prix, with the F1 world title decided two races previously, the underlying tension between Vettel and Leclerc bubbled over when the pair clashed fighting for a podium spot.
In a relatively innocuous collision on the run to Turn 4, the two Ferrari drivers got too close for comfort with the resulting damage forcing both to retire. Neither driver was apportioned full blame, but it was clear the issue was allowed to boil over as the experienced hand and young gun partnership gradually deteriorated.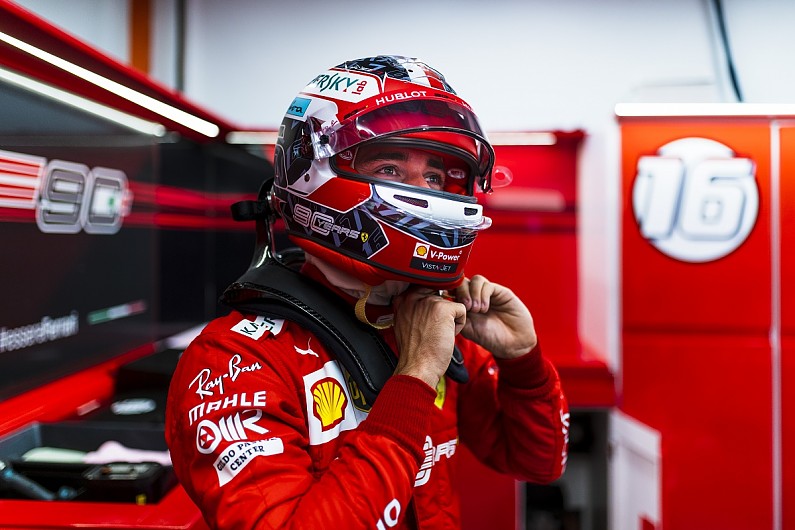 December 2019 - Leclerc signs bumper Ferrari deal
A week before the Christmas holidays, Ferrari dropped a huge indication of its future intentions by signing Leclerc up with a five-year contract.
The deal put Vettel's status at Ferrari under question and while team principal Mattia Binotto's said he remained the the team's "number one target" to continue beyond 2020, it became clear that Vettel would only be offered a short-term deal on a reduced pay grade.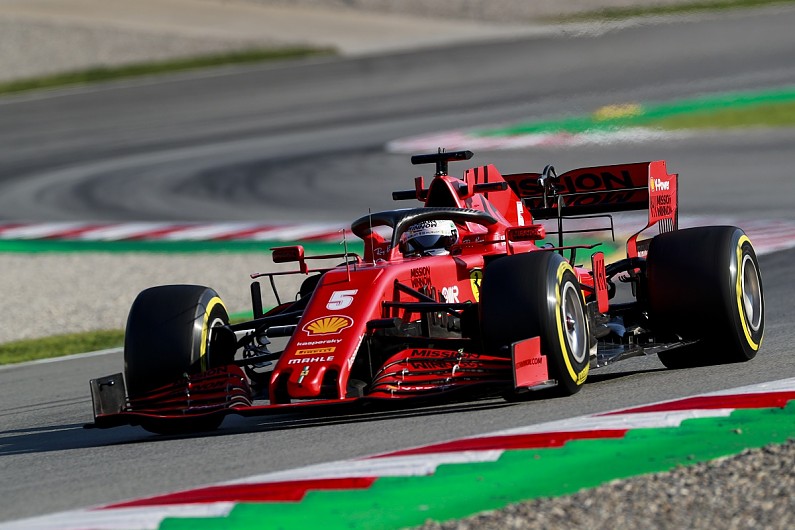 February 2020 - Vettel keeps his head down in testing
After missing the opening day of pre-season testing due to illness, Vettel reaffirmed his position at Ferrari despite a low-key showing by the team in Barcelona.
The German felt confident the SF1000 was a step in the right direction compared to Ferrari's difficult 2019 car, but conceded the Italian manufacturer was on the back-foot against its front-running rivals.
"If you look at the big teams, then nobody is really trying to do anything fancy," Vettel said. "Most of the work is done in the background and you don't really see.
"I'm curious to really see where we are in Australia. But for sure, it's not like we leave the very strongest impression right now."
Noises from the team were positive about Vettel's contract talks, although he indicated that happiness rather than money would be key to his next decision. But with the 2020 F1 season suspended on the eve of the opening round by the coronavirus crisis, contract discussions stalled.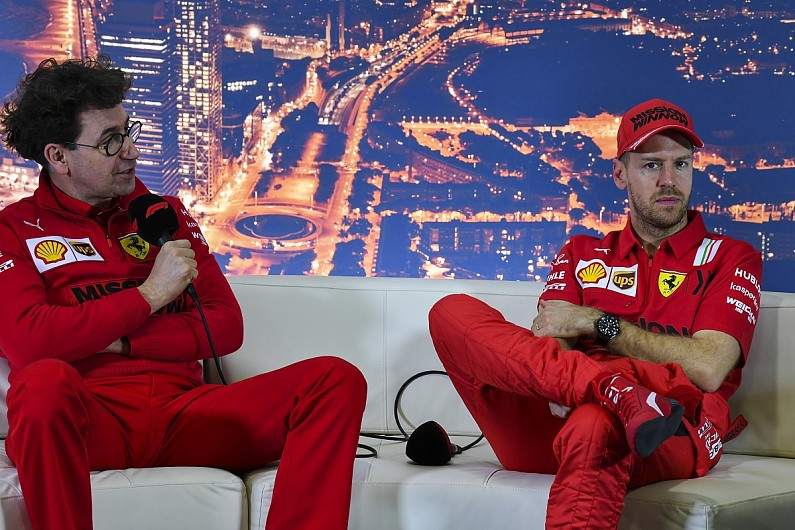 May 2020 - Ferrari confirms Vettel departure at the end of 2020
In a surprise announcement during the ongoing shutdown and delays to the start of the 2020 F1 season, Ferrari confirmed that Vettel would leave the team at the end of the year.
Vettel played down the lower money offer and conditions from Ferrari and hints at the "real priorities" which he has focused on in recent months, having become a father for the third time in 2019.
"In order to get the best possible results in this sport, it's vital for all parties to work in perfect harmony. The team and I have realised that there is no longer a common desire to stay together beyond the end of this season," Vettel said.
"Financial matters have played no part in this joint decision. That's not the way I think when it comes to making certain choices and it never will be.
"What's been happening in these past few months has led many of us to reflect on what are our real priorities in life.
"I myself will take the time I need to reflect on what really matters when it comes to my future."
Autosport has produced a standalone special magazine to celebrate our 70th birthday. All current print subscribers will receive a copy for free. To order your copy of the 196-page Autosport 70th Anniversary issue, please go to: autosport.com/autosport70th