Forty years ago today, Didier Pironi scored his first Formula 1 Grand Prix victory for Ligier at the Belgian GP. Just over two years later, he was on the cusp of becoming France's first F1 world champion before fate intervened
Didier Pironi arrived in Formula 1 as a driver made for the ground effect era.
His bravery matched the grip offered by the shaped underbodies and sliding skirts of the cars - exceedingly high, but with a limit. He was also able to continually improve himself, so that his rough-around-the-edges skills were honed year to year. In 1982, he seemed destined to become France's first F1 world champion until fate flicked the opportunity out of his grasp.
In a marked contrast to his ice-cold composed demeanour outside of a car, Pironi's high-energy approach often left him spent after a race, which was hardly unusual in the days of ground effects, when it was necessary for teams to run rock-hard suspension to maintain their cars' ride-height.
Yet with the adrenaline pumping, Pironi could always suppress the fatigue caused by the brutal cars and, like 1980 world champion Alan Jones, he could take a ground-effect car to the very edge and still feel for the limit of adhesion.
Following two seasons at Tyrrell in which he'd been an occasional podium-finisher, his solitary season at Guy Ligier's squad in 1980 turned out to be the year Pironi marked himself out as a top-rank talent.
Partnered with the solid, experienced and occasionally very fast Jacques Laffite, there were days when the younger man would take a back seat to the veteran. But on his best days, Pironi was on another level to his team-mate.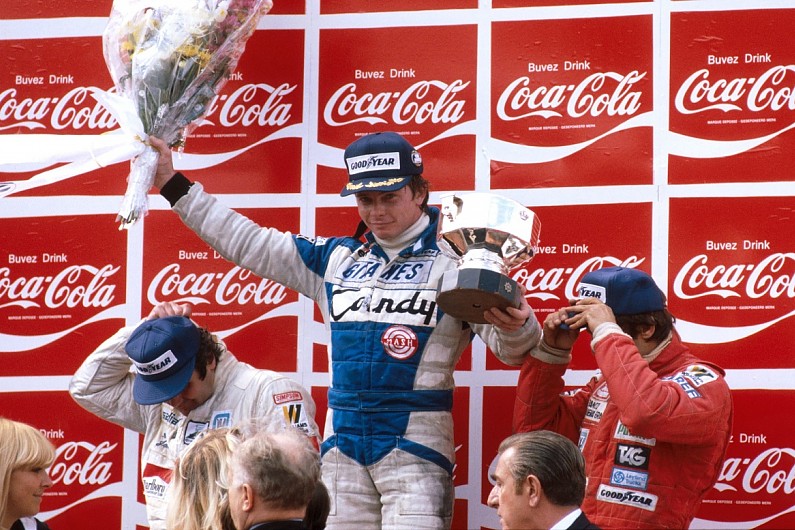 Had Pironi been partnered with either Jones or Nelson Piquet, it would have been tricky to decide who would have emerged as de facto team leader, since he combined the best traits of each - the race-long determination and pace of eventual '80 champion Jones, and the pizazz and flair of Piquet.
Ligier's JS11/15 demonstrated its potential in the hands of Pironi 40 years ago today, with a commanding victory at the Belgian Grand Prix by over 47 seconds from Jones in the Williams FW07B, but it lacked the consistency to match the title-fighters.
Despite the elevation of Interlagos putting the turbocharged cars at an advantage, Pironi managed to qualify his Cosworth DFV-powered Ligier on the front row for the 1980 Brazilian GP
In 1979, the Ligier JS11 had won three of the first five races and taken four poles in the opening third of the season, but lost its edge as the campaign developed, possessing neither the pace of Williams nor the consistency of eventual champion Ferrari.
It would be a similar story in 1980, as designer Gerard Ducarouge improved the car's aerodynamic properties but the increased downforce put increased strain on suspension components.
Sporadic success with substance
Across the 1980 F1 season, Pironi endured a sequence of unfortunate incidents through no fault of his own which dampened any aspirations of a title challenge.
Despite the elevation of Interlagos putting the turbocharged cars at an advantage, Pironi managed to qualify his Cosworth DFV-powered Ligier on the front row for the Brazilian Grand Prix, but in the race he picked up a puncture that necessitated a recovery drive to an eventual fourth place.
His triumph at Zolder acted as a false dawn, but there were reasons to believe Ligier had fixed its earlier woes when he took pole position and dominated the opening laps at Monaco. Yet disaster struck Pironi when his car jumped out of gear just after a rain shower, making him slide into the barrier and into retirement at Casino Square.
There should have been the chance to make amends at his home round at Paul Ricard, but Pironi wasn't quite able to beat Jones.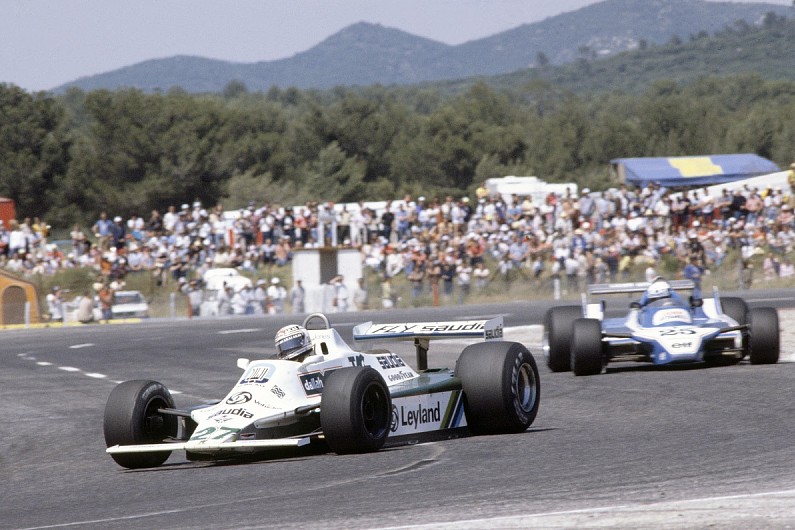 That weekend Pironi showed his win-at-all-costs ambition when he duped polesitter Laffite before the race, telling him the larger tyres he'd recently tested made no difference. Laffite took him at his word, then spotted that both the Williams cars and teammate Pironi were running the bigger tyres. Struggling with understeer, he finished half a minute off Jones, with Pironi following him home in second.
Two weeks later at Brands Hatch, it was Pironi's turn to land pole, but another race that should have gone his way went begging on lap 19 when he suffered a tyre deflation. His storming comeback drive to a commendable fifth place meant he set a new lap record.
Another chance was squandered at the penultimate round in Montreal, when Pironi jumped the start. That effectively ruled him out of the victory but he still recovered to finish third.
Despite his frustrations at how the season panned out, it had no impact on Pironi's future. His scintillating performance in Brazil had convinced Enzo Ferrari that Pironi was a potential replacement for the retiring Jody Scheckter and that summer a deal was struck.
Pironi failed to tell current boss Guy Ligier - who only discovered the move when he read about it in Autosport - but after avoiding any major recriminations, his future was secured at Ferrari.
Pironi's Scuderia switch
A deeply ambitious and also perceptive man, Pironi decided he needed a turbocharged car in 1981 and knew the Scuderia, in finally ditching the large flat-12 normally aspirated engines, would finally be able to design a ground-effect chassis.
Pironi was aware by joining Ferrari he was heading into the sanctuary of a much-beloved incumbent - in Maranello's case, Gilles Villeneuve - but he felt ready to prove his mettle having faced a similar situation at Ligier alongside Laffite. He had never been a man intimidated by his surroundings.
But Villeneuve was a whole different matter, and there's little doubt the difficulty of the 1981 Ferrari 126CK exaggerated the difference between the pair.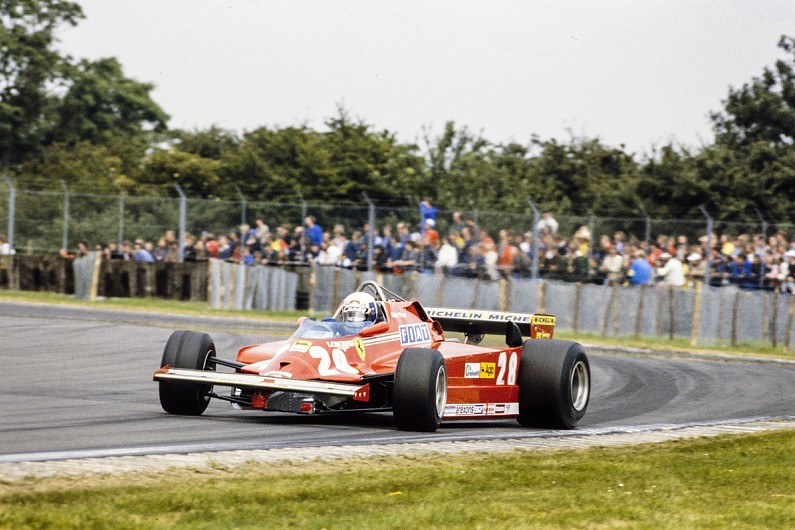 For the first time in his F1 career, Pironi had a genuinely tricky car that had nasty turbo lag. At a time when aero had become the predominant factor in a car's competitiveness, this was far from an ideal situation.
Harvey Postlethwaite, who would oversee the design of Ferraris for the next six years, estimated the Mauro Forghieri-penned 126CK had only a quarter of the downforce of its rivals Williams and Brabham.
Pironi outqualified his teammate five times in 1981 and impressed on racedays at Imola, Zolder and Silverstone. But set against that were weekends like Monaco, when he shunted trying to match Villeneuve in qualifying and, having started 17th, was lapped by his victorious teammate.
Second at Brands Hatch in 1982, he was third at Paul Ricard and had pulled out a nine point advantage at the top of the standings over John Watson heading to Hockenheim
Villeneuve ended the season with two victories to take seventh in the world championship, while Pironi's best finish was that bittersweet fourth place at Monaco.
Postlethwaite's 126C2 for 1982 was a vast improvement over its predecessor, although still not an all-around match for a Renault. Still, Pironi and Villeneuve were encouraged by the chassis department's huge progress since its first attempt and were aware that former Hesketh and Fittipaldi engineer Postlethwaite would be continually evolving the machine throughout the season.
Pironi's confidence was knocked by a serious crash in testing at Paul Ricard, the cause discovered to be a suspension collapse, but he still didn't look a match for his team-mate.
He was outqualified at Kyalami, Jacarepagua - where Villeneuve was 1.5s faster - and Long Beach, although Pironi's sixth place in Brazil - following the disqualification of winner Piquet and second-placed finisher Keke Rosberg - was the team's only points finish from the opening three rounds after Villeneuve lost a podium in the US GP West due to a rear wing irregularity.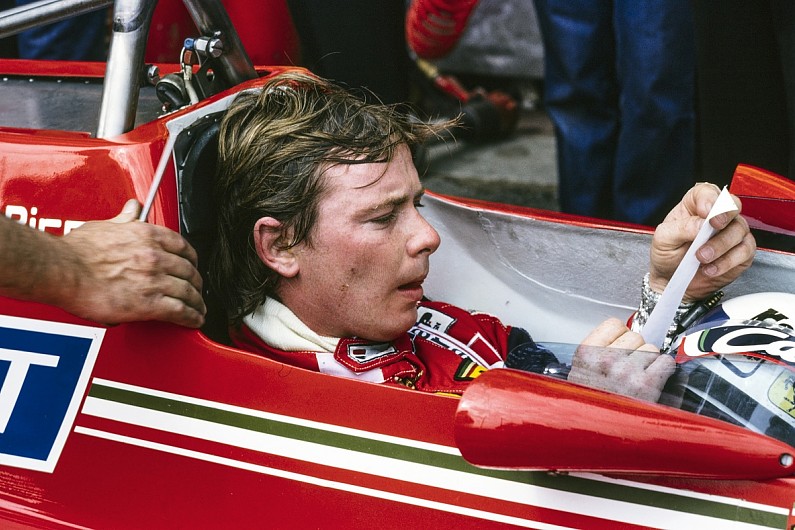 However, his prospects were transformed at the fourth round at Imola, which was boycotted by the British FOCA teams and started by just 14 cars.
While still off the pace in qualifying - Villeneuve well over one second faster in third behind the Renaults of Rene Arnoux and Alain Prost - Pironi duped his team-mate into believing they were just playing for the crowd come race day.
The traditional Ferrari agreement was to slow and hold position once assuming first and second places, and when the Renaults capitulated with engine trouble, Villeneuve was ahead of Pironi.
With Ferrari worried over making its fuel last on this high-consumption track, Villeneuve dialled down the boost and started changing up 1000rpm early. He was fine with Pironi putting on a show for the crowd by pretending to duel with him, but alarmed by the Frenchman upping the pace, obliging him to do likewise until he could regain the lead.
Heading into the final lap, Villeneuve was back in front and close to coasting when his team-mate swept around him at Tosa corner to grab the lead - which he never gave back.
Villeneuve was furious. Pironi publicly protested his innocence, and during qualifying for the next race at Zolder, the Canadian was killed having never forgiven Pironi.
Ferrari withdrew from the Belgian Grand Prix and returned to action at the next round at Monaco with a single car entered for Pironi.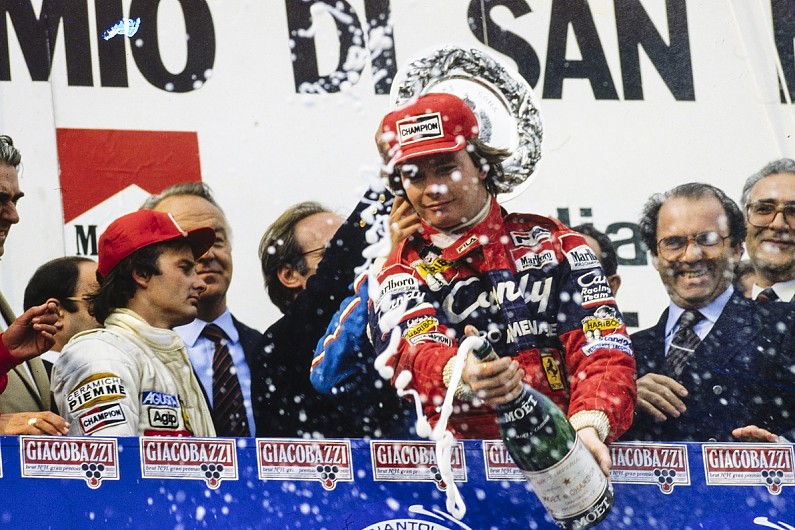 In the farcical closing stages of the race, Pironi was one of many who seemed set to win, but failed to finish after running out of fuel in the tunnel one lap from the end. But given the crazy outcome he was classified second, behind the sole lead lap finisher Riccardo Patrese.
After another podium in Detroit, Pironi took pole position for the Canadian GP but stalled at the start and was hit at speed by the Osella of young rookie Ricardo Paletti. The Italian was pronounced dead after being taken to hospital.
Pironi took the restart in the spare Ferrari which required some adjustments mid-race, losing him three laps and any chance of points. But he was sensationally fast and set the fastest lap on his way to ninth place.
At the following race at Zandvoort, where Pironi was joined in the team by Patrick Tambay, he won easily which started a purple patch of results. Second to Niki Lauda's McLaren at Brands Hatch, he was third Paul Ricard and had pulled out a nine point advantage at the top of the standings over John Watson heading to Hockenheim.
Having found a sweet spot with the heavily revised 126C2, it appeared Pironi was on course to take the drivers championship, while Ferrari had closed to within two points of McLaren in the constructors.
Pironi's career cut short
But during practice for the German GP, Ferrari's world was turned upside down for the second time in four months.
In the dry, Pironi had set a time that would prove to be good enough for pole position, but in a rain-soaked session he trialled his Goodyear wets to get a feel for the rain tyres.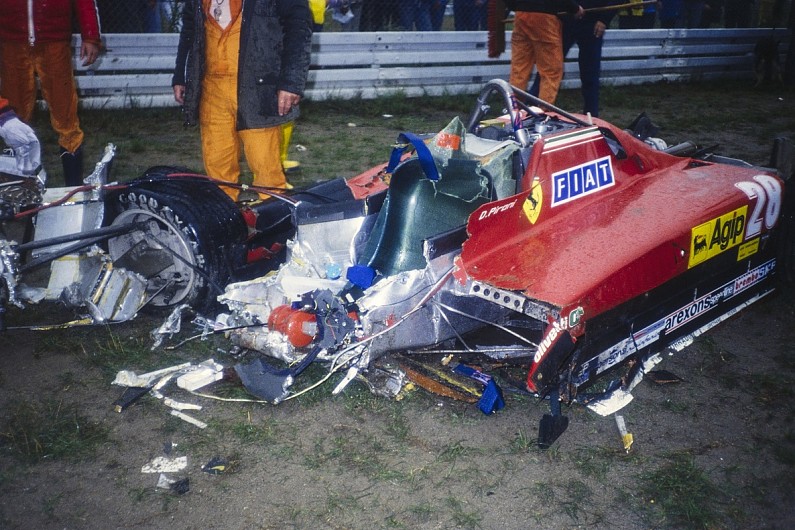 Heading toward the Stadium section of the original Hockenheim, Pironi went to go around Derek Daly's Williams - thinking the Irishman was moving aside for him - when in fact he had been skirting around the ball of spray from Prost's Renault.
In an accident eerily similar to Villeneuve's fatal launch off the back of Jochen Mass's March, Pironi struck Prost's car and flew through the air before landing with sickening force, his legs "cruelly deformed" as Professor Sid Watkins would later recall.
When compiling a list of greatest F1 drivers never to become world champion, it's common to see Pironi miss out - despite the fact he was closing in on the 1982 title
Tambay went on to score a hollow first victory.
Enzo Ferrari promised Pironi that he would keep a seat open for him when he was ready to return, but 33 operations later, that time never came. He tried both an AGS and Ligier four years on from the accident, and despite displaying all the signs of being rusty beyond redemption was supposedly on the brink of returning to F1 with the Larousse-Calmels team.
But he instead turned to powerboat racing and, off the coast of the Isle of Wight in August 1987, his craft hit the wake of a tanker and crashed, with the loss of all three onboard.
When compiling a list of greatest F1 drivers never to become world champion, it's common to see Pironi miss out - despite the fact he was closing in on the 1982 title.
Perhaps it's because he was still a relative newcomer, only in his fifth season in F1 - just three of those in a winning car - and amassed only three grands prix wins and four pole positions. He didn't feature in John Watson's top 10 drivers from the 1974-82 period, voted by Autosport magazine readers as their favourite in F1's history.
But following Villeneuve's death, there were several drivers on a similar footing, albeit each with different qualities: Prost, Lauda, Arnoux, Rosberg and Piquet. It would be a brave person to suggest Pironi didn't belong among them.