Seven-time MotoGP world champion Valentino Rossi says his run out in Lewis Hamilton's 2017 Formula 1 title-winning Mercedes in Valencia was a "spectacular opportunity".
Rossi and six-time F1 world champion Hamilton swapped rides in an event staged by Yamaha title sponsor Monster Energy at Valencia's Ricardo Tormo Circuit on Monday.
This represented Rossi's first drive of a modern V6 hybrid F1 car and his first F1 experience since he tested a 2008 Ferrari on GP2 tyres in Barcelona in '10.
Rossi admits "much has changed" in terms of driving F1 cars in that time and praised the "very welcoming" Mercedes team.
"I have tried an F1 car before, but much has changed since then," said Rossi.
"Sincerely, I was impressed with the car and its handling, as well as with the Mercedes-AMG Petronas Motorsport team, who were great to work with.
"They were very welcoming and made it easy for me to get familiar with the car.

 At first, you get an amazing sensation of speed.
"The G-forces were not so bad, but it takes some getting used to. Once I got into the rhythm I could really push. It was a great pleasure.
"I sincerely hope we will get to have many more experiences like this in the future."
Lifelong MotoGP and motorcycle enthusiast Hamilton got his first taste of grand prix motorcycle machinery as he took to the circuit on a 2019-spec Yamaha YZR-M1 alongside Rossi.
Rossi said he "really" enjoyed sharing this experience with Hamilton and that "I think he had lots of fun too - demonstrated by how reluctant he was to stop riding!"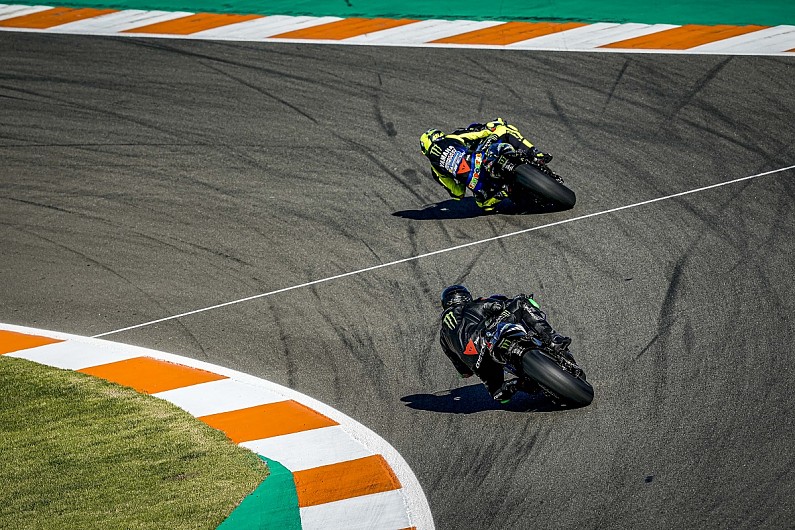 Yamaha boss Lin Jarvis said to have "two icons of sport" together on track made for an "exceptional day".
He praised Hamilton's ability to competently jump onto a factory MotoGP bike and "do himself proud".
"I was very impressed by Lewis's performance, because how many four-wheel champions could come here and get on an M1, go our there and do themselves proud?" said Jarvis.
"It's very difficult to ride a motorcycle fast on track and even more challenging and demanding to ride a factory MotoGP bike."
Jarvis added: "What stood out for me was the moment when he and Valentino were out, really close together, side by side on their M1s.
"Lewis has said that he's been a fan of MotoGP and Valentino for years.
"It was his wish to ride on track together with Valentino and to have the experience one day to ride an M1, and he got both wishes at the same time.
"It was fantastic to see that even a six-time Formula 1 world champion, who has already achieved so many things, can still realise a dream at a special occasion like this."
Hamilton - a brand ambassador for MV Agusta - is no stranger to track days, having ridden an R1M Superbike at Jerez last winter with the works Yamaha World Superbike team.
His run on a MotoGP bike is the first for an F1 driver since Fernando Alonso rode an Open Class RC213V-RS at Motegi during Honda's Thanks Day in 2015.
Rossi, meanwhile, is just the second MotoGP rider to have tested the current hybrid F1 cars after ex-Yamaha team-mate Jorge Lorenzo drove Hamilton's '14 car at Silverstone in '16 before departing for Ducati.