Mercedes Formula 1 team boss Toto Wolff says Lewis Hamilton made "all the data look a little bit silly" when he took the fastest lap in the British Grand Prix.
Hamilton had already been on his hard tyres for 31 laps when he decided to go for the extra point at the end of the race.
His team-mate Valtteri Bottas had pitted for a set of used softs with seven laps remaining and appeared to have secured the extra point on his first flying lap on his fresh rubber, despite being compromised by a battery issue.
Hamilton was told to come in for new tyres - which would have protected him from attack from behind as well as giving the option to go for fastest lap - but he chose to stay out, explaining later than he didn't want to take the risk of making an extra stop.
However on the very last lap Hamilton surprised Bottas and his team by securing fastest lap by just 0.037s with his old tyres.
"First of all, on the fastest lap with the 32-old hard tyres, very surprising," said Wolff when asked by Autosport.
"And we tend to have a laugh because the engineers have that new presentation in our Sunday morning meeting which basically says 'you don't need to go for fastest lap, it doesn't make any sense anyway'.
"And then he pulls one out like this.
"Which makes all the data look a little bit silly. But it's just his ability."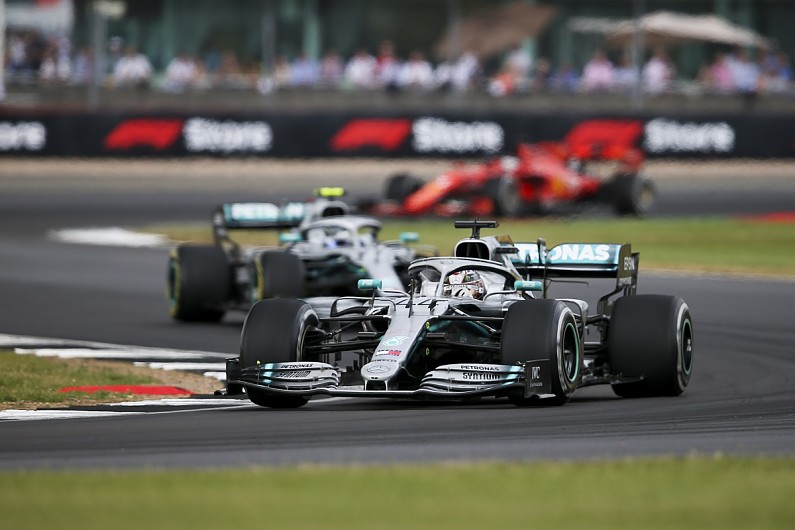 Hamilton admitted after the race that it was his decision to not pit in the closing stages, defying a request from his team, despite going on to set fastest lap anyway.
Bottas - who cruised to second, Hamilton benefitting from a safety car before his first pitstop - pointed out that his car was heavier than Hamilton's when he made his attempt for fastest lap on the 47th tour of 52.
He added that he felt he'd "lost a bit" because his battery wasn't fully charged when he went for fastest lap, something he has raised with the team.
"I tried pretty hard, but I didn't really have full battery level at that moment," said Bottas.
"It's something we actually raised in the meeting, that can be a lot better in the race if we really have some margin to go for the fastest lap, to charge the pack more, to really deploy more.

"So I feel I lost a bit there.
"Also I carried a bit more fuel. I was surprised that with the hard tyre at the end he could do a lap like that.
"So obviously the hard tyre was very, very solid. It was not much.
"I had a bit of a lock-up into the last corner, the last couple of corners, so it was maybe a tenth there. That was enough."