Lewis Hamilton says he went against his Mercedes Formula 1 team by not pitting for fresh tyres for a late British Grand Prix fastest lap attempt.
Hamilton scored a record-breaking sixth victory at Silverstone after a safety car period allowed him to jump ahead of polesitting team-mate Valtteri Bottas.
The two Mercedes drivers opted for diverging strategies, with Bottas committing to stopping twice and Hamilton attempting a long first stint on medium tyres, which ultimately meant he did not need to stop again.
Helped by the safety car, Hamilton had pulled 21 seconds clear of Bottas in the closing stages, and therefore could have pitted for a second time and still emerge with his lead intact, virtually guaranteeing himself the fastest lap bonus point on soft tyres.
But the reigning champion decided not to stop, not wanting to risk the pitstop going awry, and he still beat Bottas to the fastest lap on his worn hard tyres.
Asked if he had considered stopping again at the end when he had the margin over Bottas to do so, Hamilton replied: "Why take the risk?
"I had a pitstop window, but there's the entry of the pitlane, there's the stop, there's extra pressure on the mechanics to do the pitstop - not that I doubt them at all, but you just give a chance to it [to go wrong].
"I had saved enough in the tyres, I felt good with the hard tyre, I could keep going. I did have some blistering, so I was kind of conflicted, [thinking] should I stop?
"It would have brought us closer, but there were seven laps left, it's very hard to catch a 21-second delta at the pace I could still do, so I decided [not to stop].
"It's rare to go against the team, but I decided today that was the best thing for me."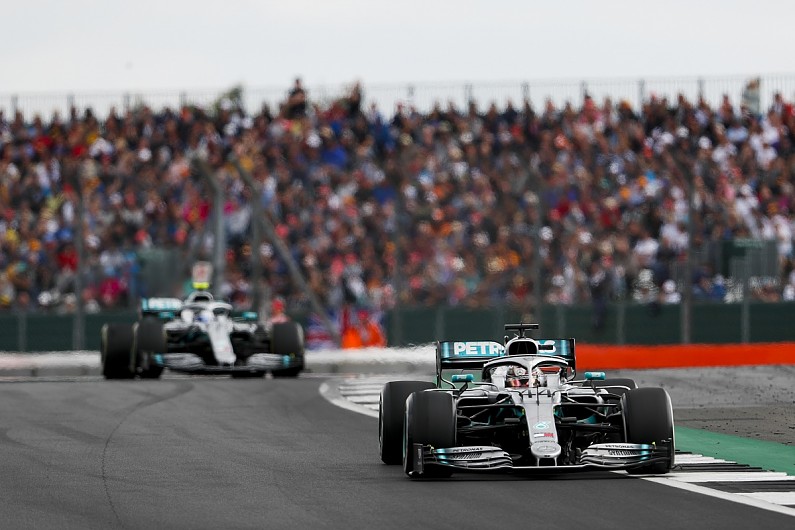 Mercedes team boss Toto Wolff had said part of the rationale for wanting to bring Hamilton in towards the end was to protect him from a possible second safety car restart.
Asked about the situation by Autosport, Wolff said: "We had some intense debate among us whether to pit for - we had a free pitstop for another soft at the end - or not.
"From a racing driver's standpoint it's always a risk to pit, but from a pure data standpoint you have a free stop, you'd rather go for the soft, because if a safety car happens you're really exposed at the end with the hard tyre.
"So it was 50/50 and then we asked him what he thought about it, and he made the right call I believe, with a little worry in the end about having a blister.
"But I think overall the tyre held on, seven laps to the end, and it was right to keep him out."

Autosport has produced a standalone special magazine to celebrate our 70th birthday. All current print subscribers will receive a copy for free. To order your copy of the 196-page Autosport 70th Anniversary issue, please go to: autosport.com/autosport70th