Mercedes driver Lewis Hamilton believes Formula 1 could not exist without Silverstone after the venue signed a new deal to keep the British Grand Prix until 2024.
Hamilton, who could win a record sixth British Grand Prix this weekend, described Silverstone as the home of motorsport and was delighted its F1 future had been secured on the eve of this year's race.
"It was a good surprise to hear that they had re-signed, [although] it wasn't necessarily a surprise as I spoke to you guys [the media] before I knew that it was going to happen," said Hamilton.
"It's clear that Formula 1 can't exist without the home of motorsport, which is the British Grand Prix.
"Really, really happy - it's great for the fanbase and for that to continuously grow over the next years to come."
Sebastian Vettel, who won the British GP in 2009 and last year, paid tribute to the quality of the circuit when asked about Silverstone's new deal and suggested it was logical to remain at the track rather than attempting to move it to a new venue amid discussion of a potential London race.
"It's good news," said Vettel. "It's the home of motor racing so we have to come here.
"I'm quite happy we stay here and don't try something fancy.
"This is a great track, every driver likes it, the fans come here every year in big amounts so there's nothing wrong with it.
"I hope they negotiated a good deal and squeezed a lot out of Liberty [Media, F1's commercial rights holder]."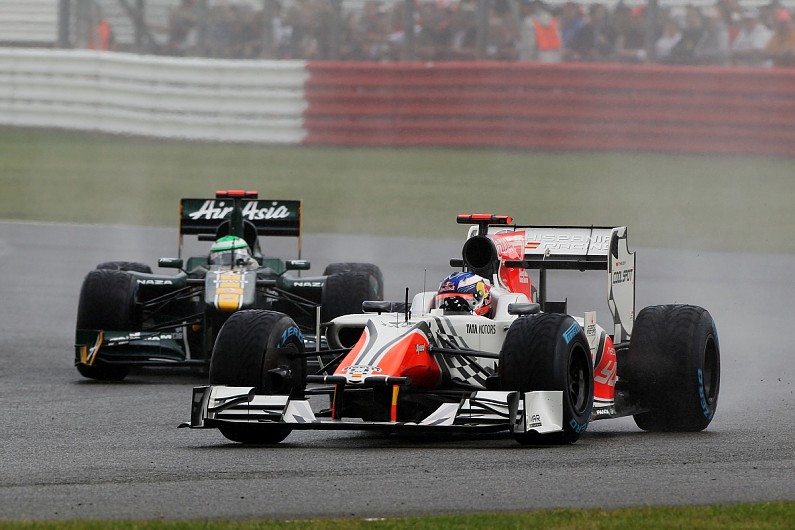 Renault driver Daniel Ricciardo, who made his grand prix debut at Silverstone for HRT in 2011, was also happy the race will continue given the unique atmosphere it offers.
"It's a cool track, a cool atmosphere," said Ricciardo.
"It was eight years ago this weekend, my F1 debut here, so it's been pretty personal to me.
"I don't know how it would feel being somewhere else, it feels normal and right to have it here - it feels like the home of British motorsport.
"I like that, there's that real camping atmosphere, that festival vibe the Brits love and we love too."
Sergio Perez, who first raced at Silverstone when competing in British Formula 3 in 2007 and won in GP2 in 2010, said Silverstone's high-speed nature makes it a great challenge.
"It would be very sad to lose Silverstone," said Perez.
"I like the high-speed, I've been here for the last 15 years racing every year and it's a place that I enjoy so much.
"To make sure that you have a perfect lap, there's no sliding and to make sure the lap is 100% perfect is a big challenge."