Max Verstappen suspects "a few doubts are going away" after Red Bull claimed its first Formula 1 win with a Honda engine in the Austrian Grand Prix.
Verstappen qualified third-fastest at the Red Bull Ring and started second, but dropped to eighth on the opening lap after his anti-stall kicked in as the race began.
He charged through to win, passing both Ferraris and the Mercedes of Valtteri Bottas on track to give Honda its first win in F1's V6 turbo-hybrid era.

What Verstappen's win tells us about F1's future
Verstappen has been linked with a move away from Red Bull if the team and its new engine partner cannot take the fight to Mercedes and Ferrari, while Honda's success with Red Bull is vital for the manufacturer to secure its future in F1.
After moving to third in the drivers' championship, Verstappen said: "This is very important for us and also for the future, for Honda as well.
"I'm just very happy that it happened today and it just gives us a lot of confidence as well to the boys and maybe a few doubts are going away because of it.
"So yeah, at the moment it's an amazing feeling."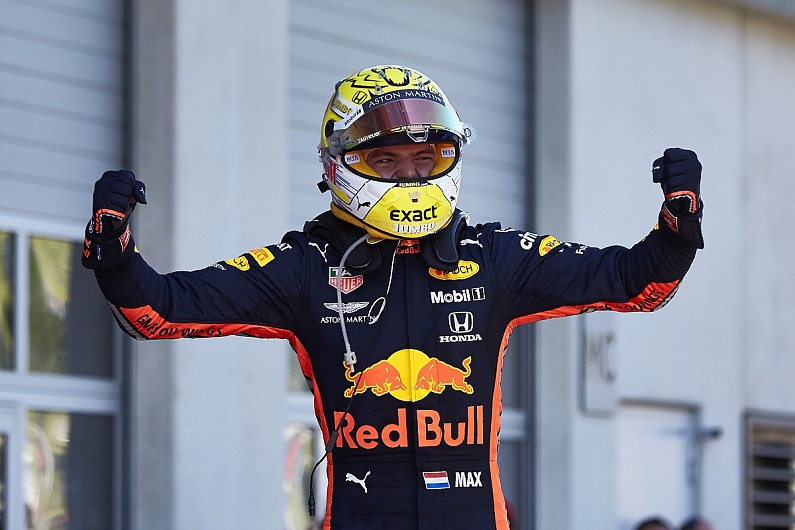 Verstappen's win at Red Bull's home race came with major Honda representation at the Austrian GP.
He reiterated he was "just really happy for them especially", while Honda F1 technical director Toyoharu Tanabe said the result would galvanise his team.
"From the beginning of the season we clearly see a big gap from Mercedes and Ferrari," said Tanabe when asked by Autosport about the significance of the result.
"We were strong. But the next race I don't believe will be as strong as today, there is no guarantee of the same performance compared to the other competitors.
"It means we need to keep pushing very hard to get the confidence, so we are strong, so if we make no mistakes, we will win.
"We want to achieve that level."
Tanabe said that Honda's "goal is to be champion, so there's still a lot of things to do" as it continues to work to close to gap to F1's benchmark engine manufacturers.

Honda boss had no idea what to do for podium
However, after Red Bull's progress with its car and Honda's Spec 3 engine combined to produce a first win for the new partnership, Red Bull team boss Christian Horner was full of praise for Honda's efforts.
"When they came back into the sport they had a very tough time in the years that they were with McLaren," said Horner.
"They then moved to Toro Rosso last year and they had some time to get their house in order and start to progress.
"All we have seen is a real dedication and determination, and that is why having won that race, Tanabe-san went to collect the trophy for the constructor.
"After all the effort that they have put in, it is great to see Japan represented up there and Honda picking up the constructors' trophy."