Honda technical director Toyoharu Tanabe was late onto the Austrian Grand Prix podium because he had "no idea" what to do after his company's first Formula 1 win since 2006.
Max Verstappen won Red Bull's home race in spectacular fashion to give his team its first win since partnering with Honda for the 2019 season.
It is Honda's first victory since returning to F1 in 2015 and its first since Jenson Button's breakthrough victory with the works team at the Hungaroring in 2006.
Tanabe, who was appointed Honda's F1 technical director in late-2017 and has overseen major improvements in its trackside operations, was chosen to go on the podium to represent the winning manufacturer.
However, he missed the Dutch and Austrian national anthems and only arrived in time to receive the trophy.
"I was surprised when I was told, 'You go' [to the podium]," said Tanabe, when asked by Autosport about being the man on the rostrum.
"I had no idea what I should do. That's why I got on the podium a little later than the others.
"You need to stand before the national anthem, I thought, 'I must be there', but I was late.
"This is the first time, of course. [I thought] 'I'm so upset, what should I do?'
"Nobody told me! But it was fantastic. I could see our team members below, also Red Bull, they were very happy, and a lot of fans there too."
After lifting the trophy, Tanabe was hugged on the podium by DTM boss and ex-F1 driver Gerhard Berger.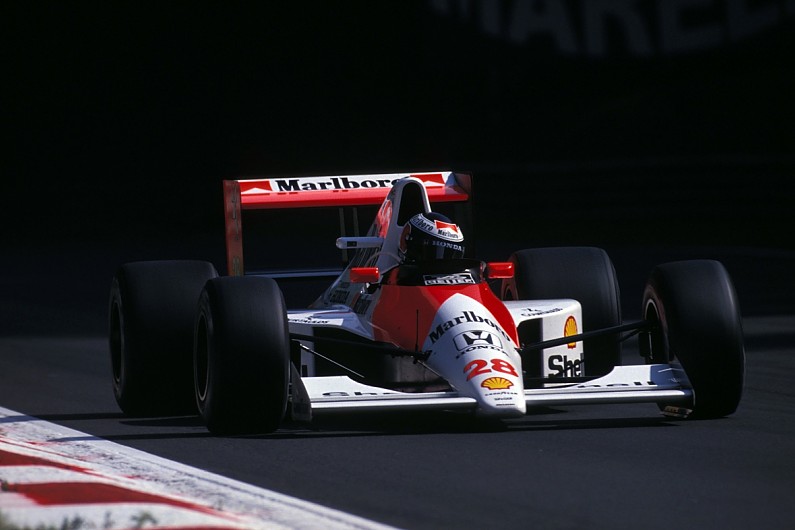 Tanabe's first Honda F1 role was as Berger's engineer at McLaren back in 1990.
The ex-Honda IndyCar technical chief paid tribute to the company's staff in Japan and UK for working "tirelessly" so that "we finally made it", and also Toro Rosso for the role Red Bull's junior team played in helping Honda "get back on the right path last year".
"Honda has not done this alone and so we want to acknowledge the contribution of our outside suppliers," said Tanabe.
"This win is also a way of saying thank you to all our fans, all over the world, for their continued support.
"We have been back in this sport since 2015, but today feels like a new beginning.
"While we can enjoy the celebrations for a short while, we must get back to work as soon as possible, because we still need to close our performance gap to the quickest teams."