Lewis Hamilton ignored a message from his Mercedes Formula 1 team urging him not to go for fastest lap at the end of the French Grand Prix.
Hamilton was informed several laps before the end of the race that fifth-placed Sebastian Vettel had a window in which to comfortably stop and go for fastest lap on new tyres.
Despite taking that information on board, Hamilton recorded a new fastest time of 1m32.764s on 29-lap old hard tyres on the final lap, only for Vettel to snatch the point for fastest lap by 0.024 seconds on fresh soft tyres.
Before that, race engineer Peter Bonnington told Hamilton Vettel had stopped again and said that "we won't bother going for" fastest lap.
"I think you should never give up and never be complacent and just think no it's not possible," said Hamilton, when asked by Autosport about his bid.
"An extra point was available. Naturally the guys can't know how I feel in the car, but I felt like I had a little bit left in the tyres, and there was only one more lap.
"I was [thinking], 'I'm going to go for it man, let's go for it'. Even during the lap they were saying, 'Don't worry, he's got new tyres, there no way you're going to beat him'. As crazy as a driver is, I thought maybe I could get there.
"I didn't realise I'd be so close - there's things I could have done to make it happen.
"I don't think he had a perfect lap, I don't think he had full deployment, or something like that.
"I think that's a learning for us, never take things for granted and continue to push."
Mercedes team boss Toto Wolff admitted earlier this year he had concerns about the risks inherent in his drivers going for fastest lap, but said at Paul Ricard Hamilton had some margin to work with.
"I'm very pleased with the performance that with 29 laps on hard tyres you're able to almost match Sebastian's time," he said.
"It was a showing that we had really good performance this weekend.
"I think the biggest risk always when pushing for the fastest lap is either to put it in the wall or to flatspot.
"And by doing it on the last lap, the flatspot argument falls away, and Ricard having the highest safety standards, I think he will know when to push and how much to risk.
"It's different to when you push for the fastest lap in Baku or Monaco."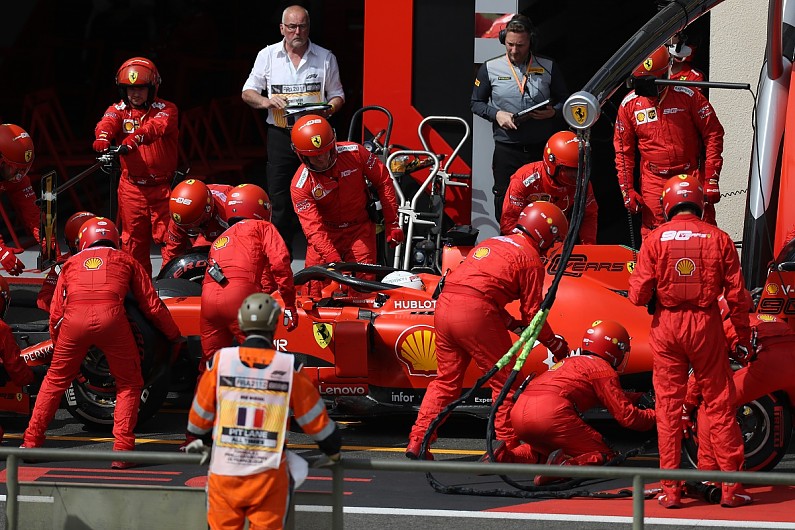 Vettel revealed his lap had been compromised by a battery issue.
"I was surprised myself," said Vettel. "We tried to go as fast as we can.
"Before that it looked fine, the fastest lap was only a 1m33.5s, Lewis put a very strong lap in at the end.
"I can only assume he was cruising for most of the race before that.
"We had a small issue with the battery so maybe not 100% ideal.
"I had a quick look at the fastest lap comparison and it was very close the whole lap.
"So, discouraging? No. Not more or less than the lack of speed we've seen now for some races."