Sauber thinks it has a proper solution to the problem that caused Marcus Ericsson's huge crash at Monza after sacrificing performance to implement a quick fix during Friday practice.
Ericsson's massive shunt occurred at the start of FP2 when his rear wing's DRS flap did not reattach under braking for the first chicane.
He slammed into the wall on the left-hand side of the track and was pitched into a series of rolls, before coming to a rest and exiting the car unharmed.
His team-mate Charles Leclerc suffered the same DRS problems and it took a while for Sauber to rectify the situation, before Leclerc was able to head out properly and set the ninth-fastest time.
Leclerc said: "It was very tricky. We would arrive at the end of the straight and didn't know if it would close or not.
"I had the same issue but I've been luckier with it, it closed a bit earlier than Marcus.
"We found the issue, we resolved it, but that required a bit of sacrifice in performance.
"We know what we had to do tomorrow, to not have this problem and have full performance."
Sauber programmes the DRS so that the wing reattaches automatically when a driver lifts off, but the driver can also deactivate the system manually by pressing a button.
That appears to be the method Sauber used to make its Friday fix, based on a long-running conversation between Leclerc and his engineer over the radio.
Leclerc reported an ongoing DRS problem when the session resumed following Ericsson's crash, then conducted another test that was also unsuccessful.
When he emerged in the final half an hour he was told he could "use DRS, close manually" as Sauber confirmed the rear wing was "looking all OK from our side".
Leclerc asked for confirmation because he was "still taking it cautious", and Sauber gave him the all-clear to keep using it.
The rookie said he didn't have any fears heading back out with the problem.
"I have full trust in my guys and I know they were doing their job," he said. "If they tell me it will be fine the next run then it will be.
"We found the issue and we ended the day on a high."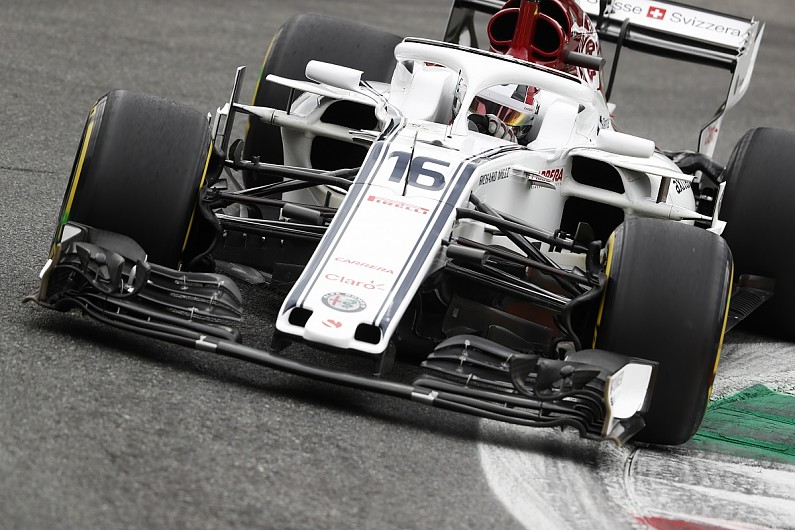 F1 teams bring a special ultra-low-downforce rear wing to deal with the unique high-speed demands of Monza.
Team principal Frederic Vasseur suggested after the session the new wing was part of the problem, although Sauber's investigation was still ongoing at the time.
"This is the first time [this problem has happened] and probably due to the developed downforce for today," he said.
"It is a new rear wing, but it is not the wing [that's the problem], just the DRS flap."
Ericsson is expected to return to the track on Saturday for final practice and qualifying.