Stoffel Vandoorne says his performance in the Hungarian Grand Prix is "a good sign that everything is back to normal" after a miserable recent run of form in Formula 1.
Vandoorne has endured a difficult second season in F1 so far, scoring just eight points to McLaren team-mate Fernando Alonso's 44 and failing to escape Q1 at every race since June's Canadian GP.
The two races prior to Hungary, at Silverstone and Hockenheim, were particularly bad. Vandoorne qualified slowest of all in Germany and said he was struggling to match Alonso even in a single corner.
Alonso backed Vandoorne in public, saying there was a clear discrepancy in downforce between the two McLarens and the team changed Vandoorne's chassis ahead of Hungary.
Although he again failed to escape Q1 in mixed conditions in qualifying, Vandoorne drove a strong race and ran very close to Alonso's pace.
He tracked his team-mate closely and was set to finish ninth before his car's gearbox gave out at around two-thirds distance.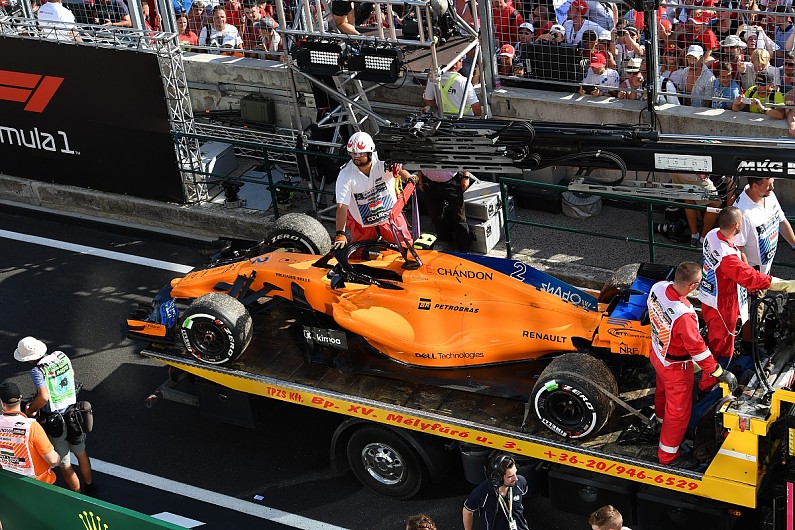 "This weekend was a good sign that everything is back to normal," Vandoorne said. "From a personal side it felt good. We showed the pace was back to where it's been [in the past].
"It's very disappointing to finish the race like that. We had a superb start. We were a bit further down the grid than we wanted, but we had a good opening lap, got ourselves into the points.
We had really good tyre management, very good pace when it counted. We managed to go long and do the overcut. We managed to jump a lot of cars during the pit window. A great strategy from the team.
"On a personal note, I can be happy. It's just a shame we couldn't finish it off with double points scoring. It definitely hurts not to finish with points."
Vandoorne is under pressure to prove to McLaren he deserves to be retained for a third season in 2019, so will need to carry some momentum from this performance into the second half of the season.
"I'm not thinking about that to be honest - I'm just doing the best I can," he said.
"I'm looking forward to the summer break, to relax a bit, get my head clear and then turn up in Spa for my home race.
"It's just a shame not to finish the first part of the season with a bit more points."