Ferrari driver Kimi Raikkonen says he and Max Verstappen did well not to crash during their wheel-banging tussle on the opening lap of the Austrian Grand Prix.
Raikkonen had challenged the two Mercedes cars for the lead into Turn 1, but was soon back down to third and came under attack from Verstappen after exiting Turn 6.
The Red Bull driver got a run and committed down the inside at the fast Turn 7 left-hander, with his right front making contact with Raikkonen's left rear and forcing the Finn wide.
The clash prompted an investigation by the stewards - but they ultimately decided to take no further action and Raikkonen conceded afterwards that the move was "fair enough".
"There was a lot happening in the first lap and I got a little bit sideways, lost the line a little bit into six and Max was very close into seven," Raikkonen recalled.
"The car in front of me [Valtteri Bottas] disturbed me a bit [into Turn 6], and [Verstappen] got the run, I tried to hang on the outside.
"I got a bit sideways because we touched a little bit and lost the place.
"We did the best out of it, not taking each other out and fighting through that kind of corner, it's not easy to stay next to each other when you try [that].
"That's what happens sometimes, it wasn't ideal for me but it was fair enough."
Verstappen reckoned the move made for good viewing.
"It was hard racing but good racing," he said.
"Kimi is experienced enough to handle the situation well. "We had a little touch but I think it's good for the sport."
The overtake proved crucial for the outcome of the race, as Verstappen went on to beat Raikkonen to victory after mechanical misfortune struck the two Mercedes cars.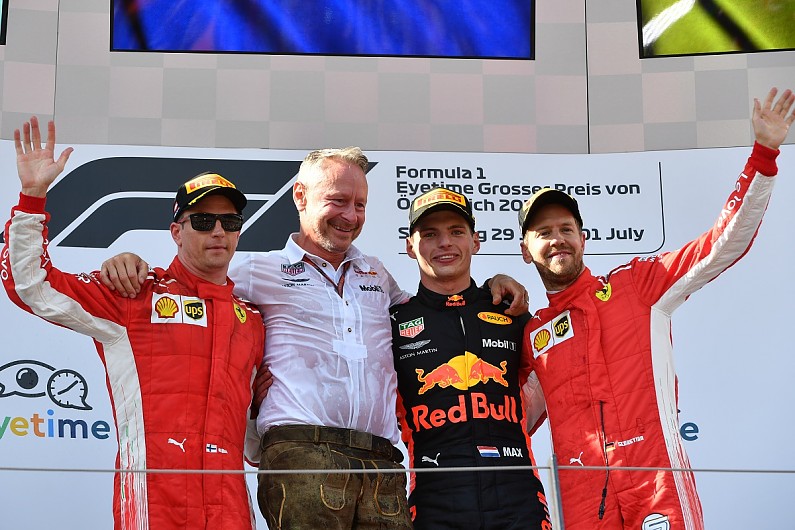 This was despite the Ferrari driver cutting into Verstappen's lead late-on as they each battled worn soft tyres, with the pair split by just 1.5s at the finish line.
Asked whether he could have won the race with a few more laps, Raikkonen said: "Sure, [it was] possible, but this is the laps that we have in the race.
"It's always easy to say 'if' this, 'if' that.
"Basically, I think we had good speed, especially in the end. A little bit tricky on the first part in the second stint, and then once the tyre started to do the work, [it] was good.
"It's disappointing - [but] obviously it's great for the team, a lot of points against the team that we race in the championship [Mercedes], they had a pretty awful day.
"In that side it's good but obviously we want to win. And we had this speed in the end, but it didn't happen today."
Autosport has produced a standalone special magazine to celebrate our 70th birthday. All current print subscribers will receive a copy for free. To order your copy of the 196-page Autosport 70th Anniversary issue, please go to: autosport.com/autosport70th