Red Bull motorsport advisor Helmut Marko has blamed both Max Verstappen and Daniel Ricciardo for the collision that took the Formula 1 team-mates out of the Azerbaijan Grand Prix.
After several feisty moments between the two Red Bulls, who raced closely throughout the F1 race in Baku, they both retired on the spot when Ricciardo ran into the back of Verstappen on the brakes for Turn 1.
When asked for his reaction to the incident, Marko told Sky Sports: "We let the drivers race and then they are doing that. Unbelievable. Both were wrong.
"It was a racing accident between the two, there was not more fault for one or the other.
"We always let the drivers race, we don't have a number one, we don't have a number two, but we expect responsibility from the drivers."
Marko added that the matter had been discussed internally at Red Bull, and that interfering with the race from the pitwall was "against our philosophy".
Both drivers said their focus after the incident was on apologising to the team rather than finding anyone to blame.
"It's just really disappointing for the team, we lost a lot of points today, unnecessarily," Verstappen told TV crews.
"I don't think we need to speak about whose fault [it is] because at the end of the day we are racing for a team, we are representing a lot of people and when this happens it's not good for both of us.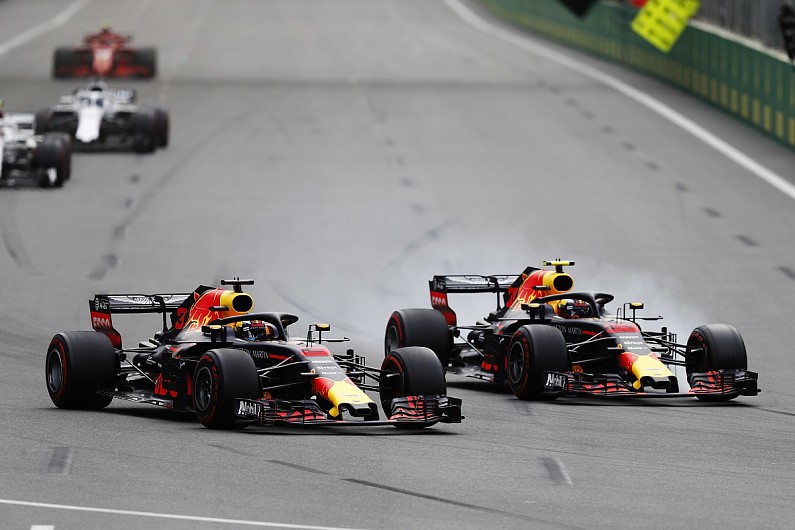 "Before that, it was hard racing but fair, we gave each other space, of course we had a little brush with the wheels, but in racing that can happen.
"As racing drivers you go for every inch, of course you're not happy when you collide as team-mates, but we are very fair to each other, so we spoke immediately after the race.
"I don't think letting us not race anymore is the way forward, but we will talk about it and see what happens."
Ricciardo said he was grateful that Red Bull allows its drivers to race hard on track together.
When asked how things were with Verstappen, he said: "We're not into each other right now, it's more just about saying sorry to the team, just apologise the best way we can.
"We don't want to be in that situation. [I'm] just down I guess, for the situation.
"[I'm] thankful that we're allowed to race, especially, myself and Max, we love to race. That's cool.
"We did get close already in the race a few times, touching, sometimes we were on the limit.
"Unfortunately it's ended how it did. It's not a nice situation.
"We both feel pretty bad that it ended like that, and for the team it's pretty crappy."
Explaining his perspective on the incident, he added: "I thought the gap was on the inside, and once I was there I had to commit to that.
"But yeah, it's just, let's say, heartbroken for how the team must feel right now."