Red Bull driver Daniel Ricciardo believes the width of modern Formula 1 cars plays a part in making overtaking more difficult.
A noticeable drop in overtaking opportunities has been apparent since F1 shifted back to wider, high-downforce cars in 2017, and the 2018 season opener in Melbourne provided just five genuine on-track passes after the first lap.
Much has been made of the aero and its effect on a following car, but Ricciardo said the wider stance of the cars was also reducing passing opportunities.
"I feel now with the wide tyres and wide cars, they already take up a lot of space on the track," he told Autosport.
"It's hard to find clean air. It's getting to a point where I think some racetracks are going to be hurt by the racing. There's not going to be much.
"I think narrower cars were great. It's like motorbikes, because they're so narrow there's always room to get past. And they lap 30 seconds slower than us.
"I think it proves it's not necessarily about the lap time. We do need the raceability, because that's the spectacle."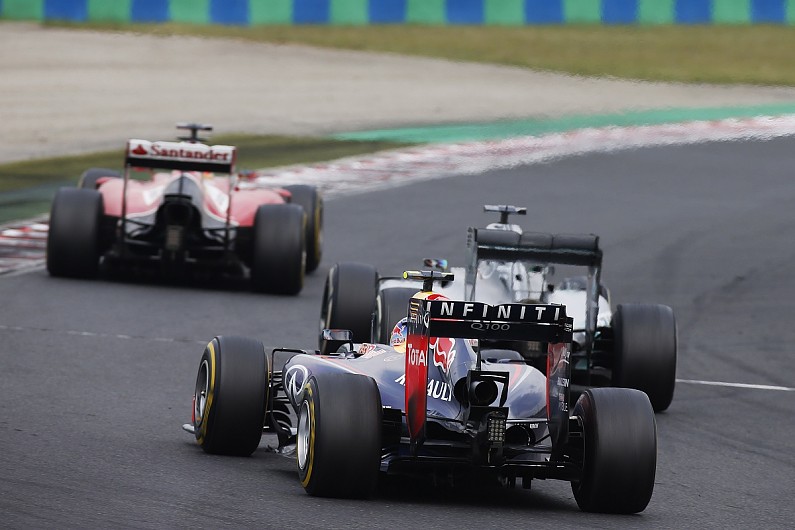 According to Ricciardo, the 2014 version of the lower-downforce cars used between 2009 and '16 hit the sweet spot in terms of racing and lap time.
"They were slow for our standards, but for a spectator they don't know necessarily that much different," he said.
"But the racing... you could follow, you could pass. As far as overtakes went, I thought 2014 was good.
"Aerodynamically, they're very strong now. You see the sidepods of the car, there's so many bits. It looks sick, but all it means is the car behind is going to get pretty messed up.
"It's at a point now where at Barcelona, we were going fast. Turn 2, 3, was full, Turn 9 was full.
"It's impressive, but the faster we go, the harder it's going to be to overtake and the harder it's going to be to follow close.
"So do we want to see cars doing 1m22s as opposed to 1m25s, but not being able to race on Sunday? Or do you want to see slower cars but they can race?
"They still need to be fast but there's a balance."
Ricciardo also said a simplification of engine regulations is the place to start if F1 wants to save on costs.
"I don't understand a simple engine, but these ones I definitely don't," he said.
"I think a lot of money's invested in that and it's not really for much reason.
"With some of the stuff, the automotive industry can learn a little bit. But I think there's a lot [of money] wasted in how technical it all is, and it doesn't sound good.
"So probably the power unit is the place to start [cost-saving]. And then I don't know.
"Less engines? We've got that now.
"They cut testing to save money but then everybody just built multi-million dollar simulators."